Back to School Snacks! Healthy, fun snack ideas to throw in kids' lunch bags!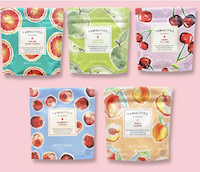 The Fabulous Five Tamalitoz Snack Pack
$17.95; Tamalitoz.com
The Fabulous Five Pack includes the newest additions to the Tamalitoz line. Cherry It's a Fire, Gorgeous Green Apple, Bite me Blood Orange, Cranberry Fantasy, Peach Slapped.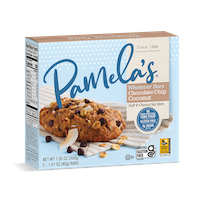 Pamela's Gluten-Free Whenever Bars
PamelasProducts.com
The bars are gluten-free, non-GMO and contain no high fructose corn syrup. Each bar has 8-10g of whole grains and comes in four delicious flavors: Chocolate Chip Coconut, Raisin Walnut Spice, Blueberry Lemon & Cranberry Almond.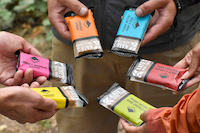 Kate's Real Food Variety Pack
12-pack/$29.88; https://katesrealfood.com/
Get a taste of six of our most popular bars. Including both peanut butter and almond butter-based bars. These bars are made with whole food ingredients like protein-packed nuts, fiber-filled seeds, and nutrient-dense fruits. They're lightly sweetened with honey to create a nourishing, lower-sugar snack or meal replacement. These energizing bars pack in 3 to 4 grams of protein per serving to help fuel your outdoor adventures or busy day. All of Kate's Real Food products are made with certified gluten-free oats, making them a good choice for those with gluten allergies or intolerances.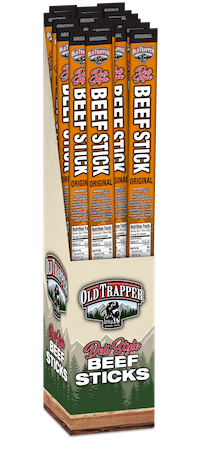 Old Trapper Beef Sticks
$1.39-1.59; OldTrapper.com
The single-serve sticks are available in Original, Teriyaki and Jalapeno flavors. Individually wrapped, these sticks combine smoked beef and spices for a distinct savory flavor. Low in carbs and sugar, the individual sticks cate to the snacking trend of moving away from sugary snacks and toward savory snacks higher in protein.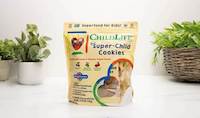 ChildLife Nutrition Super-Child Cookies
$7.83 (5 Snack Packs); iherb.com
Super-Child Cookies are free of the top 9 allergens: milk, eggs, fish, shellfish, tree nuts, peanuts, wheat, soy & sesame. They are manufactured in a dedicated facility free of these allergens. Super Child Cookies are vegan, all-natural, non-GMO, gluten-free, and free of artificial colors, flavors and sweeteners. Always thinking about making life easier for parents, each serving has been individually wrapped, making them easier and more hygienic for on-the-go snacks or school lunchboxes.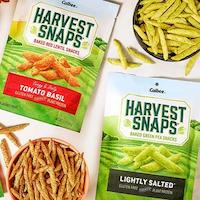 Harvest Snaps Baked Veggie Snacks
HarvestSnaps.com
Available in tasty flavors like classic Lightly Salted and Tomato Basil to Parmesan Roasted Garlic, the wholesome lineup is crafted from farm-picked peas, beans, or lentils as the first ingredient. Each munchie packs in a punch of plant protein and fiber, contains no artificial flavors, preservatives, or GMO's, and is free of the common allergens gluten, wheat, soy, nuts, peanuts and eggs.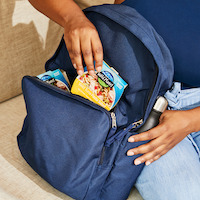 Ready-to-Eat Tuna Salad Bowls
WildPlanetFoods.com
Sustainability-focused canned seafood company Wild Planet has you covered with their chef-inspired bowls. Require no preparation - just pop the can open. Combine 100% sustainably pole & line caught wild tuna with organic, non-GMO vegetables, pasta, and legumes. Made with naturally low-mercury skipjack tuna. Packaged with 100% recyclable, plastic-free bowls for eco-friendly disposal.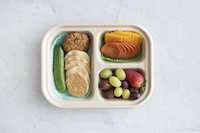 One Potato Lunch Boxes
$7.95/box; OnePotato.com
The organic family friendly meal kits are perfect for kids heading back to school. Send your kid back to school with a low effort yet delicious and nutritious lunch from One Potato, each box includes at least one fruit or veggie (or both) and a chocolate chip cookie for dessert. Box Options: Brunch Bunch Box, Char-cute-erie Box, Dip-tastic Box, It's Nice to be Rice Box & Fiesta Box.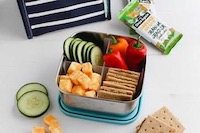 Once Again's Graham Cracker Sandwiches
$1.69-$1.89; www.onceagainnutbutter.com
Available in kid-friendly peanut butter and allergy-friendly sunflower butter flavors, these are the first sandwich crackers to be both certified organic and gluten-free. Made in small batches with a wholesome blend of organic sorghum flour, oat flour and cassava flour, plus dry roasted blanched organic peanuts or sunflower seeds milled creamy, the clean-ingredient products deliver A+ nutrition and are also vegan, Kosher Certified, Non-GMO Project Verified, and part of the brand's Honest in Trade program.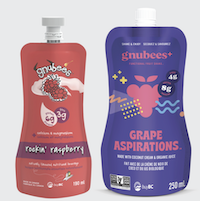 Gnubees
Gnusante.com
Kids love how tasty it is! Parents love how convenient & packed with nutrition it is. Gnubees is a nutritional snack that is convenient & environmentally friendly, that makes good-for-you…well… taste good. Made with real fruit juice in a variety of family approved flavors.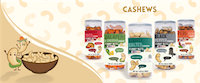 AlcoEats Funny Nuts
Alcoeats.com
These uniquely flavored cashews pack a punch when it comes to taste. These cashews are farmed in the landscape of India and are peppered with natural flavors for a healthy and tasty source of energy.
gimMe Snacks
gimmesnacks.com
An easy, delicious superfood replacement for high sodium and sugary snacks, gimMe snacks are roasted to crispy perfection, only 25 calories per serving, and full of vitamins and minerals, including iodine, B12 and Vitamin K. Plus they are USDA Organic and non-GMO project verified. So, whether you're on the go to practice, stocking up a college dorm, or a busy mom providing snacks for your preschooler, gimMe is making it easy to incorporate more (sea) veggies into your day-to-day activities during the back to school season.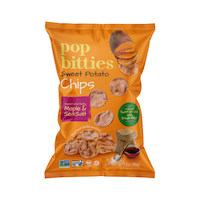 Pop Bitties' Maple & Sea Salt Sweet Potato Chips
$3.49; PopBitties.com
Made from sweet potatoes and brown rice, they are light and crispy and perfect right out of the bag. Their light maple sweetness is balanced by a touch of sea salt – snacking perfection. Like the rest of the chip line (which includes Sea Salt and Cracked Pepper & Sea Salt flavors), they're also vegan, gluten-free and free from most allergens like soy, corn, tree nuts, and peanuts.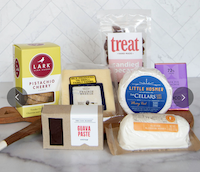 The Mini Me by Boards & Co.
$85; ShopBoardsAndCo.com
An amazing assortment of cheese board kits made just for you and also have a classroom resource that will teach you and your little everything you need to know about cheese basics, board building, pairings, and so much more. This is an excellent way to expose your kids to new flavors, offer them a fun experience, encourage them to learn, and give them an opportunity to bond with you.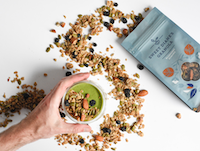 Sweet Diane's Granola
SweetDianes.com
The healthy and delicious, plant-based granola transforming your breakfast routine. Featuring tasty, all natural ingredients and superfoods, Sweet Diane's brings you energy while tasting delicious. Whether you bake it into a recipe or eat it for breakfast every morning, there are countless ways to enjoy the naturally sweet treat.
Updated: March 2023