Back to School Snacks! Healthy, fun snack ideas to throw in kids' lunch bags!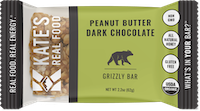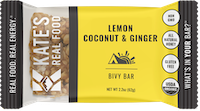 Kate's Real Food Snack Bars
www.katesrealfood.com
Kate's makes seven delicious energy bars with real, premium, whole ingredients, and no artificial sweeteners. Each one is USDA-certified organic, gluten free, non-GMO, and sweetened with organic honey. Kate's flavors include Dark Chocolate Mint, Peanut Butter Milk Chocolate, Dark Chocolate Cherry & Almond, Peanut Butter Hemp & Flax, Mango Coconut, Peanut Butter Dark Chocolate, and Lemon Coconut & Ginger.
Kate's Real Food Snack Bites
www.katesrealfood.com
All these snack bites start with natural organic honey and nut butters, providing a smooth and sweet taste. A great healthy snack for kiddos, giving them the nutrients they need to sustain a healthy body.
Raisels
www.raisels.com
The vegan, gluten-free golden raisins are made with sour, sweet and spicy flavors. As a great better-for-you snack or choice for kids, Raisels are made with real fruit and no artificial sweeteners, flavors, or corn syrup.
Juicy Juice
www.juicyjuice.com
Juicy Juice just released two new lower sugar juice beverages to have on-hand for back to school season. The new flavors, Berry Lemonade and Watermelon, capture tastes of the summer season, are made with 35% less sugar than the leading juice and contain an excellent source of Vitamin C.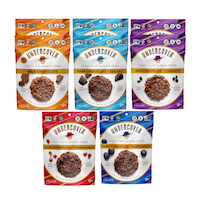 Undercover's Chocolate Quinoa Crisps
www.undercoversnacks.com
Made from crispy quinoa lightly covered in premium chocolate with other simple healthy ingredients. You won't believe their incredibly satisfying collapsible crunch – and because they use lots of quinoa, you get extra protein, fiber and nutrients with fewer calories and less sugar. These products are also certified peanut/tree-nut free, certified gluten free and non-GMO.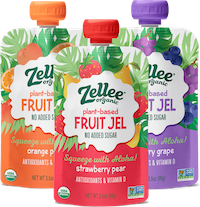 Zellee Organic Fruit Gel
www.zellee.com
Zellee's fruit jel is certified organic, non-GMO and vegan (no gelatin), and made with real fruit and without any added sugar. It's also an excellent source of Vitamin D and antioxidant Vitamins A & C.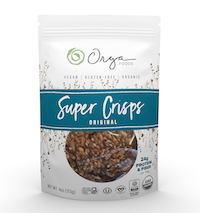 Orga Foods Super Crisps
www.orga-foods.com
Made using only five ingredients; organic chia seeds, organic flax seeds, Himalayan pink salt, organic pumpkin seeds, organic sunflower seeds, and organic unhulled sesame seeds. Rich in antioxidants, vitamins, and omega fatty acids, the products are certified gluten-free, vegan, organic, non-GMO, kosher, and Paleo and Keto-friendly. They're light, they're crispy, they put regular chips and crackers to shame.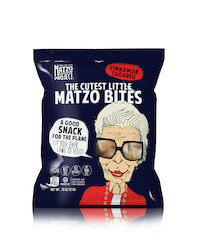 Matzo Bites
www.matzoproject.com
A great cracker that's vegan, nut-free, dairy-free, and all-natural. Choose from Matzo flats, chips, or bites in a variety of flavors including Everything, Harissa, Salted, Cinnamon Sugared.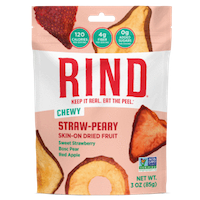 RIND Snacks
www.rindsnacks.com
Unique and craveable whole fruit snacks that maximize nutrition and minimize waste through the 'power of the peel'. More vitamins, fiber, and antioxidants are concentrated in the rind than any other part of the fruit. With a clean ingredient list of just the fruit used, RIND's products are non-GMO project verified, Kosher certified, gluten-free, have zero added sugar and 4-6g of fiber per serving.
Mama Geraldine's Aged Cheddar Cheese Straws
www.mamageraldines.com
Made with 50% 12-month Aged Wisconsin Cheddar Cheeses. The full-size packages also come in Aged Cheddar, Pimento Cheese, Chipotle Cheddar and Parmesan Herb. Also, the Aged Cheddar and Parmesan Herb come in gluten free.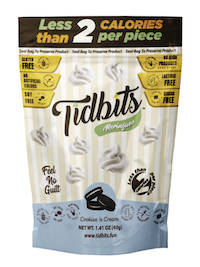 Tidbits Fun Bites Meringue Cookies
www.tidbits.fun
Sugar-free, lactose-free, gluten-free, soy-free, cholesterol-free and non-GMO. Tidbits bite-sized treats come in a 40-piece resealable bag in the following flavors: Cookies and Cream, Cappuccino, Chocolate, Mint Chocolate, Strawberry, and Vanilla. They also have regular, keto-friendly, or diabetic-friendly and a variety of flavors of Tidbits Fun Bites.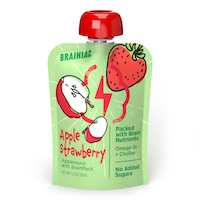 Brain Squeezers
www.brainiacfoods.com
Not just your average applesauce, flavors include Apple, Strawberry and Cinnamon, ensuring there's something for all taste buds. Every Brainiac Kids snack contains the BrainPack — a proprietary blend of brain nutrients including Omega‑3s and Choline to supercharge kids' developing brains with the nutrients it needs. Plus all snacks are Gluten Free, Non-GMO, Kosher, have no added sugars or artificial flavors and are approved by pediatricians - making them the perfect snack for growing minds.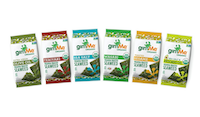 gimMe Roasted Seaweed Snacks
www.gimmesnacks.com
This tasty superfood snack is roasted to light and crispy perfection, an excellent source of vitamins B12 & K, and iodine, and each serving is only 25 calories and equal to a serving of veggies. Perfect for satisfying those crunchy cravings or replacing high sodium and sugary snacks, gimMe snacks come in six flavors including Sea Salt & Avocado Oil and Teriyaki. They are also USDA Organic and Non-GMO Project Verified.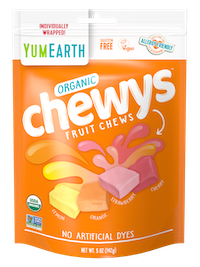 YumEarth Fruit Chews
www.yumearth.com
YumEarth has crafted an assortment of fan-favorite candies free of the top eight allergens, high fructose corn syrup, and artificial dyes, for a wholesome treat to be enjoyed all summer long and as the perfect lunchbox sweet treat. From lollipops to gummies and chocolates, YumEarth has an option for every sweet moment for you and your family.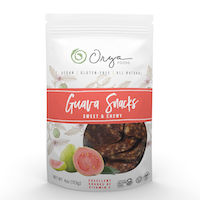 Guava Snacks
www.orga-foods.com
The perfect blend of guavas, walnuts, almonds & flax seeds, Guava Snacks are an excellent source of Vitamin C.
Published: July 2021