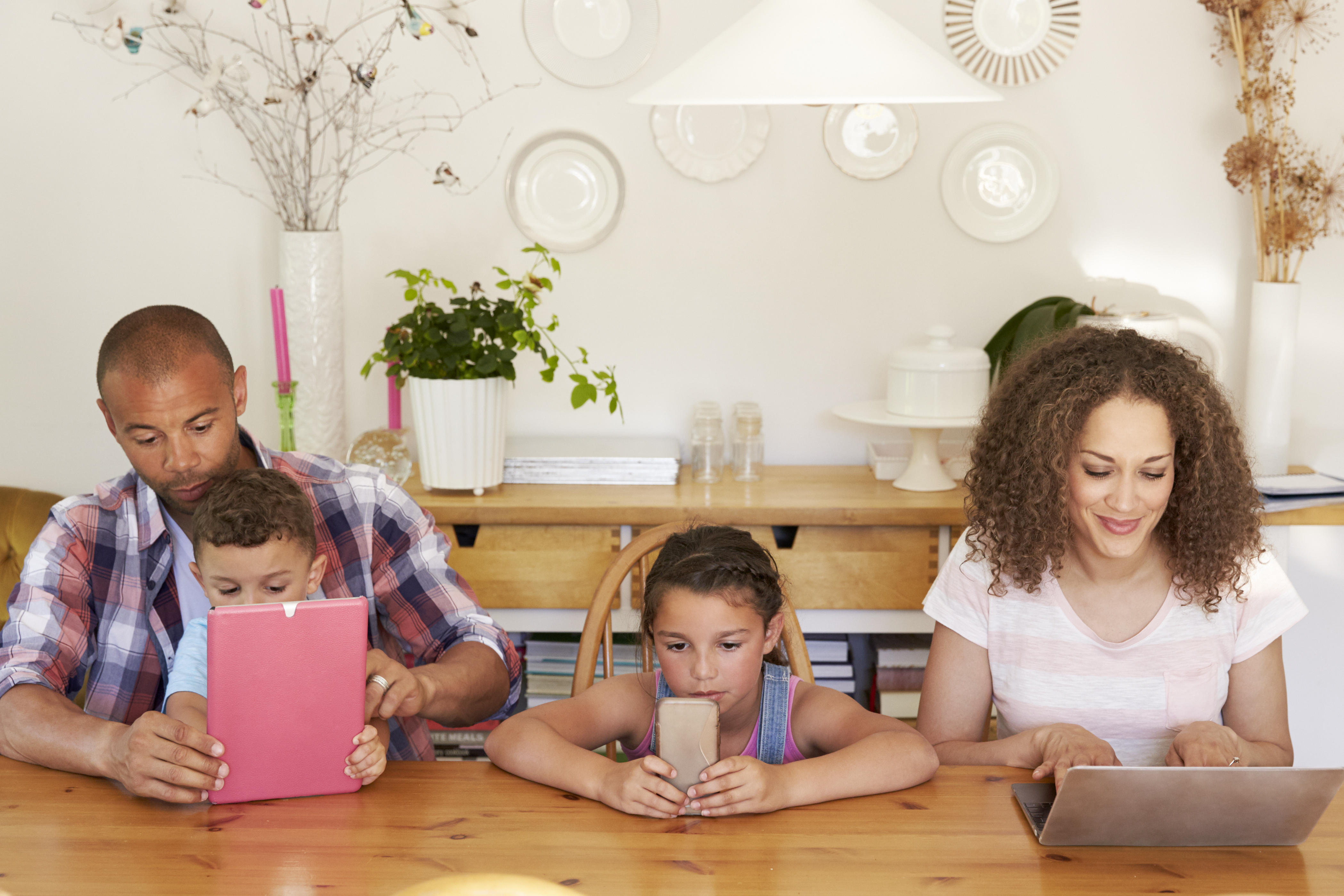 Home Office and Virtual Classroom Essentials. With the majority of families working from home and kids taking classes online, here are some great products to make your home office or virtual classroom more friendly and efficient.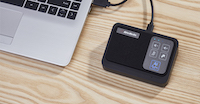 AS311 AI Speakerphone
$129.99; AVerMedia.com
It's super easy to use as it plugs right into the computer via USB. Suppresses unwanted background noise, 360-degree voice enhancement, plug and play setup with USB, removes echo, compatible with Zoom, Microsoft Teams, Skype, Google Hangout, and more.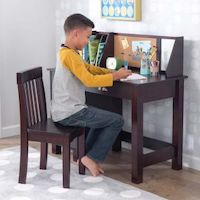 KidKraft Study Desk with Chair
$219.99; KidKraft.com
Gives young students a perfect workspace for finishing homework, studying or working on craft projects. A bulletin board surface gives them a place to pin pictures, drawings and important notes. Two cabinets and a pencil drawer offer plenty of storage to keep kids organized.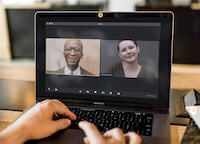 Eyelinez
$7.99/pack; eyelinez.com
Small stickers that fit over your webcam or tablet to help you stay centered, engaged and focused during video calls. Available for multiple occasions such as smiling, focusing, or themed for the holiday season.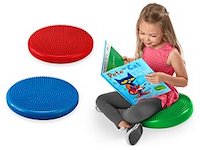 Wobble Cushion
$19.99; LakeshoreLearning.com
Just place this handy cushion on the floor or on a chair—for flexible seating anywhere. This super-durable vinyl cushion is specially designed to let children wiggle and wobble while they sit…helping kids focus as they move. It features large nubs on one side and small nubs on the other—children simply select the sensory surface they prefer.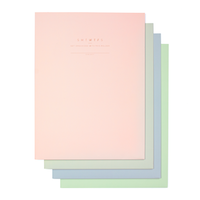 SMTWTFS Folders
$12; HadronEpoch.com
An array of four folders in classic SMTWTFS colors to organize all your important notes and papers.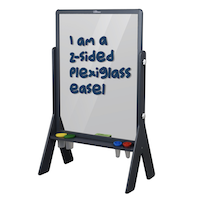 Contempo Peek-A-Boo Art Easel
$149.99; LittlePartners.com
Features a two-sided, transparent acrylic board, giving your child the space and versatility to color, paint, play and experiment in a variety of different mediums. Built-in storage allows for easy access to supplies, while the adjustable height starts out low, perfect for young, budding artists.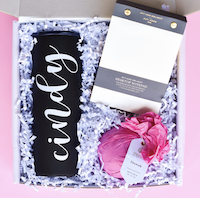 Work From Home
$39.99; BoxBabeGiftCo.com
Many of us have spent the past few months adjusting to the new work-from-home life. Surprise a friend or co-worker with a Work From Home gift box. Includes a desktop notepad by Wit & Delight to stay organized , a 22 oz. personalized stainless steel tumbler to stay hydrated, and a bath bomb from Musee Bath to relax.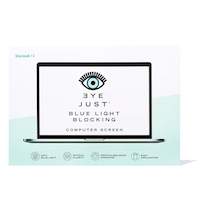 EyeJust blue light blocking screen protectors.
From $30; EyeJust.com
As people are spending more time looking at screens, EyeJust protects your eyes, sleep and skin from the harmful effects of blue light overexposure without changing the color of the screen. For the student, getting a good night sleep is vital for staying focused and learning while blue light disrupts sleep by suppressing melatonin and changing the body's circadian rhythm.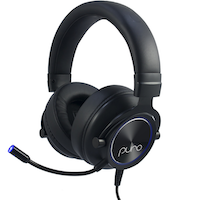 PuroGamer Volume Limited Gaming Headset
$89.99; PuroSound.com
These headsets provide unmatched hearing protection by limiting volumes above 85 dB while maintaining crisp, pure sound quality. Whether you're gaming with friends or crushing opponents, let them hear what you have to say, clearly. The adjustable gaming microphone isolates your voice by blocking ambient noise while picking up your speech from any direction. For teens, kids, and adults.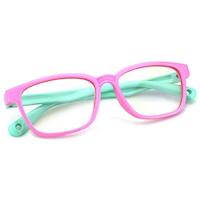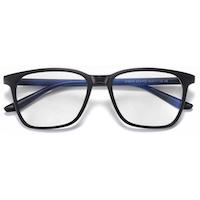 CalmOptics Blue Light Blocking Glasses
$64.99-$119.99; CalmOptics.com
Give your tired eyes a break with these blue light blocking glasses. These non-prescription glasses promote healthier sleep cycles as well as prevent headaches, dry eyes, and eye fatigue. Cover the whole family with affordable, indestructible glasses ... plus they're super stylish so you won't want to take them off for your Zoom meetings.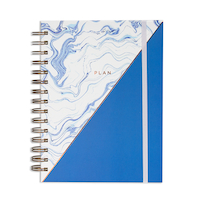 Spiral Planner Deep Ocean
$26; HadronEpoch.com
This undated planner features a sophisticated hand-marbled design with rose gold foil and a matte-finish in blue.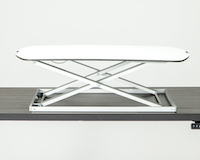 X-FlexTop Adjustable Standing Desk
$299.99; XChair.com
Reducing sitting time can promote an active lifestyle. This desk allows you to spend a portion of your day standing while you work. It allows you to easily continue working while standing, increasing daily comfort and allowing you to move around while you work. You can also use X-FlexTop to slightly change your desk height to make sure your monitor or you laptop are at a comfortable height when sitting in your X-Chair.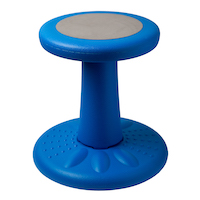 Studico Active Chair
$54.99; ActiveChairs.com
The kids wobble chair keeps children and teens in motion, engaging their stomach and back muscles, working their legs and arms...almost as if they were running around the yard. Promote the natural movements of the body and can help improve spinal positioning and muscle stimulation. 14" chair for ages 3-7.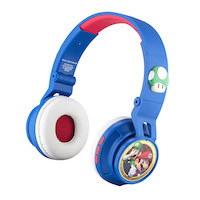 Super Mario Wireless Bluetooth Portable Kids Headphones with Microphone by eKids
$29.99; Walmart.com
These headphones have reduced volume to ensure safe listening levels for kids. The built- in rechargeable battery allows up to 30 hours of continuous playtime. Included is a built-in microphone for talking to friends and family.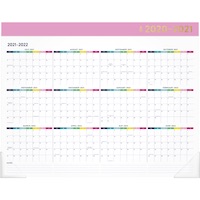 Emily Ley Simplified Happy Stripe Academic Monthly Desk Pad Calendar
$36.19; ataglance.com
Helps keep your schedule on track while protecting your desktop at the same time. This desk pad allows you to cover 12 months from July-June for academic planning. One month per page format has unruled daily blocks for open planning, plus a lined section for extra notes. Each month includes a "simplicity tip" for various ideas on how to further organize your schedule.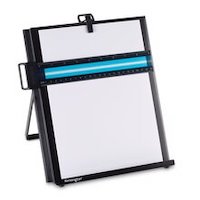 Metal Letter Size Copyholder
$29.99; Kensington.com
Keep documents where you want them while typing. Copyholder increases comfort by keeping printed materials at eye level on your desktop. Makes it easier to type from documents. Lip along bottom allows you to stand up many documents or a thick book. Magnet and clip are also included to easily hold papers in place. Clear line guide with type gauge and ruler can be positioned on side or top of document. Folds flat for convenient, space-saving storage.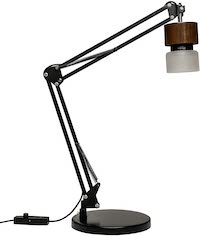 mySun Sunlight Inside Lamp
$249–$289; SunlightInside.com
The perfect light for your desk, office or anywhere you need some focused natural light. Boost your energy, mood and concentration with sunlight during the day. Bright beautifully balanced natural light to improve your vision – see text, fine details and true colors at their best. mySun is the first desk lamp to actively mix six colors to automatically deliver the daily and seasonal cycles of natural light. Ideal for windowless offices, cubicles or anywhere you don't get enough natural light.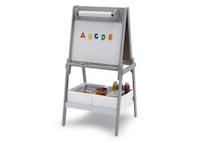 Delta Children's Chelsea Double-Sided Storage Easel with Paper Roll and Magnets
$47.99; DeltaChildren.com
This two-sided easel features a chalkboard side and a magnetic, dry-erase whiteboard side, plus a pull down paper roll with 33' feet of paper, and alphabet magnets. Two convenient fabric storage bins keep crayons, markers, extra paper, paint or toys within reach. This easel is durable and built for years of use.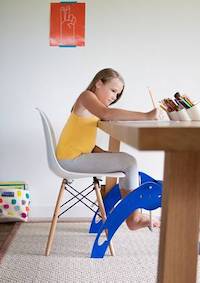 KINNEBAR Foot Swing
$149.99; Kinnebar.com
KINNEBAR can help children who have a hard time focusing or staying on task. It can help them self-regulate and provide sensory input while doing schoolwork or any sitting activity that requires focusing for an extended length of time. It can actually keep them on task longer. It is wonderful for all children who seek movement or are fidgety, but especially those with ADHD, Autism, SPD, Dyslexia and Asperger's. KINNEBAR can be a real game changer for kids who struggle to sit still.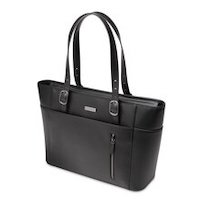 15.6" Laptop Tote
$99.99; Kensington.com
Sleeker design still offers ample space for your workday essentials so you can stay organized. Faux leather exterior provides a stylish, modern and professional look. Padded device compartment can accommodate a 15.6" laptop, plus there's also room for 10" tablet. Organizer pocket can hold a smartphone, business cards and pens. Adjustable carry handles make it easy to carry on your arm or shoulder. Zipper closure ensures your belongings stay in the tote and creates an anti-theft deterrent.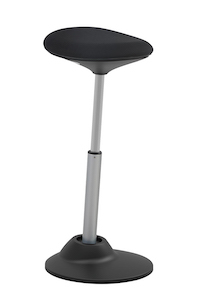 XYOYO Active Stool
$479.99; XChair.com
The breakthrough Floating Pitch mechanism enables users to effortlessly float their spine into its natural posture, thereby increasing blood flow and reducing muscle fatigue. With a 10.75" height adjustment range, and the auto-return Ergo-Saddle™, you can comfortably use X-Yoyo at your workstation, be it a traditional desk, or a height adjustable table. Stimulating and relaxing, active seating has been proven to improve concentration and productivity. X-Yoyo features a smooth rubber spring system that silently encourages free movement without making a sound.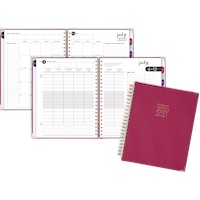 Harmony Academic Weekly-Monthly Planner Large
$37.09; ataglance.com
Features a faux leather hardcover with chic rose gold accents, and interior pages that give you plenty of space to track goals, plans, achievements and more. The planner covers 13 months from July-June and includes repositionable stickers in four different colors to track multiple projects, people or events, and a double-sided interior pocket to store loose paper.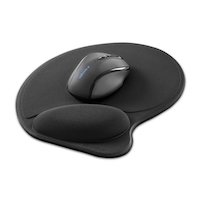 Wrist Pillow Mouse Wrist Rest
$12.25; Kensington.com
Soft support for mousing comfort. Secondary support layer of mouse pad helps provide all-day comfort. Pillow with super-soft, thick fabric cover conforms to your wrist without restricting motion. Large surface eliminates pressure points and makes mousing easier. Universal size works with all mice. Non-skid base keeps mouse pad firmly in place.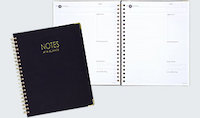 Harmony Hardcover Notebook Large
$21.19; ataglance.com
With space to track your goals, plans, achievements and more alongside your notes, this notebook will help keep you organized and on-task like never before. Features pink or navy faux-leather hardcovers with gold foil accents and gold corners for a high-quality, stylish look.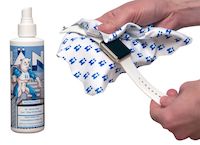 HÄNS Ultra-Clean Formula
$14.95; Hans-Swipe.com
Contains roughly 2.5 times the amount of active ingredients as the leading disinfecting/sanitizing wipes. Formulated to clean phones, tablets, computer touchscreens, keyboards, AirPods, VR glasses, covers, cases, cables, chargers and much more. Accompanied by the Microfiber Cleaning Cape, the cape transfers the wetness of the solution onto the surface it is cleaning; reminiscent of a cleaning wipe and is antibacterial treated and washable for continued just-like-new use.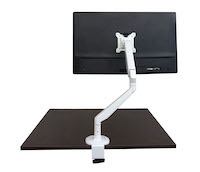 X-TS Monitor Arm
$149.99; XChair.com
Increase the usable surface on your desk instantly. This monitor arm also improves your posture and helps you keep a tidy workspace. With smooth, modern lines, available in three neutral finishes, and coupled with an intuitve Active Cable Control, X-TS arms look great on any workstation. Hide loose wires, and create more desktop space to maintain a clean and professional looking work environment. Your montior won't sag, droop, or move on it's own.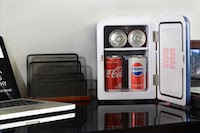 Uber Mini Fridge
$42.99; UberAppliance.com
The sleek and highly functional design features heating and cooling options to keep contents cool or hot. Utilizing state-of-the-art and environmentally friendly thermo-electric Peltier Technology, Uber Chill is capable of cooling or warming within a reasonable amount of time, cooling down to 32 degreed F and warming up to 150 degrees F.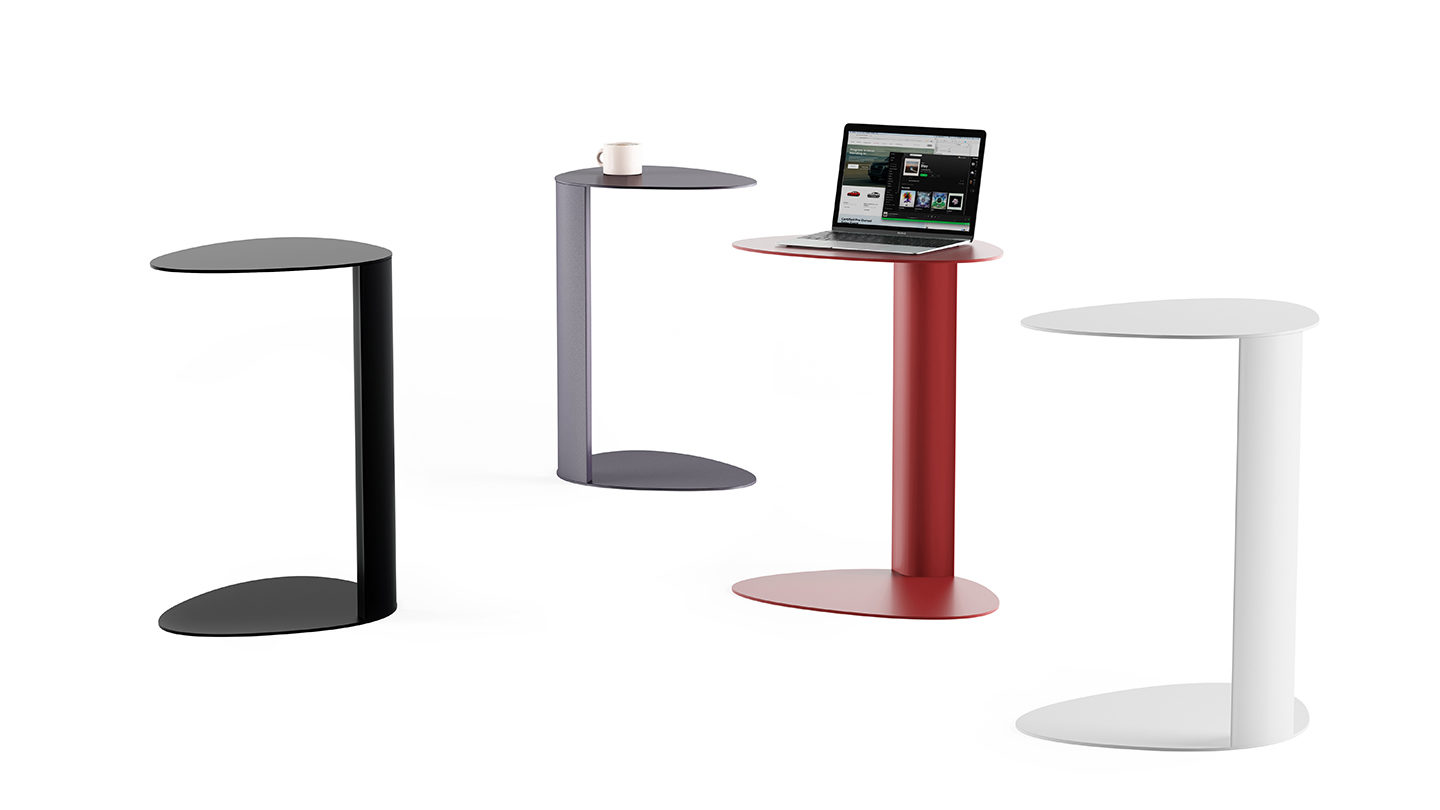 Bink-Modern Laptop/Side Table
$249; bdiusa.com
Always by your side, Bink is the perfect companion anywhere you work or relax. Whether serving as a laptop table while you're working at the sofa, keeping beverages close while lounging poolside or simply snacking in front of the TV, this convenient side table goes anywhere you want.
Updated: July 2021