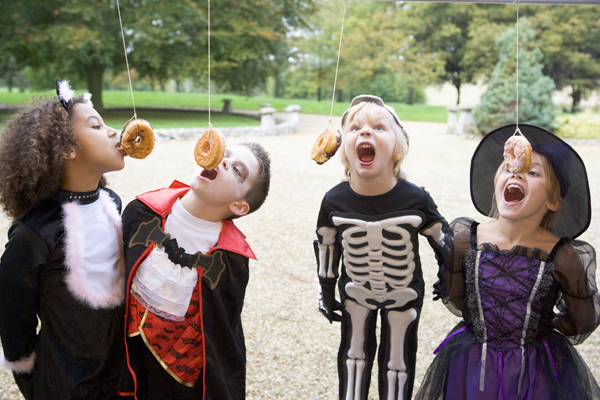 Host the best kid's Halloween party with these lucky (or unlucky) 13 games.

Planning a Halloween party for the kids? Here are fun party games that thrill trick-or-treaters of all ages. Need an extra set of hands to help monitor games? Hire a babysitter for a few hours.
Fishing Game 

Set up an area with a short curtain or barrier that hides a helper sitting behind it. Have small toys or party-themed items to use as prizes. Give each child a "fishing pole" (a bamboo stick with string and a clothespin will work!). Kids cast their lines over the curtain and the hidden helper attaches a prize to the end of the string for each child to reel in.
Halloween Treasure Hunt 

Buy a thrift store dollhouse, decorate it in Halloween colors and call it a "Fairy House." Then hide it in the yard or other party location and fill it with bags of treats. Decorate the area with Halloween items like jack-o'-lanterns, fake spiders, owls, fairies, elves and wreaths hanging on trees, and make up clues to direct the children from place to place as they solve riddles.
Gather the kids and explain that the fairies have hidden a treasure in the house -- and hidden the house, too! Have them find the first clue and start the hunt; the final destination is the dollhouse and the treats.
Eyeball Hunt

Instead of an Easter egg hunt, throw an eyeball hunt! Purchase bags of plastic eyeballs from a party or discount store and hide them in a room or your backyard. The child who finds the most eyeballs wins a prize.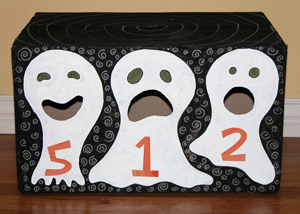 Greedy Ghosts
Make this awesome Greedy Ghosts game with paint and a cardboard box (find instructions here). Toss pieces of candy or small beanbags into the ghosts mouths.
Pin the Tail on the Black Cat 

Some old-fashioned games are timeless and still provide tons of entertainment. Take Pin the Tail on the Donkey, for instance. It never goes out of style. It can be adapted to any favorite movie or book character. Blindfold and spin each child at their turn and let them attempt to pin the tail on the black cat (or chosen item on the chosen character). Try Pin the Nose on the Pumpkin, Pin the Eyeball on the Monster, Pin the Spider on the Spiderweb, Pin the "Boo" on the Ghost, etc. The child who gets closest to the target wins!

Mummy Bowling
Get instructions for a fun game of Mummy Bowling from Giggles Galore.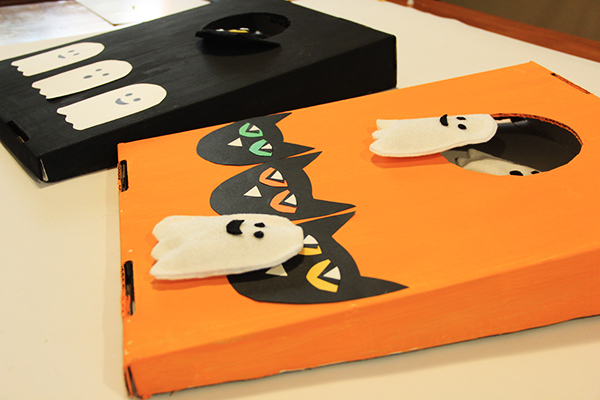 Tabletop Cornhole 

Learn how to make your own tabletop cornhole game in advance of the party HERE. This one is inspired by the book character, Pete the Cat, but use your imagination and come up with your own characters. Put your completed tabletop cornhole game out at the party to help entertain the kids. So fun!
Halloween Charades 

Choose Halloween-themed movies or books and well-known sayings for a round of spooky charades. Give the winners a small treat bag.
Slimy Monster Snack Attack

Make homemade slime by combining green mint or apple jelly with water. Watered-down lime Jell-O also makes a great, slimy substitute. Once the consistency of your slime is sufficiently gross, throw in orange slices, gummy worms, raisins, candy corn or other unwrapped yummies. (You can also include plastic bugs like spiders and other crawly, icky things.) Have the children close their eyes and reach in to grab what the slime monster left behind and guess what it is. Chowing down on the found goodies is optional, but make sure there are no chokable pieces floating in the slime if small children are playing.
Guessing Game 

Decorate a small, clear jar and fill it with candy corn or other small Halloween candy. Have children guess how many are in the jar. The child who comes closest to the correct number wins the jar and the candy inside.
Food Fun!
Hands-free food games are always fun. Hang donuts from strings (one per string) and see who can finish his donut first -- no hands allowed! An apple pie eating contest is sure to be a hoot during the fall -- let parents compete, too! Bobbing for apples may be best for teens. For younger kids, try Pass the Apple, where children have a relay race with an apple tucked under their chins.

Mini Piñatas 

Kids will love making mini piñatas — a fun party activity that doubles as a take-home party favor. Find instructions HERE.
Halloween is such a fun time of year for kids (and the young at heart). Get friends and neighbors together for unique games like the lucky (or unlucky) 13 activities above — and turn your get-together into a memorable party that is guaranteed to "raise everyone's spirits"!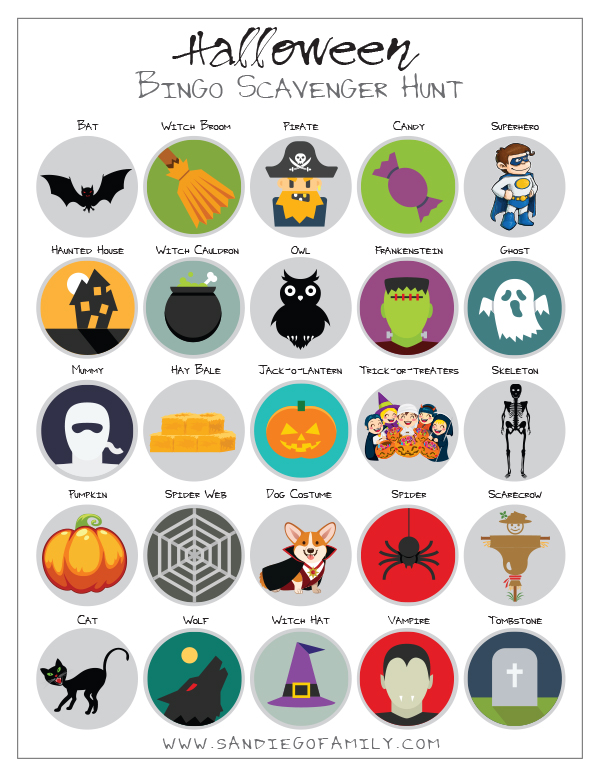 It's not bingo, and it's not a traditional scavenger hunt, it's a Halloween bingo scavenger hunt! Get the kids together for a Halloween party and walk (or drive) the neighborhood, looking at Halloween decorations. The first person to find five items in a row, wins! Completed rows can be horizontal, vertical or diagonal. Can be done with your family or a group of friends or neighbors. Super easy, so fun – and gets the kids off their phones.
We are offering the game to you as a free printable because we love our readers and followers. Happy Halloween!

--------------
Find more Halloween games in our Crafts section, or check out our

Halloween pinterest board for more crafts, recipes, decorations and party ideas!
___________