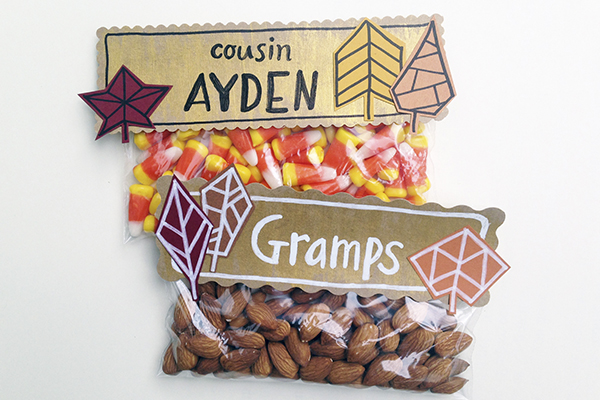 These fall party favors double as place cards at the Thanksgiving table. Use them to stave off pre-feast hunger pains or take them home for later!

Supplies
Plastic zip top bags (snack size)
Empty cereal/cracker boxes
Scraps of paper in fall colors
Gold craft paint
Small paintbrush
Black and/or white permanent marker (or paint pen)
Ruler, pencil, scissors (decorative scissors optional)
Double-sided tape

Directions
Flatten and cut open an empty food box made of thin cardboard.
Use a ruler and pencil to mark a rectangle (2 inches x 6½ inches) on the cardboard.
Cut the rectangle out and paint it with a thin coat of gold craft paint; allow it to dry completely.
Use a marker to draw a border and add a name to the gold rectangle.
Use a pencil and straight lines to draw simple leaf shapes onto scraps of colored paper (as shown in photo).
Cut the leaves out and draw an outline inside the edges of each leaf.
Draw patterns on each leaf, using straight lines.
Adhere several leaves around the name with double-sided tape.
Fill a baggie with a healthy snack or fun treat and attach the name card to the top of the bag.
Lay finished favors at each dinner guest's place at the table.

More tips and ideas
Use craft brown or other colors of card stock paper in place of the cereal/cracker box cardboard.
Decorate the name cards with paper turkeys and pumpkins instead of leaves.
Try this project using patterned or neon papers.
For a more rustic look, tear out the rectangle and leaf shapes instead of cutting them out with scissors.
Instead of cardboard and paper, use sheets of felt or craft foam.
Use alphabet stickers or rubber stamps instead of writing the names.
Spell out names with letters cut from paper and drawn on like the leaves.
Instead of plastic bags, use wax or paper ones.
Decorate the favors with seeds, glitter or sequins.
Intead of filling the bags with snacks, place little activities inside, such as crayons, puzzles, trivia cards or small toys.
Make large versions of this project to adorn front doors or mantles with holiday greetings.
Use different colors to make place card favors for other holidays. Use hearts for Valentine's Day, eggs for Easter, bats for Halloween or stars for Hanukkah.
These would make great school party favors or teacher gifts!
---

Pamela Maxwell is an artist, author and mother of two boys. Her craft and scrapbooking projects have appeared in numerous books and magazines. Photos also by Pamela.