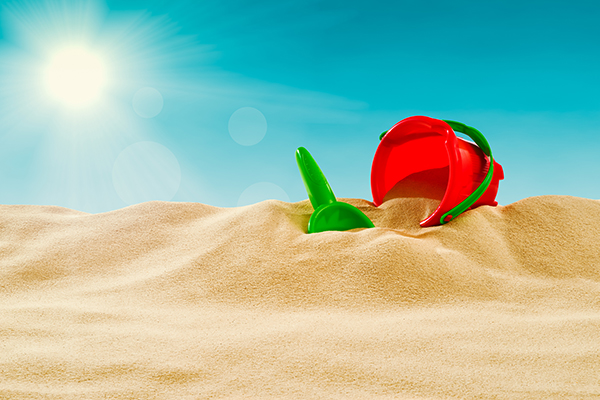 We San Diegans have it really rough—living in a top summer travel destination that others dream of visiting. One thing is sure: there is no shortage of fun things to do, especially when the kids are out of school! We took a poll around the office of must-do family activities this summer. Here are our suggestions. We call it our Summer SandBucket list (and we're feeling pretty darn clever).
Water Play
Have a water balloon fight.
Kayak to the La Jolla caves.
Run through the sprinklers.
Rent a pedal boat at a lake.
Go surfing or stand-up paddleboarding.

Lazy Days
Have a lemonade stand.
Write in a summer journal.
Make a fort with blankets and pillows.
Write a letter to a long-distance relative.
Practice random acts of kindness: Leave surprise treats on a neighbor's doorstep or get more ideas here.
Stroll through a farmers market.
Try a D-BOX movie at UltraStar Cinemas in Mission Valley.

Outdoor Adventure
Go hiking at Mission Trails Regional Park or another popular San Diego Trail.
Attend a free outdoor concert.
Build a sandcastle.
Enjoy the spectacular ocean views at Torrey Pines Glider Port and Cabrillo National Monument.
Attend a street fair.
Spend a day at San Diego's beachfront amusement park, Belmont Park.
Summer Treats
Roast marshmallows; make s'mores.
Drink root beer floats.
Make homemade snow cones.
Try one of San Diego's awesome ice cream shops (Salt & Straw in Little Italy, Bobboi in La Jolla) or check our entire list of favorites.
Under the Stars
Have a beach bonfire.
Pitch a tent in the backyard.
Take dinner to the beach and watch the sunset.
Attend a drive-in or outdoor movie at South Bay Drive-In or Rooftop Cinema Club.
See a musical at Moonlight Amphitheatre.

Take a Field Trip
Tour the U.S.S. Midway.
Ride the carousel at Seaport Village.
Take a behind-the-scenes tour of Petco Park.
Ride a train.
Go to the Del Mar races.
Ride the ferry to Coronado.
Ride a new SoCal rollercoaster.
Create your own Comic-Con celebration at home.
Spend a night at Paradise Point Resort on Mission Bay.
Take a road trip.
Discover more fun activities (to create your own summer bucket list) in Out & About with Kids!
While you're checking off items on YOUR Summer SandBucket list, post your family adventures on Instagram, tag us @sandiegofamilymagazine and use #sdoutandabout and #sharesandiegofamily.
-------
Updated: May 2021
--------