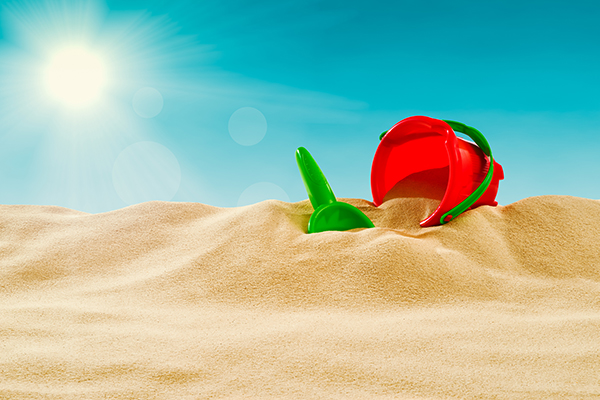 San Diegans have it really rough—living in a top travel destination that many people dream of visiting. One thing is sure--there is no shortage of fun things to do, especially when the kids are out of school! We took a poll around the office of must-do family activities this summer. Here are our suggestions. We call it our Summer Sand-Bucket list (see what we did there?). Use it to help your family plan while the kids are out of school.
Water Play
Have a water gun battle.
Spend a day at the beach.
Play at a sprayground.
Run through sprinklers.
Rent hydrobikes on the bay.
Take a family surf lesson.

Lazy Days
Host a lemonade stand.
Write in a summer journal.
Blow bubbles.
Write a letter to a long-distance relative.
Leave surprise treats on a neighbor's doorstep; or get other ideas like that HERE.
Read a book.
Create a summer scrapbook. Get directions on how to make one using a few paper lunch bags and art supplies HERE.

Outdoor Adventure
Go hiking at a popular San Diego trail.
Attend a free outdoor concert.
Build a sandcastle.
Enjoy the spectacular ocean views at Torrey Pines Glider Port and Cabrillo National Monument.
Roast marshmallows. Discover 21 ways to indulge in s'mores treats.

Summer Treats
Make homemade snow cones or popsicles.
Eat fresh berries.
Drink root beer floats.
Visit San Diego ice cream shops. Check out our list of favorite spots to get frozen treats.
Under the Stars
Have a beach bonfire.
Pitch a tent in the backyard.
Take a picnic to watch the sunset.
Attend an outdoor movie or rooftop movie downtown.

Take a Field Trip
Tour the U.S.S. Midway.
Ride the carousel at Seaport Village or Balboa Park.
Ride a train.
Take the ferry to Coronado.
Ride the Big Dipper rollercoaster at Belmont Park.
Go camping. Get helpful tips and ideas about where to go HERE.
Take a road trip.
Get inspired with even more family adventures (to create your own summer bucket list) in the 2023-2024 edition of Out & About: San Diego with Kids!
While you're checking items off your Summer (Sand) Bucket list, share your family adventures with us on Instagram. Tag us @sandiegofamilymagazine and use #sdoutandabout and #sharesandiegofamily.
-------
Updated: June 2023
--------