Photo courtesy of Queen Bee Market
Cool off this summer with a tasty treat from one of San Diego's favorite dessert shops. Choose from delicious homemade ice cream, gelato, frozen yogurt, Hawaiian shave ice, Italian Ice, decadent milkshakes and even Hula Pie! Add a trip to these frozen treat spots to your San Diego summer bucket list.


An's Dry Cleaning
3017 Adams Avenue, North Park
Don't be fooled by the name or the clothes hangers in the window, this former dry-cleaning store turned gelato shop serves up some of the best ice cream in town. Paying homage to its former life as the neighborhood dry cleaning store, this scoop shop names it's unique flavors after freshly-washed fabrics you might've found waiting in line for pick up. We highly recommend this spot, but don't take our word for it, Forbes Magazine listed An's Dry Cleaning as one of their top 5 reasons to visit San Diego!
The Baked Bear
Pacific Beach, Petco Park, La Costa, Carmel Valley, Carmel Mountain
Is there anything better than custom-made ice cream sandwiches? At The Baked Bear, choose from freshly baked brownies, warm cookies or two delicious waffles for your sandwich (or mix and match). Ask for it "hot pressed" if you like your sandwich extra gooey. Don't forget to add toppings like sprinkles or chopped nuts for that extra touch.
__________
2751 Roosevelt Rd., Liberty Station
Make your own frozen creation at this instagrammable ice cream and frozen yogurt shop that looks like a 50's diner. Kids love the make-your-own hot cocoa bar, self-serve frozen yogurt and hand-scooped ice cream.
_________
Bing Haus
4425 Convoy St. #216
Bing Haus specializes in Thai-style "rolled ice cream" creations and fun, soft-serve flavors like Charcoal Vanilla and Thai Tea. Stop by during holidays like Halloween and Christmas for special limited-time flavors.
________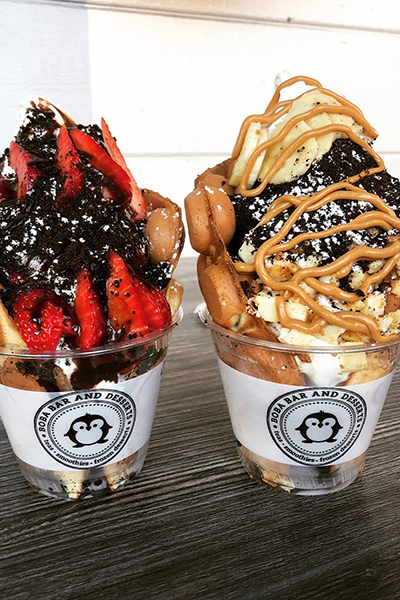 Boba Bar and Desserts
4619 Convoy St. F., Kearny Mesa
Your one-stop-shop for sweet treats! Boba Bar offers ice cream, shaved snow, boba drinks and more. Make sure to try the ice cream puffle, an egg-shaped waffle filled with your choice of soft-serve ice cream.
___________
Bobboi Natural Gelato
8008 Girard Ave., La Jolla
Kettner Blvd., Little Italy
Little Italy Food Hall
Bobbi Natural Gelato was voted #8 in Yelp's 100 Best-Reviewed Places to eat in America for a reason! Hundreds of online reviews don't lie; Bobboi has top-notch gelato made daily with fresh, organic and local ingredients.
____________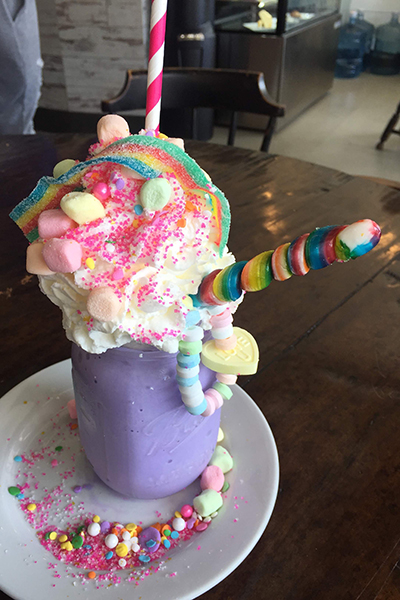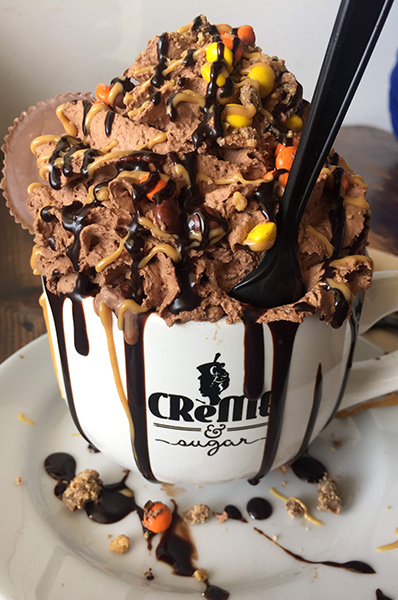 Creme & Sugar
2646 Del Mar Heights Rd, Del Mar
Willie Wonka's Chocolate Factory has nothing on this decadent dessert shop. Choose from crazy confections like the Unicorn Milkshake, Mermaid Ice Cream Float, Diddlyumptious Ice Cream Sundae and so much more.
________
Duke's La Jolla
1216 Prospect St., La Jolla
Hidden within Duke's delicious menu is a prize in San Diego's dessert world: the Hula Pie, featuring macadamia nut ice cream, cookie crust and hot fudge. Stop by for a slice of this incredible Hawaiian dessert and enjoy a stunning view of the Pacific Ocean and La Jolla Cove.
_________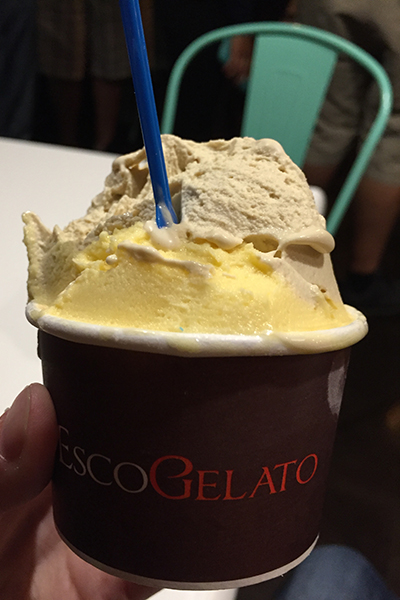 EscoGelato
122 S Kalmia St, Escondido
If you're craving something a little lighter and creamier, head to Escondido's beloved gelato shop for unique flavors like Strawberry Balsamic and Spicy Mango or indulge in more traditional flavors like Rocky Road and Chocolate Peanut Butter. Whatever you choose, you can't go wrong!
___________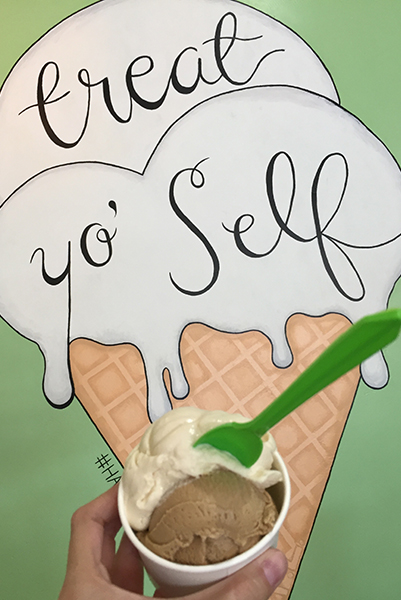 Hammond's Gourmet Ice Cream
3077 University Ave., North Park
1418 Garnet Ave, Pacific Beach
3740 Sports Arena Blvd, Suite 6, Point Loma
Check out Hammond's for a flight of six mini ice cream cones - perfect for people who can't decide on just one or two flavors (and mini cones are a great size for kids)! Popular flavors include Chocolate Coconut Macadamia Nut, Kona Coffee and Pineapple Orange Guava Sorbet.
___________
Hanna's Creamery & Café
Westfield UTC
4485 La Jolla Village Dr. F-13
Get your sweet fix at Hanna's Creamery & Café, a treat-filled wonderland snuggled in the heart of University Town Center. Enjoy the yummy goodness of homemade ice cream, try their irresistible, freshly-baked cookies or have some delicious Lavazza Coffee that will definitely perk up your day.
---
Iceskimo
4609 Convoy Ste B., Kearny Mesa
Iceskimo specializes in Taiwanese shaved snow, a tasty hybrid between traditional American ice cream and Hawaiian shaved ice. Each snow is shaved fresh to order.
___________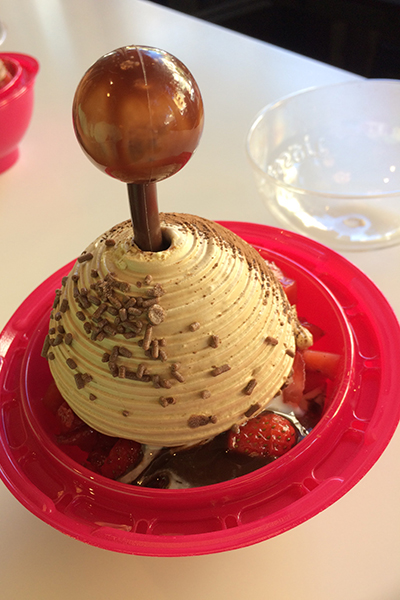 iDessert
1608 India St #104
Half the fun is creating your own custom treat at this unrivaled dessert shop. Includes choice of gelato, meringue shell and optional whipped cream and toppings. Upgrade to a Vegas Bowl for an over-the-top experience. Kids love watching their creation come to life with dry ice!
___________
Mariposa Ice Cream
3450 Adams Ave., San Diego
With 20 years under their belt, Mariposa knows how to make small-batch ice cream. The mom and pop ice cream shop in Normal Heights prides itself on inexpensive, old-fashioned ice cream served by the people who make it. Plus, if you're a Beatles fan you'll love the eclectic mix of paraphernalia and posters covering the walls from floor to ceiling!
___________
Mr. Frostie
1470 Garnet Ave. Pacific Beach
858-274-9977
Mr. Frostie is San Diego's gem for incredible soft-serve bliss. Its variety of treat options and reasonable prices make the long summer lines worth the wait.
___________
Mutual Friend
811 25th St, San Diego
Small-batch handcrafted ice cream with unique flavors like Grandpa Badger's Citrus and Coconut Spiced Chai. Can't decide on one flavor? Indulge in a flight of four generous scoops to share with family or friends.
____________
Pappalecco
1602 State St., Little Italy
3650 5th Ave., Hillcrest
12925 El Camino Real, Del Mar Highlands
4202 Adams Avenue, San Diego, Kensington
Pappalecco is an Italian eatery that offers more than just delicious dining and great service. Rich with flavor, creamy and dense, Pappalecco's gelato definitely ranks as some of the best in San Diego.




Rockie's Frozen Yogurt
7612 Linda Vista Rd., Linda Vista
(corner of Mesa College Dr. and Linda Vista Rd.)
858-268-0991
Tucked in the corner of a strip mall across the street from Kearny High School is a local treasure: Rockie's Frozen Yogurt. With its reasonable prices and friendly atmosphere, it's no wonder that Rockie's has been a neighborhood favorite for many years.
____________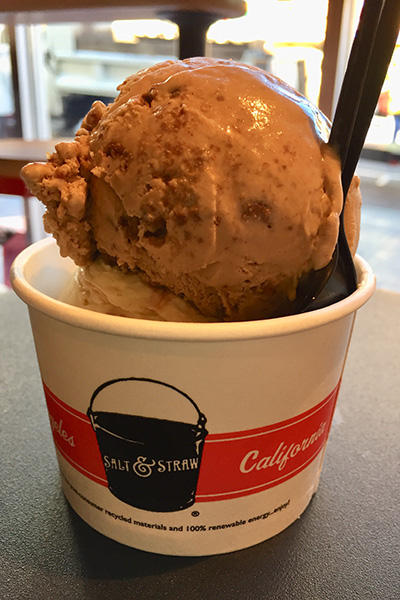 Salt & Straw
1670 India St., Little Italy
3705 Caminito Court, Ste. 0580, Carmel Valley
This beloved Portland-based ice cream shop boasts inventive flavors such as Honey Lavender and Meyer Lemon Meringue Pie. San Diego-inspired flavors include James Coffee and Bourbon, Avocado and Oaxacan Chocolate Fudge and more. An extensive vegan menu offers dairy-free customers a range of delicious flavors to choose from. Check back for new and rotating flavors. Plan to wait in line (it's worth the wait!).
_____________

Photo credit: Katie Sigeti
Somi Somi
4620 Convoy St., Kearny Mesa
9168 Mira Mesa Blvd
This one-of-a-kind soft-serve spot offers delectable ice cream creations in a fish-shaped waffle cone. The special dessert is popular in both Japan and Korea where it is known as "Taiyaki" and "Ah-Boong" respectively. Choose a unique flavor like ube, black sesame or matcha. Then pick from a variety of toppings like Fruity Pebbles, sprinkles, Oreo crumbs and more.
___________
Wahine Kai Shave Ice
10545 Scripps Poway Pkwy., Scripps Ranch
858-831-0903
Locals from Hawaii rave that Wahine Kai is the best and closest thing to authentic Hawaiian shave ice with creations such as The Sandy Jewel and the Kona Luau. You can order one of their suggested combos or create your own.
____________
Yogurt Mill
935 Broadway, El Cajon
619-579-1566
The Yogurt Mill has been a local favorite for more than 35 years. Popular flavors include Coconut, Oreo & Cream and Red Velvet. Stop by between 10 a.m.–2 p.m. to avoid the crowd, or make new friends while waiting in the line that forms after 3 p.m.
Do you have a favorite place in San Diego to get a frozen treat? Tell us about it! Email the details (including what makes it special) to This email address is being protected from spambots. You need JavaScript enabled to view it..
___________
Adrienne Sigeti is the Editorial Assistant at San Diego Family. A self-proclaimed ice cream connoisseur, she loves discovering new frozen treat spots to share with families across San Diego County.
Updated: July 2020
___________