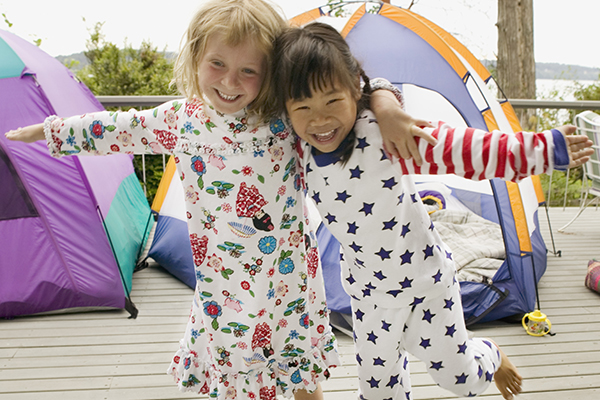 There are few things more exciting to children than staying up past bedtime. If your kids are begging for some night owl fun this summer, San Diego offers plenty of nighttime family fun ideas that are sure to please. Read on to find the perfect way to wrap up summer break with the kids — summer fun after dark!
San Diego at Night
Share the wonder of an after-dark experience your kids will remember forever.
Take your kids to the Santee or South Bay Drive-In and watch current family-friendly releases. Dress in pajamas, snuggle into pillows and blankets and bring favorite snacks to share.
Tour the solar system at a stargazing event. The Fleet Science Center's The Sky Tonight, held the first Wednesday each month, takes guests on a tour of the solar system in the IMAX theater, followed by telescope viewing with experts from the San Diego Astronomy Association (SDAA). SDAA also hosts "star parties" in Poway, Lakeside and at Mission Trails. Visit www.sdaa.org for details.
Several bowling alleys such as Parkway Bowl and Viejas Bowl offer "cosmic bowling" on weekends with music and neon lights that pump up the fun.
Communities such as Coronado, El Cajon, Santee and Escondido extend their free summer concert series late into the season. Bring bubbles, glow sticks, and light-up toys to add to the festivities. Check our list of free summer concerts at www.sandiegofamily.com/things-to-do/seasonal-happenings/san-diego-summer-concerts.
Grab flashlights and dress in layers as you take an evening hike. Mission Trails Regional Park offers a monthly, guided Summer Twilight Walk. Check event schedule at www.mtrp.org.
Kids (ages 9+) and accompanying parents learn about local history and engage in hands-on marine science at Birch Aquarium's Full Moon Pier Walks at Scripps Pier (normally closed to the public) through October.
Catamaran Resort Hotel takes families on an island journey with its festive Sunset Luau (through August), featuring tropical drinks, Kalua pig, leis and Polynesian entertainment. Little ones will love the fire dancers — and a kids buffet that includes Hawaiian pizza and coconut crusted chicken strips.
Hop aboard the Bahia Belle for a short cruise on Mission Bay between the Bahia and Catamaran Resorts. Family hour cruises on the sternwheeler are perfect for little ones and run between 6 p.m.–9 p.m. through the end of August.
Don't miss SeaWorld's exciting illuminated experiences during summer nights only!
Just Add Lights
Glow sticks, flashlights and twinkle lights add excitement to nighttime activities.
Gather neighbors and celebrate the end of summer with a glow-in-the-dark bike ride. Have everyone bring glow sticks to decorate spokes and handlebars. Kids can wear glow-in-the-dark bracelets and necklaces (and reflective tape) so they are easily seen. Set off on a sunset bike ride — make sure to have plenty of parental supervision when crossing streets.
Weave glow sticks through Wiffle balls for an evening game of baseball, or try glow stick ring toss.
Play flashlight tag.
Hang twinkle lights in the backyard and have a talent show with friends.
Attach rope lights to the base of a trampoline (or at the top of the safety net) and let kids to jump under the stars.
Fun at Home
Making s'mores is a long-time summer tradition — and what better time to celebrate than on National S'mores Day (Aug. 10). No need to pitch a tent or find a coveted beach fire pit to make the popular treats (although that's super fun, too!). On the website The Crafting Chicks, blogger Nikkala shares her clever ideas for creating a tabletop backyard s'mores station. All you need is a bucket or ceramic pot, some river rocks and a Sterno can (be sure to get one that is safe for roasting marshmallows!). For directions go to www.thecraftingchicks.com/table-top-smores-diy.
Nothing beats an old-fashioned slumber party to make summer memories. Keep guests focused on the moment (no cell phones) with crafts, charades, a movie and popcorn bar, and homemade pizza or cookies as a midnight snack.
Cherie Gough is a freelance writer and local mom of two.
_________
Find more creative ways to make to s'mores in our round-up: www.sandiegofamily.com/dining-recipes/21-ways-to-make-smores.
________