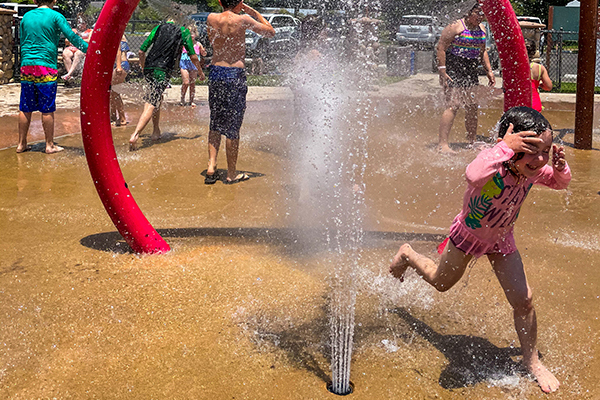 There's no better way to beat the heat than playing at San Diego's awesome splash pads and spraygrounds. From Chula Vista to San Marcos, it's easy to plan fun water play days! Visit these local parks with fountains and water features and let your little ones splash around this summer. Finish the day with an ice cream cone or snowcone. Read Frozen Treats to Beat the Heat for San Diego's favorite ice cream shops.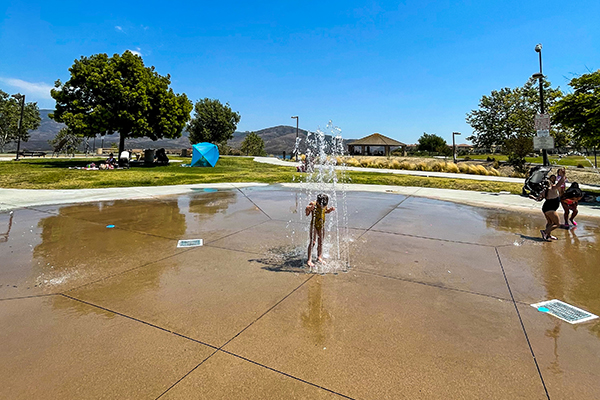 Mountain Hawk Park
1475 Lake Crest Dr., Chula Vista
Hidden in the Eastlake Vistas community of Eastlake, Mountain Hawk Park has show-stopping mountain and lake views, walking and hiking trails, and of course, the pièce de résistance: a circular sprayground for kids of all ages. A dozen water features turn on and off, leading to the inevitable (and all-important) "Ahhh!" when the water shoots up. It's entertaining to watch little ones anticipate which ones turn on next. The water features are simple—no bright colored plastic here—but the minimalism doesn't curb the fun. The path that goes around the splash pad (and playground) is perfect for stroller walks while older kids engage in water play.
Good to Know:
Open April 1–Nov. 1
Parking available in front of the sprayground.
Insider Tip: Bring a pop-up for sun protection if you plan to play all day. The park has a few shady trees, but families grab those spots quickly on sunny days.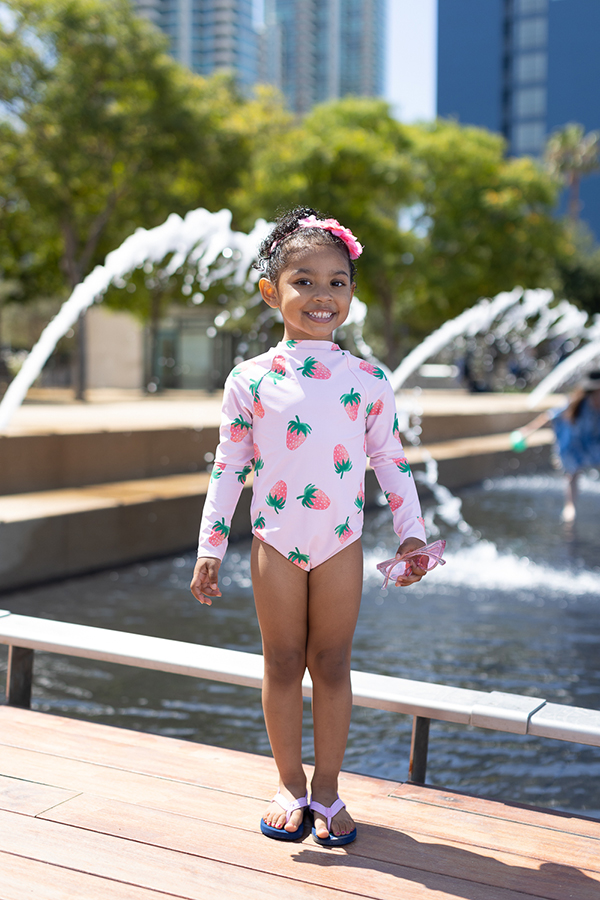 (Photo courtesy of All Colors Photography)
Waterfront Park
1600 Pacific Highway, Downtown San Diego
With downtown views and plenty of space to play, Waterfront Park is great for large group meetups or a birthday party. The fountains splash into reflecting pools on either side of the County Administration Center. Although the park is on a relatively busy street, the expansive grass area leading to the fountains provides peace of mind. Be sure to bring blankets for the grass and an umbrella for shade. If you (aka your little ones) get lucky, an ice cream cart may even come by.
Good to Know:
Open year-round, with water spraying Mon. 11 a.m.–9 p.m.; Tues. through Sun. 9 a.m.–9 p.m.
Metered parking along Pacific Highway; avoid rush hours downtown to get a spot.
Insider Tips:
The north fountains are typically less busy.
Grab coffee and a breakfast sandwich across the street at Portside Coffee & Gelato.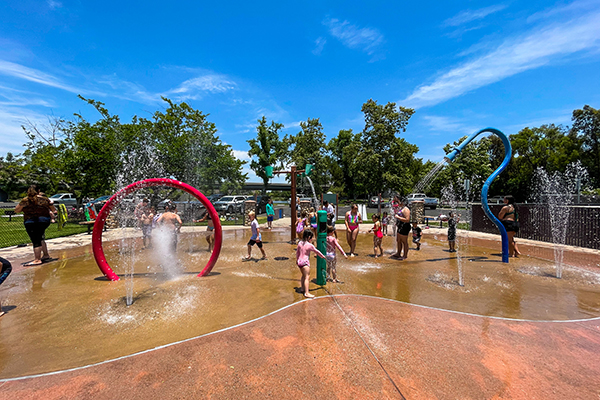 Santee Lakes
9310 Fanita Parkway, Santee
In between Lake 1 and Lake 2 at this huge recreational preserve is a bright, colorful (and fenced in) sprayground. It's small, but lots of fun with a classic bucket dump and spraying arches to run through. Around the edges of the play area are benches to sit and watch your kids play. The lake views make you feel like you've been transported to a different place.
Good to Know:
Open year-round during normal park operating hours.
Parking: $4 on weekdays, $6 on weekends and holidays.
Santee Lakes requires a wristband for the sprayground, which can be purchased when you pull in to park. Weekdays, $2; weekends, $3.
Insider Tip: When you come into park, buy duck food for $1. The sprayground is right on the lake, and feeding the ducks is a great way to get kids out of the fountains (eventually).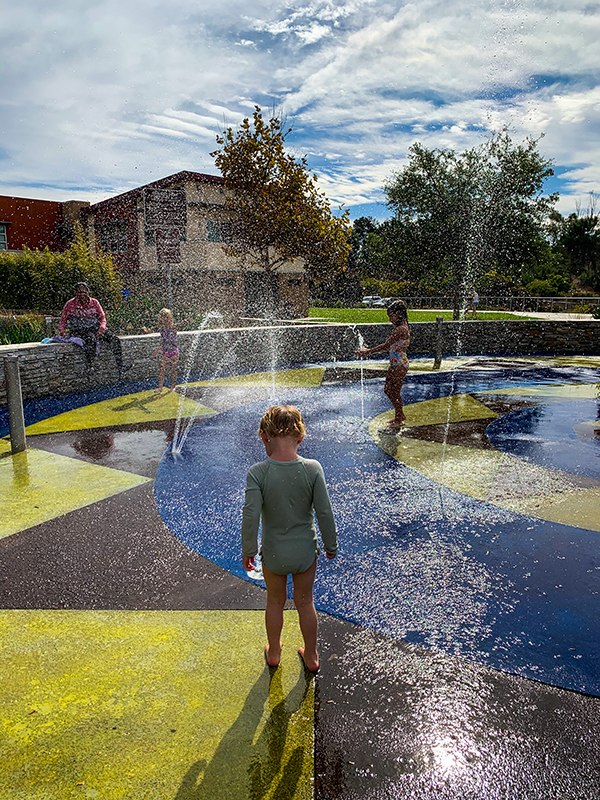 Sunset Park
3337 La Mirada Dr., San Marcos
Once you experience this park, you'll want to come back again and again. The splash pad is encircled with seat-height stone, perfect for watching kids play in the water. The water features are pop jets coming from all different directions—so fun for kids! The "pad" is soft, but gets slippery, so bring water shoes. Next to the splash pad is a beautiful shaded playground with space for kids to play, climb and explore.
Good to Know:
Open year-round.
Park in the lot at the base of the park; it's a short walk to the splash pad.
Insider Tip: Pack a lunch. With the playground, splash pad, and awesome snake climbing structure, you'll be here a while.
TIPS FOR VISITING SPLASH PADS AND SPRAYGROUNDS
Water, puddles and splashing, oh my! Splash pads and spraygrounds are an absolute blast, but like anything else, a few simple guidelines help ensure everyone has a great time.
Grippy shoes for the win. Sprayground "floors" can get slippery, so put grippy water shoes on your kids and remind them not to run too fast.
Leave snacks behind. Food in the water makes a yucky mess.
Diapers, please. Children who aren't completely potty trained must wear a swim diaper when playing in the water.
Don't drink the water—most spraygrounds use recirculated water.
Dress the part. Even if you don't plan on getting wet with the kids, you probably will!
Plan ahead and have a Plan B. If you're driving a distance to a sprayground, try to confirm they're open. Sometimes the fountains are under maintenance; it's disappointing to discover there's no water to play in.
Local mom and San Diego blogger Sandra Page can be found adventuring on Instagram at @playdatesandpints. All photos (except where noted) provided by Sandra Page.
More San Diego Splash Pads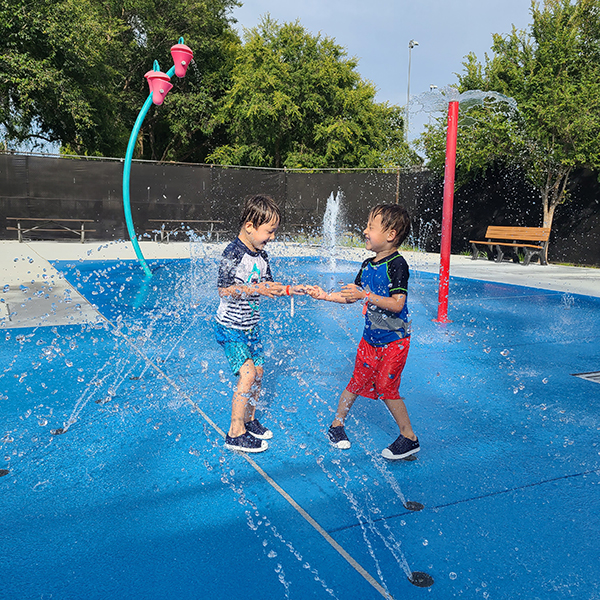 (Photo courtesy of @socaltwinmommy)
Poway Community Swim Center
13094 Civic Center Dr., Poway
Del Mar Highlands Town Center
12925 El Camino Real, Del Mar
(at the bottom of the escalator between Ralphs and the movie theater)
Otay Ranch Town Center
2015 Birch Rd., Chula Vista
Interactive Fountains at Viejas Casino & Outlet Center
5000 Willows Rd., Alpine
(near The Café in the shopping center; rubber soled shoes required)
If you know of a great local splash pad that's not on this list, email This email address is being protected from spambots. You need JavaScript enabled to view it.. Tell us why you think it's great, provide location and any pertinent details. Put "SD splash pad" in the subject line.
____________