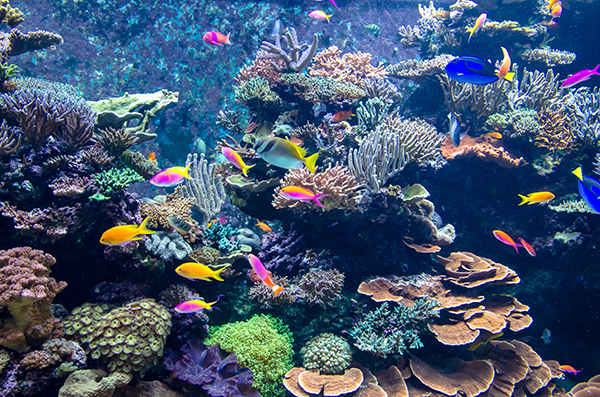 Do your beach-loving kids obsess over dolphins, orcas and sea anemone? Before summer ends, indulge in some much-needed "vitamin SEA" and plunge into ocean learning at one of these SoCal spots that explore the ocean's diverse species. From up-close marine life encounters to the magical world of bioluminescence, read on to discover experiences that inspire kids and future oceanographers.
Tots and Preschoolers
1. Climb into a real submarine at LEGOLAND'S Lego City: Deep Sea Adventure. Embark on a treasure hunt surrounded by real marine life such as stingrays and sharks, in addition to fish made from Legos.
2. LEGOLAND'S SEA LIFE Aquarium is perfect for young marine explorers. Marvel at sharks and rays swimming overhead in the walk-through tunnel. Interact at sea star touch tanks, set at lower heights so kids get a great view. Check out the exhibit Sea at Night, which simulates a bioluminescent tide under a starry sky. Educational talks and animal feedings teach the importance of environmental protection. Aquarium admission can be purchased separately or as part of a hopper ticket.
Kids Ages 5-10
3. Living Coast Discovery Center is a Chula Vista hidden gem. Because it's small, curious kids can ask plenty of questions as they explore exhibits and animals up close. The Center's "Naturally Wild" program offers experiences such as feeding sea horses, sharks and lobsters. Knowledgeable staff members share interesting and useful information. Don't miss feedings of sharks, rays and sea turtles. Enjoy bird watching on the flat walking trails to San Diego Bay.
4. In the Hall of Fishes at Birch Aquarium at Scripps, look for scientists testing out gear before using it for real fieldwork. Make sure to visit the aquarium's newest feathered friends at the Beyster Family Little Blue Penguin exhibit opening July 12, 2022. This 2,900-square-foot exhibit includes a rocky and sandy shore habitat and an 18,000-gallon pool where guests can observe the penguins socializing, interacting and nest building. The exhibit also includes a small amphitheater to observe birds swimming, and a discovery cave to watch Little Blue Penguins on land and inside a nesting box!
5. A visit to Aquarium of the Pacific in Long Beach is well worth the two-hour drive. The aquarium is huge, but each exhibit is presented on a small scale so there are many opportunities to ask questions, participate in hands-on exhibits, and see animals up close. Dare to touch moon jellies, feed lorikeets and learn about frogs from around the world. Kids can collect embossed symbols as they visit each exhibit and receive a small prize when the activity is completed.
Tweens and Teens
6. Older kids love Sea World's newest thrill ride, Emperor. While visiting the park, add an adventure that offers thrills of its own: Sea World's Dolphin Interaction. The in-water experience allows participants to meet, touch and feed dolphins in their tanks, and learn hand signals to communicate with these intelligent mammals. Must be at least 10 years old and taller than 48 inches.
7. A kayaking tour to the La Jolla Sea Caves will get adrenaline pumping. During the 90-minute guided tour, paddle alongside sea lions and leopard sharks, prevalent during summer months. Trained staff helps guests feel safe with thorough paddle instruction. When conditions are ideal, guided groups venture into the sea caves. Life jackets and helmets are provided.
--------
Cherie Gough is a local freelance writer.
--------