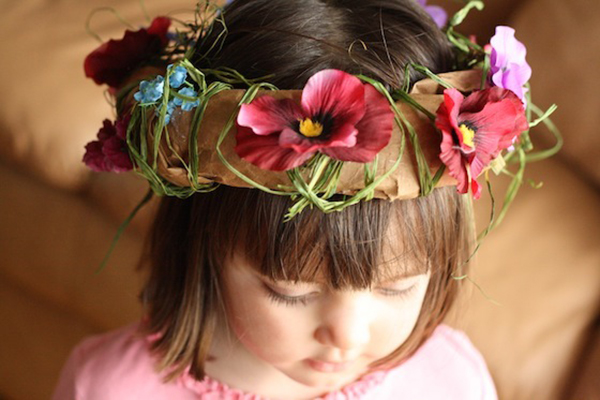 Creating a thank-you gift (party favor) with your kids teaches them appreciation and gratitude for guests that attend their party. Tired of the same old trinkets stuffed in a goodie bag? Get inspiration for your child's next birthday bash with these unique, eco-friendly party favors.
GET CRAFTY

Have guests make a special craft they can use again and again. Consider crafting as the first party activity—it's a great icebreaker that keeps little hands busy as guests arrive. Plus, glue will have a chance to dry before the party is over. When artwork is complete, a great photo op awaits. These crafts use recycled materials and are budget-friendly.
Paper Bag Tiaras
Jackie Currie, blogger at Happy Hooligans, created a craft that's perfect for a garden, fairy or princess party. Make the base out of paper grocery bags in advance. Then let guests decorate with artificial flowers and raffia or stickers and jewels. Happy Hooligans also details alien, bug and mermaid headbands. Visit www.happyhooligans.ca/paper-bag-tiara for directions.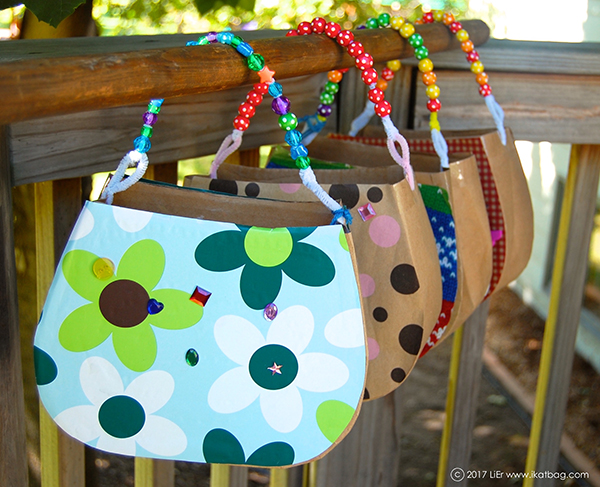 Retro DIY Handbags
These take a bit of pre-party prep work, but the results are beautiful. Little ones will love adding creative touches with beads, patterned paper and baubles. Lorraine offers step-by-step instructions (including a template) on her blog ikatbag. Kids can make the handbags in just 20 minutes. www.ikatbag.com/2010/09/tea-party-behind-scenes-cardboard.html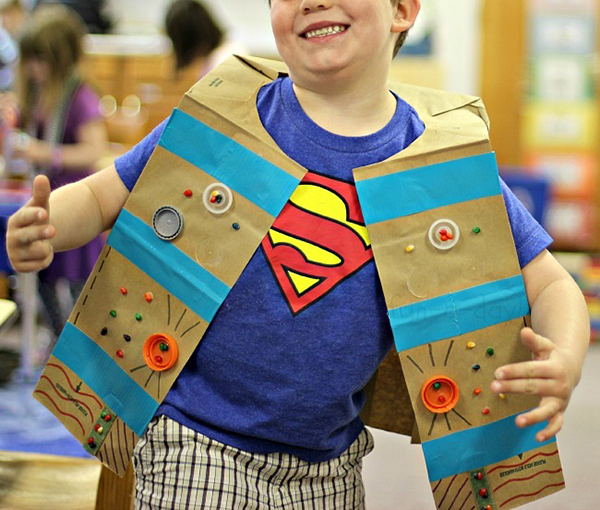 Robot Vests
Mary Catherine, blogger at Fun-a-Day, uses just five everyday items to craft robot vests. Awesome for high-energy little ones who want to craft quickly and get on with party fun! When the glue dries, guests can pretend to be little robots. www.fun-a-day.com/easy-robot-craft-recycled-materials
Other Craft Ideas:
Superhero masks and capes are easy to make. Go traditional or personalize capes with each guest's first initial.
Create hats to fit any theme.
Wands and beaded necklaces add sparkle to a party. Or for an outdoor activity, make beaded bubble wands. Find instructions at www.sandiegofamily.com/for-the-kids/crafts-for-kids/1813.
Homemade slime (for a magic potion or gross-themed party) requires just a few ingredients and takes minutes to make.
Have guests paint flowerpots using tempura. Fill with seed packets.
Paint premade wooden picture frames or make them with Popsicle sticks. Take fun photos in a DIY photo booth for guests to put in their new frames.

PRACTICAL PURCHASE
If you prefer to buy a thoughtful party favor for guests versus manning a table of glitter and glue, try these ideas:
Art Supplies
Watercolors, colored pencils, crayons, or gel pens.
Playdoh and a cookie cutter. Make it homemade if you wish.
Crayon wallets roll into small bundles and are great for kids on the go. Find them on Etsy—many sellers offer discounts for multiple purchases.
Outdoor Fun
beach ball
sidewalk chalk
hula hoop
beach toys
jump rope
Brain Games
A deck of cards is perfect for a magic party. Teach kids a simple magic trick or how to play math games such as Go Fish, War or Crazy Eights.
Jigsaw puzzles or Rubik's Cubes.
Themed books, riddles, sticker, origami or maze books. Scholastic is an economical resource.

One Sweet Treat
Instead of sending home a bunch of candy, consider one sweet treat.
A decorated cookie that matches the party theme.
Small gift card to Baskin Robbins (get a discount for 10 or more) or In-N-Out Burger.
Wendy's Frosty Key Tags. Guests get a free frosty with meal purchase throughout the year.
Accessories
Shoelaces
Hair clips
Magic wands
Silly glasses
A pair of wings
Party Animals
Finger puppets
Animal stickers
Mini Beanie Boos for backpacks

Cherie Gough is a local freelance writer who believes daily mindful choices can make a big impact.

Published June 2017