Host a Dr. Seuss's The Lorax-themed party for a child's birthday or to honor the Lorax's timeless enthusiasm for the earth (or, in this case, truffula trees and brown barbaloots). Inspired by the beloved children's story and Pinterest, we created DIY Lorax party favors to easily make at home (instructions and free printables below). Gather the kids, read the story, then celebrate -- and help Dr. Seuss's The Lorax come to life!
LORAX GOODIE BAGS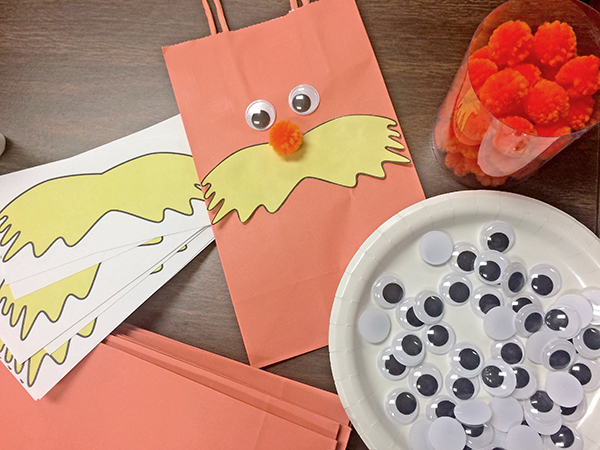 Supplies
Orange gift bags
White cardstock
Scissors
Glue
Googly eyes
Orange pom-poms
Optional: yellow tissue paper
Directions
Print mustaches from attachment below and cut around outline of each one (or draw and color your own).
Glue one mustache to each gift bag, as shown in photo.
Using glue, adhere one orange pom-pom to the top of the mustache and two googly eyes above the nose.
Let dry.
Put a piece of yellow tissue paper in each bag, if desired.
TRUFFULA TREE SEED TREATS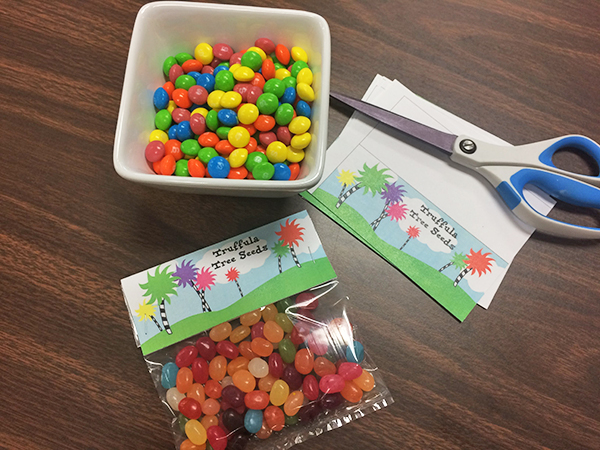 Supplies
White cardstock
Scissors
Cellophane bags or sandwich baggies
Double-sided tape or stapler
Any of the following:
Skittles
Trix cereal
Jelly beans
Candy-coated, multi-colored sunflower seeds
Directions
Print bag toppers below.
Cut out and fold each in half as indicated (the backs of the toppers are white).
Fill bags with chosen candy or cereal.
Use double-sided tape or a stapler to attach a bag topper to each bag.
Send the treats home with kids as a party favor.
Note: If you choose to staple bag toppers, be sure to remove staples from bag before consuming treat.
OTHER IDEAS
Read "The Lorax" by Dr. Seuss at the party, so everyone knows the story.
- Plant a tree or do a planting activity in small planters. Send planters home with kids as a party favor.
Using 3-D paint or black Sharpie, have each child write UNLESS on rocks. Send the rocks home with kids as a party favor.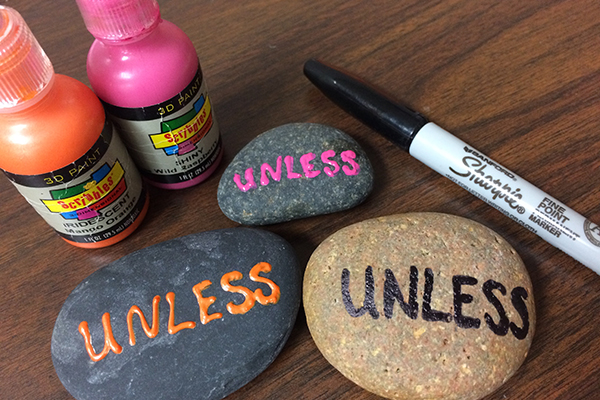 Serve Brown Barbaloot Snacks (Teddy Grahams) and Humming Fish Snacks (Goldfish crackers) at your party.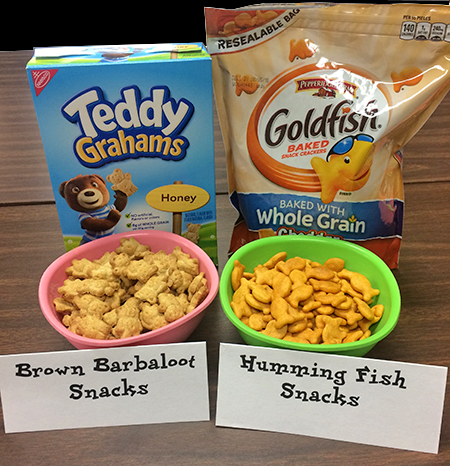 ---------
Click on the images above to download pdf files that you can print and cardstock and cut out.
--------
Lisa Gipson is the managing editor of San Diego Family Magazine, a crafter at heart, and a huge fan of the little orange guy who "speaks for the trees."
Printables were designed and created by San Diego Family's graphic designer, Rik Thiesfeld.
--------