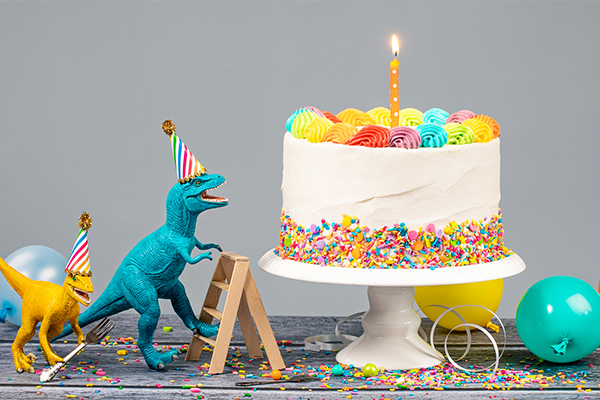 Have a child who is fascinated with dinosaurs? Here are tips to host a dinosaur-themed party that will be remembered for the next million years. Find fun ideas for activities, games and dinosaur-themed food.
Activities
1. Dino Egg Hunt — Fill plastic eggs with dinosaur stickers, stamps, toys or numbers to turn in for larger prizes. Hide eggs around the yard for guests to find. Consider assigning egg colors to each guest to make sure they get an even number of prizes.
2. Make Fossil Party Favors — Mix together 1 cup used coffee grounds, ½ cup cold coffee, 1 cup flour and ½ cup salt. Divide into four pieces and flatten out with hands. Press shells, sticks, leaves, plastic dinosaurs, etc. into coffee ground "fossil" dough. Guests can take them home in plastic bags. Let dry 3–4 days before handling.
3. The Excavator — Mix plaster of paris and pour into old plastic containers or paper milk cartons. Insert dinosaur toys to be excavated and let dry overnight (or per directions). Let kids use small hammers to chip away and discover what is inside. Don't forget eye protection!
Games
1. Cave People Stomp — Blow up balloons and attach to paper plates with tape. You can add faces, yarn hair or paper arms to make them look like cave people if you wish. On "Go," the dinosaurs (kids) stomp as many cave people (balloons) as they can. Optional: Make "dinosaur feet" out of cardboard ahead of time and tie them to the players' shoes before they start stomping.
2. Hungry Dinosaurs — For this game, you will need a skateboard for every two players, oven mitts and a bunch of small bouncy balls. Players pair up: One on a skateboard on his belly (the dinosaur) and the other behind him holding his feet like a wheelbarrow and pushing him around. Balls are placed on the ground in the middle of the room. The players on the skateboards put oven mitts on. On "Go," teams go back and forth into the circle collecting as many balls as possible. When the "dinosaur's" hands are full, empty balls into a bowl outside the circle before going back in to collect more. Play the game twice so each child gets to be the dinosaur.
3. Hot Lava — Put red plastic tablecloths on the floor. Set up an obstacle course made of stepping stones, bricks, low stools, pillows, etc. Guests climb, step, jump on the items, but cannot step on the hot lava. Play again using only colored paper to step on and have the kids play in teams — one blindfolded while the other gives directions to help his partner to safety.
Food
1. Chicken (baby pterodactyl) legs or wings are a real crowd pleaser! Make your own, order take-out or prepare frozen dinosaur chicken nuggets.
2. Mini Nacho Volcanoes — Use a 12-oz. brown paper cup (Amazon has coffee cups that work great) and cut off the bottom half inch. Place bottom side up and insert a 5-oz. plastic snack cup inside. Fill cup with red salsa or nacho cheese and spill some over the edge of the volcano. Serve on an individual dish surrounded by dinosaur scales (chips).
3. Lava Cake — Make your favorite chocolate cupcake recipe and allow cupcakes to cool. Using a paring knife, cut out the center about halfway into the cupcake preserving the center piece. Fill with hot fudge sauce or Nutella (mixed 4:1 with milk). Replace the top and cover the cupcake with piped red icing.
4. Dino Juice – The easiest version of this is to buy Hawaiian Punch Green Berry Rush flavor. But there are many recipes online if you want to make your own green punch.
________
Pam Molnar is a freelance writer and mother of two girls and a former caveboy. Follow her at Pam's Party Printables for other party games and ideas.
________
Don't miss this! Learn how to make Dinosaur Footprint Cookies.