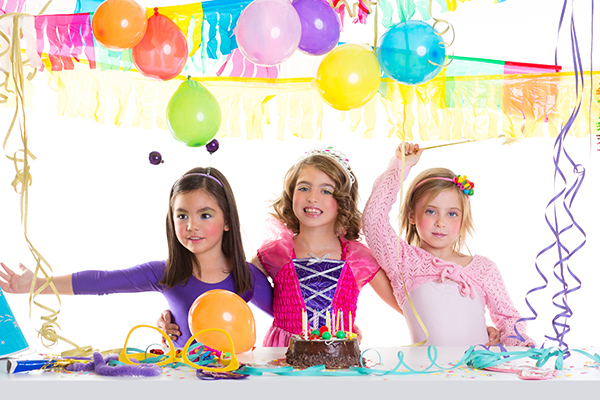 It's party time! Whether you're celebrating a birthday, school promotion or "just" welcoming summer, have a STEAM-centric event by integrating science, technology, engineering, art and math into festive party plans and activities. Setting up stations helps meet social distancing guidelines, or materials can be delivered to friends ahead of time so activities can be done "together" on Zoom.
Food Fun
Set up creativity tables where party guests can craft their own meal. Use large cookie cutters to cut a variety of sandwich shapes or offer a build-your-own-pizza (or sushi roll) station. Let kids thread uncooked spaghetti through hot dogs and boil them on a camp stove in the backyard for an unexpectedly inventive meal.
Party Treats
Invite each guest to make a small, one-layer cake by measuring, adding and mixing ingredients (or minimize mess and save time using premade cupcakes or sugar cookies). Have decorating tables that engage the senses: let kids mix colors into white frosting for a fun lesson in color combinations; offer a variety of textured toppings such as fresh berries, sizzling pop rocks and shredded coconut. Set up a culinary creation station where kids design licorice string sculptures or build with candy blocks, gum drops or mini marshmallows.
Entertainment
Plan STEAM activities that turn into party entertainment! Musical or theatrical performances and skits fascinate guests of all ages. Allow kids to curate costumes, design sets and construct props. DIY instruments are a perfect party activity! Learn how to make fabulous melon maraca, citrus drum and rainbow rainstick by watching our video at www.youtube.com/watch?time_continue=5&v=kNCt31TXhFM.
Games & Activities
Pictionary, a STEAM bingo scavenger hunt (www.sandiegofamily.com/for-the-kids/family-science/stem-bingo) and loose-parts creativity table keep kids engrossed and engaged. Finish the party with a "magic" science experiment: learn how to put a skewer through a balloon without popping it at www.youtube.com/watch?v=LO8OGkhsX6M. Tip: if you fill balloons with confetti before blowing them up, it will still feel like a celebration if kids accidentally pop them in the process!
Digital Thank You "Notes"
Record short video clips of the birthday child (or honored person) with each party guest during the event. After the party, add a message of appreciation for taking time to celebrate together and send custom messages to each guest. Or, take a photo of the birthday child with each guest at the party (follow social distancing guidelines!) and have him create custom digital thank-you cards after the event.
Party Favors
Some of the activities above double as party favors. If you want to provide something additional, give guests playing cards, dice, a mini art set, or other item that promotes creativity. Feeling extra crafty? Make party favors promoting STEAM: A DIY planter (care instructions, seeds, planter pot and photo of plant/herb) or DIY hot chocolate (powdered chocolate milk, chocolate chips, marshmallows and a recipe). These favors keep guests STEAMing ahead, long after the party ends!
Tracy Real is a parent educator who curates and hosts inspiring space for students to explore and create at an elementary school in South Bay.
For more STEM projects and activities, visit the Family Science section of our website.
__________