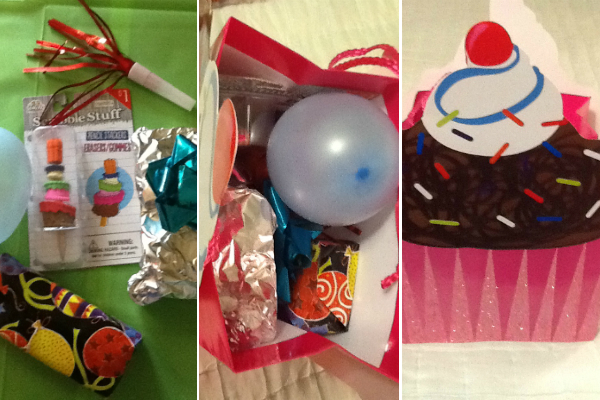 Here's a quick and easy way to make your child's birthday special: Send her to school (or camp) with a festive birthday lunch to help her celebrate! There's no reason to spend a lot of money or go overboard—just dress up a couple regular lunch items and insert a few special (inexpensive) items. I thought of this on the morning of my daughter's 13th birthday, so it was done very last-minute, using items I already had in the house. She loved it!

Supplies
One small balloon
One party blowout or "squawker" (shown in photo)
One birthday-themed school supply (stackable cake eraser shown)
One festive birthday napkin
One gift bag (to be used instead of lunch box)
Birthday wrapping paper, foil and bow
Normal lunch your child would eat

Directions
Wrap a couple of lunch items in birthday paper and/or foil and a bow (in this case, I wrapped my daughter's sandwich and juice box). Inflate a small balloon. Place all items carefully in a gift bag (I got the cupcake bag at the dollar store) and give to the birthday child on her way to school or camp. Now, how easy is that?!

Be creative and have fun with it! But again, use items you already have around the house. Consider making it a new birthday tradition. Works for spouses, too!

----------
Lisa Gipson is the managing editor at San Diego Family and a mom of three daughters.
Published: May 2015