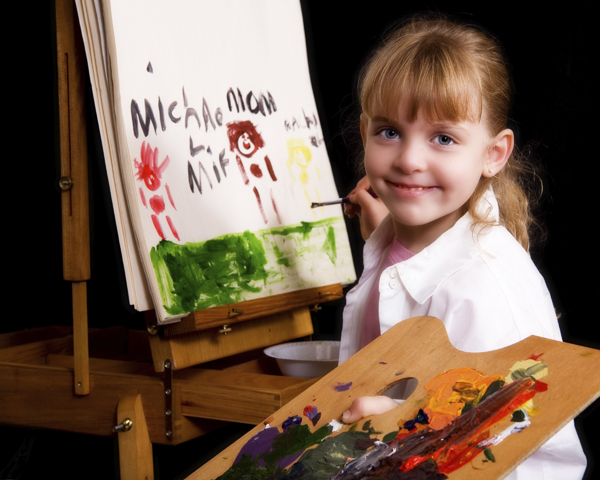 Do you have a budding artist in your life? Here's a great idea for a kids' arts & crafts birthday party. This theme will get your child's creative juices flowing, and their friends will also have the chance to show their skills. Plus, you have instant inspiration for party activities. What could be easier?

Make Your Own Invitations
Once you decide on a date for your art birthday party, you will want to send out the birthday party invitations. Let the birthday boy or girl help. A paint palette is a perfect template for invitations. You can download an outline for a palette from the Web, or draw one yourself. Use white cardstock, and cut out your paint palette. Let your child color the paint circles on the palette. Be sure to include the time, date and clear directions inside. You might want to ask kids to wear old clothes, especially if you plan on letting them paint.

Party Planning 101
Now you want to plan the set up for your party. First, determine the location. A craft party is bound to get messy. Plan to lay plastic over anything you don't want smudged, or hold the party outside, weather permitting.
An art theme party gives you lots of room to work with when deciding on the decorations and activities. Bold, colorful decorations in the primary and secondary colors—red, blue, yellow, orange, green and purple—will work well for this birthday theme. Hang bunches of balloons in these colors.
Provide a range of activities by setting up different craft stations. You may want to include a finger painting center, a stamp center and a clay center. Card tables or longer folding tables covered in inexpensive plastic tablecloths will do the job well. Have all the supplies you need at each table for the upcoming activities. You will want to make sure you have enough arts and crafts supplies to go around.

The Party Table—Arts & Crafts Style
For an artist birthday party, you should cover the tables in newsprint or white sheets of paper so kids feel free to draw. Local newspapers will often give large end rolls away for free. Place containers filled with paintbrushes, colored pencils and crayons on the table. Lay paint sets and other art supplies out on the table for decorations. As for the utensils, you can use small buckets or clay pots to hold disposable tableware and napkins. Again, napkins and silverware in primary colors are an excellent choice.

Party Food for Hungry Artists
Now for the best part of the birthday party—the food! You can prepare cupcakes ahead of time and set up a cupcake-decorating station. Have the cupcakes baked and ready to go. Put out different colored icing, plastic knives and fun "toppings." Let the little artists use the small decorating tubes of icing to draw on their cupcakes.
This menu is simple and easy to make. Clean up is quick and easy. The simpler the menus at a birthday party, the better. It allows you to focus on the day rather than stressing over the food.

Picasso Punch: Any red or pink juice with scoops of rainbow sherbet floating in it.
Painter Parfaits: Layer Jell-o in a cup with berries and whipped cream.
Van Gogh Burgers: Place condiments in squirt bottles kids can use to "draw" on their burgers.
Da Vinci Veggies: Carrot sticks, celery sticks, broccoli and cauliflower.

Party Activities—Getting Crafty
When the children arrive, hand them smocks and crayons. Besides covering the table, cover a wall with newsprint. Let the kids work on a mural for the birthday child.
For your activities centers, you can choose any number of artistic endeavors. Here are a few ideas:
Paint a Portrait: Set up some easels, and supply watercolor paints and newsprint. Allow the children to paint portraits of each other.
Finger Paint Fun: Put out finger paint and finger paint paper (freezer paper works great), and let them go for it. Have baby wipes on hand to clean up messes. String a line to clip paintings on to dry.
Make a Craft Table: Choose a simple craft, and have everything laid out. An adult should be watching to make sure kids understand the instructions. You can purchase craft kits for everything from small woven baskets to fuzzy animal key chains at local stores. Many come with enough for several kids.

Goody Bags to Take Home
You won't want anyone to go away empty-handed. Fill a bag with crayons, colored pencils, markers, erasers, mini notepads and colorful candy. Don't forget to send along the works of art they created as well.
------------------
By, Belinda J. Mooney
Published: May 2013