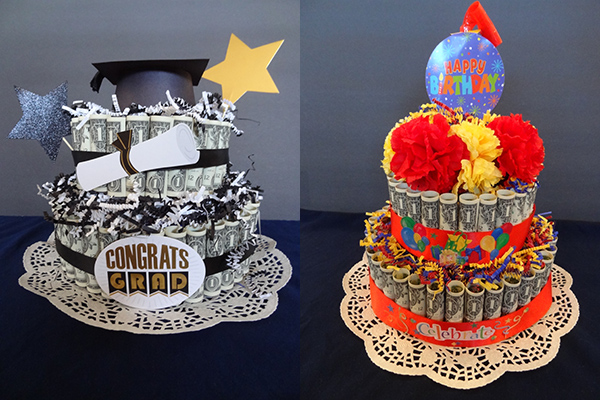 Money is a timeless and versatile gift, but let's face it — presentation is everything! If you're planning to give a monetary gift for a birthday or graduation, consider elevating it by making a festive money "cake." These were made with 50 one-dollar bills; simply use bigger bills for a larger gift. Don't be fooled, there's nothing edible about these cakes!
Supplies
Crisp bills (shown in photo: 50 one dollar bills; use bigger bills for a larger gift)
Pencil or dowel
A bag of small clear hair rubber bands (check dollar stores)
2-3 really large rubber bands
2-3 round Styrofoam discs various sizes OR round cookie tins
Ribbon
Removable tape or glue dots
Glue gun or double-sided tape
Embellishments to decorate ribbon and top of cake
One round cake board or paper doily (optional)


Instructions
Roll the bills around a pencil or dowel (use a 5/8" dowel to make them bigger); use a small rubber band to keep rolled.


Put one large rubber band around each Styrofoam disc or cookie tin.


Tuck the rolled bills under the rubber bands in a standing position until the discs are completely covered.


Cover the large rubber bands with ribbon; secure in place with removable glue dots or tape.


Embellish the "cake" using stickers or other miscellaneous décor.


Adhere the top layer of the cake to the bottom layer using a glue gun or double-sided tape


Place completed cake on cake board and/or paper doily (optional)


Tips
Do not use super glue or hot glue on the money as it will damage the bills.
The larger you roll the bills, the less money you will need to fill the cake.
Wrap the small rubber bands around the bills before removing them from the pencil or dowel.
Do not use Styrofoam discs or cookie tins that are taller than the bills.
Inexpensive decorations/embellishments are available at dollar stores.
_________
San Diego resident, Diana Buell, loves making crafty gifts in her spare time.
_________