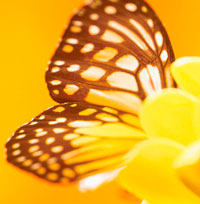 Plan a Flutterby Butterfly Party


Here is a fun party craft that the kids can make. The materials need to make these Coffee Filter Butterflies 

are:
Wooden Clothes Pins
Round Coffee Filters

Black Acrylic Paint

Watercolor Paints

Black Pipe Cleaner


Instructions for Kids:

Paint your clothespins black first. Fold the pipe cleaners into V shapes the size you want your antenna to be, cut and glue to the clothes pins at the flat end.
 Take the coffee filters and spray them with water until they lay flat but aren't drenched (it should only take a few short sprays, use warm water).
Now, dab the watercolors on the wet coffee filters. It will run and smear but that's okay. You can also use markers for this. When you are happy with your design on one, repeat this process with another coffee filter. Put the wet filters in a safe place to dry.

When they are dry gather up the coffee filter in the middle, trying to keep the outside edges flat, and clip it into the clothespin. Spread the wings out and you are done.

Glue a magnet strip on the backside of the clothespins. Stick your butterflies to the fridge; they are strong enough to hold up some notes or drawings.


And now for a fun party drink: Butterfly Nectar Punch!


Ingredients:

1 cup sugar

1 cup water

1 small package peach Jello
2 cups hot water
1 6-ounce can frozen lemonade
4 lemonade cans water

1 46-ounce can pineapple juice

1 46-ounce can Hi-C peach drink

1 quart peach soda


Directions:

Bring the sugar and 1 cup of water to a boil. Mix the peach Jello into the 2 cups hot water. Add this to the sugar syrup mix. Remove from heat. Now add the lemonade mix, 4 cans of water, pineapple juice and peach drink. Freeze mix for about 12 hours. Let thaw about 6 hours before your party. Stir the butterfly nectar to mix well. It should be slushy. Add the peach soda just before serving.
Belinda J. Mooney is a freelance writer.