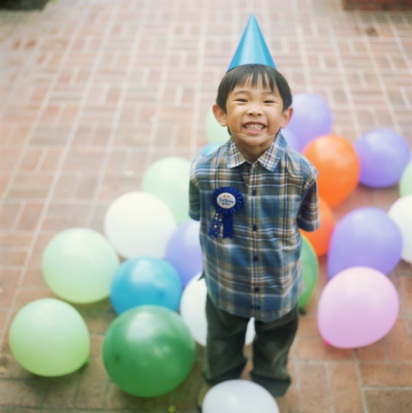 Birthday Party Ideas. How to Plan a Birthday Party While Going Green!
After attending a recent birthday party for my 6-year-old son's friend, I came home wondering what kids learn about garbage at parties. Everyone put their plastic cups, forks and spoons in the trash. Used wrapping paper covered the floor and treat bags full of plastic toys went home with every kid. Seeing this happen at party party after party, it's no wonder we have landfills full of waste. What can you do to plan a birthday party that supports sustainability?
Consider these options and Mother Nature will thank you!

Birthday Party Invitations. Rather than sending paper invitations, try using a free, online invitation service such as Evite. Not only does it decrease paper waste, it allows you to easily track RSVPs and send messages to invited guests. If you're concerned about privacy, create a cute invitation using clip art and send it BCC via e-mail.

Birthday Party Food. While it may be convenient to serve juice boxes or bottled water, try buying a gallon of juice, milk or using filtered tap water as the beverage. Serve the drinks in paper cups that can be recycled or composted and avoid providing plastic straws. The same goes for individual servings of snacks. Rather than buying packages of pre-sliced apples, slice them on your own. Provide bowls of chips or crackers instead of single-serve bags.

Flatware. If possible, use your everyday forks, knives and spoons instead of plastic. If you have too many guests and need to use plastic, provide a place for guests to put their used utensils. Afterwards simply wash them and re-use at your next event. Better yet, look for compostable products at your local retailer or purchase a 36-piece compostable flatware set made by Ultra Green and available at various online retailers.
Birthday Party Gifts. Kids love to give (and receive!) gifts. With a little creativity, parents can help kids give gifts that are green. Options include suggesting friends bring "not new" gifts (it's the perfect chance to trade a toy or game that is in good shape but no longer interests its owner). Some families request items they can donate to a food bank or animal shelter. There's always the option of letting guests know that their presence is the only gift required. As for gift bags, start by eliminating the bag itself. Try looking for the party favors at your local resale or thrift store. Maybe it's a fun dress-up accessory that every 6-year-old will love, or a gently used toy car that thrills the toddler set. The homemade compilation CDs our sons have received as party favors remain some of our family's favorite discs.
Whether you try all of these tips or pick just one, your actions will make an impact. Observing an adult who understands the importance of making choices that support our planet is a gift that keeps on giving for generations to come!

-------------------
Liz Sheffield is a freelance writer who lives with her husband and two sons.
Published: December 2011