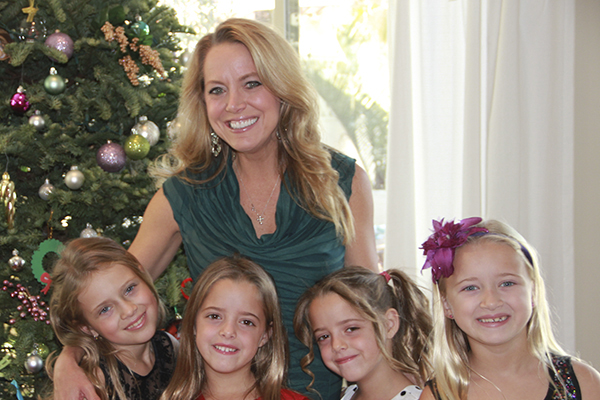 Experience and tips from Food Network star and local mom, Melissa d'Arabian

Food Network Star Melissa d'Arabian, will host her 24th mother-daughter tea party this year, so some would argue she's an expert party hostess. But things were not always easy for Melissa's family. Their long-time party tradition started when Melissa was a child and money was scarce.

"My mom raised me on her own while she was putting herself through college and medical school," d'Arabian says. "She wanted to teach my sister and me the joy of hosting others, even though we rarely had the budget to do it. When I was in kindergarten and my sister was in second grade, Mom invited her girlfriends (and their daughters) over for a holiday cookie and hot cocoa party at our home.

"We had no extra cash to be throwing a party, but we still managed to put together a beautiful celebration. We decorated the Christmas tree, ate cookies, drank hot cocoa and sang songs around the piano. It was simple and lovely. That experience taught me how beautiful it is to cook for people and bring joy to loved ones by creating something welcoming."

Their tradition became a highly anticipated annual event and wonderful time to connect with girlfriends. Some years they went all out and had a big buffet, prepping and cooking up to a week in advance. They were happy to dedicate their time and energy to the celebration since it was the only party they had all year.

"We hosted 15 mother-daughter teas before my mom passed away," says d'Arabian. "I was 20 years old at that time. I always said if I ever had a daughter, I'd continue our tradition. Now I have four!"

Melissa started hosting Christmas tea parties again when her oldest daughter was one. Now Valentine (9), Charlotte (8), and twins Margaux and Oceane (7) are all part of the festivities. They get new dresses, select the invitations, and help with preparations. "We're in it as a team. It's a real lesson in hostessing, and I love that the tea connects the girls to my childhood memories of my mom. We host our tea party around the holidays, but it can be done any time!"

Over the years, Melissa's friends have shared that they'd like to start a similar tradition, but are a bit nervous at the thought. "There's no need to be intimidated," says d'Arabian. "I often reflect on a simple piece of advice I got from my grandmother: 'It's a party, not a performance.' Here are some strategies I've learned that allow me to enjoy my own parties."


---

Tips for a successful mother-daughter tea party

1. Use Evite if you're in a time crunch (include an end time to the party; two hours is about right).

2. Create a "star" dish or two and make plenty of it (in my house, it's the Potato Bacon Torte).

3. Set up an easy craft for the girls (Bonus: It doubles as a take-home party favor).

4. Do all your preparation the day before (My rule: If it's not cooked by midnight, it won't be served!).


---

Tea Party Menu Ideas

Want to make some of Melissa's favorite tea party dishes? Find recipes below. Potato Bacon Torte is her most requested recipe!

Potato Bacon Torte

Fruit Salad with Lemon-Mint Syrup

Buttermilk Scones

Tea Gallerie in Kearny Mesa offers a variety of special caffeine-free teas made just for kids! Find more info at www.teagallerie.com.


---

Tea Time in San Diego

Prefer to make reservations? Find a list of favorite San Diego spots to enjoy tea service here.

Melissa proves that healthy cooking at home is easy and affordable in her new cookbook Supermarket Healthy. Available December 30. Preorder your copy at www.melissadarabian.net.
-------------------

Lisa Gipson is the Managing Editor at San Diego Family and loves all mother-daughter activities with her three girls.
Published: November 2014