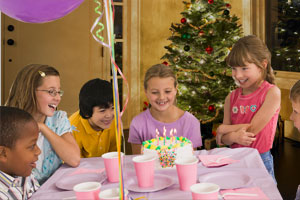 Tips to create a special celebration for a child whose birthday is on a holiday.
For kids who have birthdays on Halloween, Easter, Christmas or Thanksgiving, there is often nothing more important to them than celebrating their big day separate from the holiday.

Birthdays that fall on or near major holidays are often combined with the festivities of that occasion for convenience. To help your child have a unique, memorable birthday — and ensure that friends are available to help celebrate — consider these tips.

Timing
Have a birthday party before or after the child's birth date. Some people embrace the idea of a "half birthday", celebrating exactly six months after the birthday.
Many families travel to be together during holidays. If your child's birthday falls on a major holiday, have a birthday celebration that doesn't compete with family holiday plans. But consider including out-of-town guests in a separate birthday party.

Theme
Have you ever asked your child how she feels about her birthday falling on a holiday? If not, be sure to do that. If your child loves Valentine's Day, it's likely not a problem that her birthday cake is covered with hearts. Or if Halloween is her absolute favorite, don't shy away from having a costume party in her honor.
But if the birthday child wants to celebrate separately, be respectful of her wishes. Provide a birthday cake, decorations and activities that are not associated with the holiday. And never wrap a birthday present in Christmas paper — a common pet peeve for people born in December.

Plan Ahead
Send invitations earlier than usual. Family schedules fill quickly — especially with holiday festivities. Send invitations at least 2-3 weeks prior to the planned celebration so there is plenty of time for people to plan.


Lisa Gipson is the managing editor of San Diego Family Magazine.