Protect Your Child by Going Green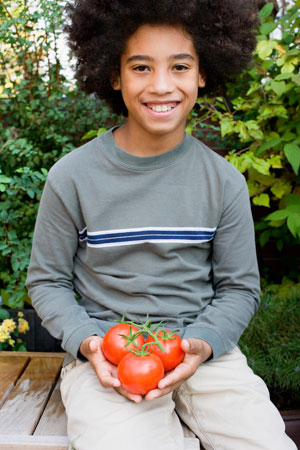 As a good parent, you try to protect your children from harm. You buckle your children in car seats when driving; you install safety latches on our cupboards to prevent accidental exposure to harmful chemicals; you outfit your children in protective gear when biking or swimming. You are always on the alert for anything that could possible cause harm to your children. But how are you protecting them from exposure to pesticides and other toxins?

Should you worry about pesticides?
Pesticides are designed to kill living things and enhance the growth of fruits and vegetables. Although pesticides promote the growth of produce, studies suggest that low-level exposure to pesticides may lead to health problems in humans. Special attention is given to the effects of pesticides on children because their developing immune systems may have difficulty eliminating them from the body.

Children eat more fruits and vegetables (relative to their body weight) and have less varied diets than most adults. Children who eat a limited variety of fruits and vegetables risk constant exposure to the same pesticides. A recent study demonstrated the effects of pesticide accumulation in children. Young children who normally followed a conventional diet were switched to an organic diet for several weeks. Researchers found that the urine pesticide levels in these children were significantly higher when they followed a conventional diet compared to when they ate only organic foods.

Many pesticides are now considered "endocrine disrupters" chemicals that cause a variety of changes in normal hormone signaling such as growth, developing nervous system and cognitive abilities

High Risk "Organophosphate" Insecticides
"Every day, nine out of ten American children between the ages of 6 months and 5 years are exposed to combinations of 13 different neurotoxic insecticides in the foods they eat. While the amounts consumed rarely cause acute illness, these "organophosphate" insecticides have the potential to cause long term damage to the brain and the nervous system, which are rapidly growing and extremely vulnerable to injury during fetal development, infancy and early childhood," according to the Environmental Working Group (EWG).

Organophosphate (OP) compounds are the most widely used insecticides in the world. OPs replaced organochlorine insecticides, such as DDT, which linger in the environment and in the human food chain, causing health problems. OPs break down in the environment after a few months; however, OPs are highly toxic to the nervous system of humans, even more than DDT. In humans, poisoning symptoms include: excessive sweating, salivation, nausea, vomiting, diarrhea, abdominal cramp, general weakness, headache, poor concentration and tremors. In serious cases, respiratory failure and death can occur.

This Environmental Working Group analyzed more than 80,000 samples of food inspected by the federal government for pesticide residues from 1991 through 1996. From detailed data and comprehensive analysis of toxic levels, the data revealed that 13 OP insecticides were found at levels that can cause harm to children. The potential public health impact is substantial.

The highest risk OP compounds are methyl parathion, dimethoate, chlorpyrifos, pirimiphos methyl, and azinphos methyl, which account for more than 90 percent of the risk from OP insecticides in the infant and child diet. These chemicals can be found in fruits and vegetables and processed food products such as baby food, corn chips and apple juice.

How to Limit the Amount of Pesticides in your Child's Diet
Organic farmers emphasize the use of renewable resources and the conservation of soil and water to enhance environmental quality for future generations. Organic meat, poultry, eggs, and dairy products come from animals that receive no antibiotics or growth hormones. Organic food is produced without using most conventional pesticides, petroleum-based fertilizers or sewage-sludge based fertilizers, bio-engineering or ionizing radiation.

Start by selecting organic alternatives to the foods your family eats most. If you must choose conventional produce (non-organic foods), choose produce shown to have low pesticide levels including: asparagus, avocados, bananas, broccoli, cauliflower, sweet corn, kiwi, mangos, onions, papaya, pineapples and sweet peas.
Try to limit conventional produce shown to have high pesticide levels including apples, bell peppers, celery, cherries, imported grapes, nectarines, peaches, pears, potatoes, red raspberries, spinach and strawberries.

Use cool water or a veggie wash product to rinse conventionally-grown fruits and vegetables before eating. Offer your children a wide variety of fresh fruits and vegetables. Buy organic baby food or make it yourself from scratch. If you don't find the organic foods you're looking for, ask your grocer!

What Does "Certified Organic" Mean?
Certified Organics have been grown according to strict federal standards that are verified by independent state or private organizations. Certification includes inspections of farm fields and processing facilities, detailed record keeping and periodic testing of soil and water to ensure that growers and handlers are meeting the established standards. Organic food is certified and traced from the farm to our stores. Certification organizations are accredited by the U.S. Department of Agriculture (USDA).

Learn to Read the New USDA Organic Labels
100 Percent Organic: may carry new USDA Organic Seal.

Organic: at least 95 percent of content is organic by weight (excluding water and salt) and may carry new USDA Organic Seal.

Made With Organic: at least 70 percent of content is organic and the front product panel may display the phrase "Made with Organic" followed by up to three specific ingredients.

Is Organic Food Better for My Family?
The USDA makes no claim that organically produced food is safer or more nutritious than conventionally produced food. There is no research available to make a clear case that an organic peach or pear or apple is safer than a conventional one. But organic food differs from in the way it is grown, handled and processed. Preliminary studies have shown that in some cases organic produce is more nutritious, and studies have found that organic produce is "cleaner" with less pesticides and contaminant residue.

How Is Organic Farming More Environmentally Sound?
Conventional agricultural methods can cause water contamination. Beginning in May 1995, a network of environmental organizations, including the Environmental Working Group, began testing tap water for herbicides in cities across the United States' Corn Belt, and in Louisiana and Maryland. The results revealed widespread contamination of tap water with many different pesticides at levels that present serious health risks. In some cities, herbicides in tap water exceeded federal lifetime health standards for weeks or months at a time. The organic farmer's elimination of pollution chemicals and nitrogen leaching, in combination with soil building, works to prevent contamination, and protects and conserves water resources.

By making small changes in your child's diet, you can make a big change in his life.
-----------------------
Janet Little is a certified nutritionist with Henry's Market's.