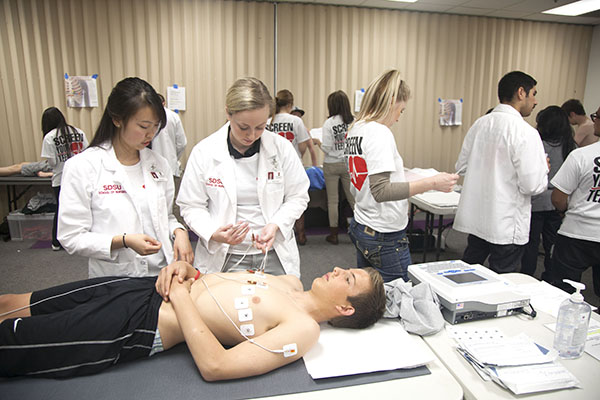 San Diego couple turns personal tragedy into triumph by offering free heart screenings to local teens and young adults through the Eric Paredes Save A Life Foundation.
Eric Paredes was entering his sophomore year at Steele Canyon High School in 2009 when he collapsed on the kitchen floor. Eric's father, Hector Paredes, started CPR, but it was too late. Eric passed away at age 15 from Sudden Cardiac Arrest (SCA). They discovered he had an undetected heart condition.
"Just because your child doesn't show any symptoms, doesn't mean your child's heart is healthy," says Eric's mother, Rhina Paredes-Greeson.
Most teenagers are not screened for heart abnormalities during pre-participation sports physicals or annual well-child exams. That is why Eric's parents started the Eric Paredes Save A Life Foundation. The foundation provides free heart screenings to youth and young adults ages 12–25. Screenings are held all over San Diego County.
"The biggest satisfaction for me is that we are detecting all these kids who are at risk for Sudden Cardiac Arrest. We are preventing these kids from dying," Paredes-Greeson says. She is quick to emphasize, however, that SCA can happen to anyone—it's not limited to athletes.
The screening includes a health history review, an EKG, a consultation with a cardiologist and an overview of CPR. It takes about an hour. If an abnormality is found, it is recommended students visit their own doctor for further testing.
"It doesn't hurt and it's not invasive," says Paredes-Greeson. "It's well worth it."
Sarah Thompson, the foundation's executive director, said the goal of the foundation is not only to prevent SCA, but to ensure schools have necessary equipment and resources to help save students: Automated External Defibrillators (AEDs), along with CPR and AED training for staff and students. An AED is a portable device that treats SCA. It checks heart rhythm and sends an electric shock to the heart to try and restore a normal rhythm, according to the National Heart, Lung, and Blood Institute.
Since the Eric Paredes Save A Life Foundation began, it has hosted 42 free heart screenings across the county. Nearly 26,000 teenagers have been screened so far. Through the screenings, they found 439 people with previously undiagnosed heart abnormalities and 189 at risk for SCA.
Eric never had the chance to graduate from high school and live out his dream of becoming a police officer. The Parades family takes pride in knowing their nonprofit organization provides hope for other children and families.
Free heart screenings are held every couple months. To learn more, register and access the required screening forms, visit www.epsavealife.org. Paredes-Greeson encourages parents to allow youth to fill out the cardiac questionnaire for the most accurate answers.
Melissa Mecija is a freelance writer and mother of two. She is also a reporter/anchor for 10News, the ABC affiliate in San Diego.
Published February 2018
------