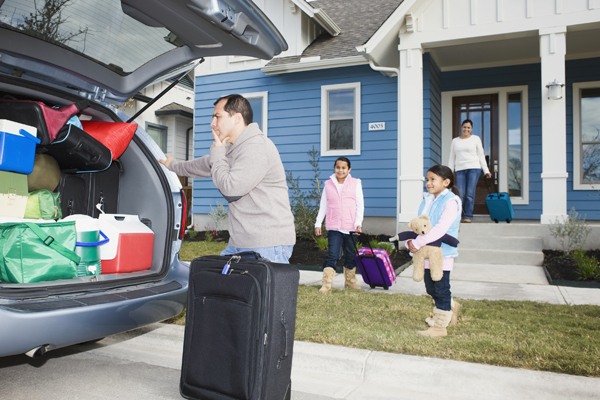 Our life has changed in many ways since having our girls. Mostly it has been humbling. Right before getting pregnant with our first child, I completed my Masters and obtained the CFP certification. I thought the hard stuff was behind me. Like many new parents, my husband and I were nervous and overwhelmed with our first baby. Neither of us had been around many babies. We ended up Googling silly questions every 5 minutes, like "how many breaths per minute do newborns take?" (She was breathing so fast!)
Today, our children keep us on our feet. Just when we get comfortable and think we have it all figured out, they change. We keep adapting, trying our best and learning along the way. Here are three of my favorite lessons about family and finance:

Take the time to prepare now, and enjoy the future: It's comical to watch us prepare to leave the house. My husband and I take one girl each, get them dressed, make sure we have an extra set of clothes, drinks, snacks, hats, and it goes on. We laugh at how pre-children we would just pick up and go places on a moment's notice. Our mental checklist has continued to add over time as we learn from our mistakes. Once, at the zoo by myself with both girls, my daughter, who had been accident free for months, had a big accident. I had no extra clothes. I learned my lesson. Our checklist has become a necessity if we want to get where we're going and have an afternoon of uninterrupted fun.
It is no different when it comes to our financial lives. There are things we need to do periodically, such as reviewing our auto insurance or investment portfolio, to make sure we are on track and can have an enjoyable vacation, worry-free retirement, or a visit to the grandparents back east.

Simplify: I love getting a good deal, but I have decided most coupons are just not worth it. Not only do I have to spend the time to try and identify a coupon that may be worthwhile, but then I have to keep it somewhere I won't lose it or forget about it. Then I have to go through the coupons periodically to make sure I don't keep expired ones. Instead, I don't buy a shirt I don't need, even if it is 20% off. Likewise, I don't buy a grocery item that I don't normally use, just because I have a coupon for it. It would probably sit on my pantry shelf for a long time and I would have to keep moving it around. I need to simplify to stay organized and to keep my family's life from being overtaken by "stuff."
This could not be truer about financial matters. Even just having a Balance Sheet that you can maintain and update periodically will help you simplify. It will remind you to look at consolidating your old employer's 401k or question why you have three (3) different credit cards. Simplify as much of your life that you can, so you can focus on what's important.

Be Flexible: We plan out a few scenarios of how the weekends will go, taking into account schedules, moods and the weather (no wait—we live in San Diego where the weather is always perfect!). Bottom line, we try our best to follow a routine, but sometimes we just can't make it back to the house for naptime or we want to stay at a friend's house a little longer than planned. It is not the end of the world. We get the children back on track the next day or as soon as we can.
Financially, we need to build flexibility into our lives as well. If we don't, we can get in trouble if one spouse loses a job or becomes disabled. Many of us are utilizing two incomes to get a house in a good neighborhood, a car that can fit multiple car seats and good schools for our children. These costs are not something we can easily cut back on when we are in a pinch. Discuss how you can be flexible if something were to change in your household budget.
Above all else, my children have taught me to be present in the moment and to not sweat the small stuff. I am thankful for the opportunity to continue learning from them and incorporating those lessons into my life.

-----------------
Linda Rogers, CFP, MSBA, EA lives in San Diego, CA with her husband and two daughters. She is the founder of Planning Within Reach, LLC.
Published: December 2013