Is Dairy Good for You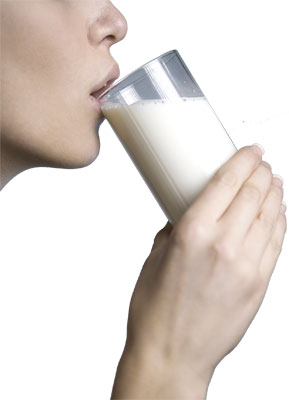 Of course, you've heard the saying, "Milk, it does a body good," but did you know that milk is one of the best sources of calcium and provides high-quality protein, vitamins and other minerals? Yet today's kids and adults are setting aside a cool, refreshing glass of milk and reaching for carbonated beverages and juice drinks instead. In fact, girls and boys today drink twice as much soda as milk and Americans of all ages gulp down approximately 50 gallons of soft drinks per year.

Think Your Drink
Drinking soda instead of milk lowers the intake of essential nutrients such as calcium, magnesium, riboflavin, protein, potassium, phosphorus, and vitamins A and D. Insufficient calcium is of particular concern for children because it can set the stage for osteoporosis and bone fractures later in life. Because adolescents gain 15 percent of their adult height and 45 percent of their skeletal mass during teen years, sufficient calcium intake is absolutely critical.

In addition to helping build strong bones, low-fat dairy products can help reduce the risk of hypertension and certain cancers. Calcium also protects our bodies in the battle against osteoporosis, but recent studies shows about 75 percent of Americans are not consuming enough. But which type of dairy is best for you and provides the most nutrition? Here's the scoop!

Acidophilus Milk
Acidophilus milk is regular milk with added acidophilus culture (beneficial bacteria), similar to yogurt. However, the milk is not cultured like yogurt. When making yogurt, a starter (beneficial bacteria) is added to milk and is placed in a warm environment (such as a temperature-controlled yogurt maker). This environment encourages the growth of beneficial flora, which thickens the milk into yogurt. Acidophilus milk contains the same beneficial cultures but is not subjected to the same thickening process.

Buttermilk
Originally a by-product of butter making, buttermilk is now a milk product cultured with lactic acid. Unlike its name, buttermilk doesn't contain any butter, nor is it high in fat. In fact, most buttermilk only contains 2.2 grams of fat per eight-ounce serving. Its creamy texture makes it a great addition to mashed potatoes, muffins or pancakes. Some buttermilk has reduced lactose content, which can make it an option for people who have difficulty digesting the lactose in regular milk.

Evaporated or Condensed Milk
To make this concentrated product, half of the milk's moisture is removed by evaporation before it is canned. Evaporated milk is often used for cooking as it stores easily and is less likely to curdle when heated. Unopened, it can be kept at room temperature for up to six months. Once opened, it should be transferred to a clean container and used within three to five days.

Sweetened Condensed Milk
This canned milk is made by removing all of the water from whole milk. Sugar is added, resulting in a dense, sweet creamy milk. Sweetened condensed milk is often used in baking and is delicious mixed with iced or hot coffee.

Goat's Milk
Goat's milk is very similar to cow's milk; except that it is slightly higher in calcium and notably higher in fat. Some people with lactose allergies find they have fewer problems when consuming goat's milk.
Age (years)


Daily Calcium Needs
(milligrams)


1 to 3


500

4 to 8

800

9 to 18


1,300

19 to 50


1,000

51 and older

1,200

Pregnant/
Breast-feedingwoman

1,000

Pregnant/
Breast-feeding teen
(leas than 18)


1,300

Homogenized Milk
The homogenization process breaks up milk fat so it is evenly dispersed throughout the liquid milk. In the United States today, almost all milk is sold homogenized.

Lactose-reduced Milk
Lactose-reduced milk is created by adding the enzyme lactase to regular milk which reduces lactose levels, making it easier for people to digest the milk proteins. This type of milk is an option for people suffering from lactose-intolerance.

Pasteurized Milk
Pasteurization is the heat process used to destroy potentially harmful bacteria in milk. Two basic processes are currently in use. The first process heats milk to at least 161°F (71.6°C) for 15 seconds and the second heats the milk to 280°F (137.7°C) for two seconds. Both processes accomplish the same results.

Powdered Milk
This product is popular with cooks and budget-minded milk drinkers. To make powdered milk, most of moisture is evaporated from milk. Then, this low-moisture milk is sprayed into a drying chamber where the rest of the moisture evaporates producing flakes of milk. Milk powder is available in different varieties, including nonfat dry milk and dehydrated buttermilk.

Raw Milk
Raw milk is unpasteurized milk. Today less than one percent of the milk consumed by Americans is raw. Raw milk is rich in enzymes and contains all 22 essential amino acids. It also contains phosphate, essential for absorbing calcium. The risk of bacteria (such as listeria and salmonella) in raw milk prompted the U.S. government to require pasteurization, which also extends the milk's shelf life.

Shelf-stable Milk
Several types of milk products have been developed over the years that have a long shelf life, such as canned milk, powdered milk, and ultra pasteurized milk. All these products can be stored without refrigeration in unopened packages or tightly sealed containers for up to six months.

Ultra-High Temperature Milk
Ultra-high temperature (UHT), or ultra-pasteurized milk is processed at such high temperatures that result in a milk product with an extended shelf life. Packed in pre-sterilized, aseptically sealed, brick-style cartons (like juice boxes), UHT milk can be stored without refrigeration for six months. Like canned milk, UHT milk requires refrigeration once opened.

Meeting Your Dairy Needs
To meet the recommended daily requirement for calcium, most people should have about three cups of dairy each day. Teens should get about four cups daily. Each of the following equals one cup of dairy:

• 1 cup milk
• 1 cup yogurt
• 1 1/2 ounces natural cheese (Cheddar, Swiss, Monterey Jack, etc.)
• 2 ounces processed cheese (American)
• 1/2 cup evaporated milk
• 1 cup pudding
• 1/2 cup ricotta cheese
• 1 cup frozen yogurt
• 2 cups cottage cheese
• 1 1/2 cups ice cream

Other dairy-based foods, such as butter, cream cheese and sour cream, are not considered dairy servings. These foods are made from the cream portion of milk and contain mostly fat and little, if any, calcium.

-----------------------------
Janet Little is a Certified Nutritionist with Henry's Farmers Market.