Five tips to help you stick to a steady exercise program.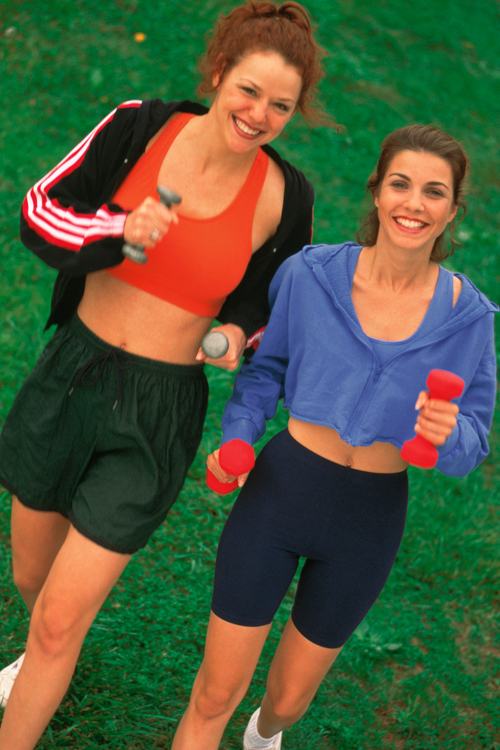 Time-crunched moms are always busy with chores and responsibilities. It is no wonder that personal fitness goals often slip to the bottom of the to-do list during the holidays and January finds us a few pounds heavier and a little more out of shape.

Get motivated and stay on track with this advice from fitness pros and real moms.

Improve Your Self Concept
What makes moms stick to a steady exercise program?

Lydia, a mother of one, says that she exercises to "be healthy, feel good and [lose weight]."

Susannah, mom of two, mirrors Lydia's response, saying that she exercises because "it makes me feel good and lose weight."

Mother of two, Debi Pillarella, is an American Council on Exercise (ACE) certified personal trainer who has developed pre-and post-natal programs for her local medical facility since 1998. "Many of the moms we see have come to our group [fitness] classes feeling blue, depressed [and] overwhelmed." After the workouts, Debi says that participants report "feeling more confident as a result of getting stronger, releasing endorphins and sharing their stories."

Lynn Bode, owner of workoutsformoms.com, is a personal trainer holding certificates from ACE and the Aerobics and Fitness Association of America. She works with moms of all ages and stages of motherhood. Bode says, "The feeling of accomplishing a goal is very empowering, and the adrenaline released with workouts alone can really create positive feelings."

Make Friends
Lydia admits that, despite her increased self-esteem, finding time to exercise can be a struggle. However, she would be more motivated if she "had friends to exercise with." Grace, mom of three, agrees.

Pillarella says, "It is critical that moms work out with other moms or buddies. Research shows that working out with others will increase adherence as well as a sense of camaraderie and belonging."

Whether they are knocking on the front door ready to run when it is freezing outside or providing distraction in the form of conversation, like-minded workout partners can do a lot to motivate one another.

Bode explains, "It is motivating to have someone that shares your [fitness] goals…for stay-at-home moms, there is the extra benefit of the social aspect of working out with others."

Reduce Your Risk of Heart Disease
Heart disease is the number one killer of women in America.

When asked why he exercises, Rachel, a mom of three, replies, "Being here for my children." The most simple of fitness plans can help reduce your risk of heart disease and increase your chances of being healthy while watching your kids grow into adults.

In October 2008, the federal government issued its first–ever Physical Activity Guidelines for Americans. The guidelines, published by the US Department of Health and Human Services is consistent with guidelines released jointly last August by the American Heart Association and American College of Sports and Medicine. Healthy adults ages 18-64 should get at least 30 minutes of moderate-intensity physical activity five days per week, or 20 to 25 minutes of more vigorous activity three days per week.

Bode and Pillarella point out that physical activity can increase HDL (good cholesterol), assist in reducing high blood pressure, aide in weight loss, create a lower resting heart rate and help reduce triglyceride levels, leading to a healthier heart.

Relieve Stress
"Exercise is a great stress buster," exclaims Bode. For busy moms in the middle of the seasonal rush, that is great news. "Lowering your stress can [also] help improve sleeping patterns," reminds Bode.

Exercise increases the production of endorphins, a natural pain reliever made by the brain. Amy, mom of two, has noticed the positive effects of exercise, stating, "I think the biggest benefit of exercise to me is the sanity breaks, though I usually have to take the smallest child with me. It also helps me sleep netter and I tend to eat better and drink more water if I am exercising regularly."

"Studies indicate that there is a direct correlation between how much we exercise and how we feel both emotionally and physically by changes in our brain chemistry that occur from regular exercise. Research also shows that people who exercise regularly do spend more time in 'slow-wave' sleep than those who don't exercise," says Pillarella.

Teach by Example
Knowledge about child and adolescent obesity is making its way to the forefront of our culture. Video games, computers and television make it so convenient for kids (and adults) to lead sedentary lifestyles. When your child sees you exercise, or you include them in the exercise, they learn healthy behavior.

Remember, kids benefit from exercise just like their moms do! In fact, according to the new government guidelines children should exercise at least one hour per day.

Exercise and give yourself and your family a gift that will keep on giving throughout the year.
-----------------------
Julie Steed is a freelance writer.