Rejuvenate in Six Weeks
Eat better • Move more • Think smart
More than 50 percent of Americans are overweight or obese; one in three children is overweight or at risk of becoming overweight. Set a good example to help prevent your children from becoming overweight. You may need to adjust your current lifestyle to include natural nutrient-dense foods and daily physical activity. Spend time with your kids preparing nutritious meals and adding fun activities to teach them healthy habits to increase your overall wellness.

Getting started is easy! Simply incorporate the tips from each segment of Eat, Move and Think. Soon you'll have eighteen new healthy living tools in just six weeks!

Week One
Eat: Antioxidants and Anti-aging
Antioxidants are chemically activated mole-cules that counteract the effects of aging and disease by stabilizing cells and neutralizing harmful free radicals. Each day, add an extra serving of fruits and vegetables and skip a serving of simple carbohydrates. Swap potatoes, rice, pasta or corn for steamed zucchini, roasted cauliflower or blueberries.
Move: Flexibility
Stretching improves flexibility by preventing the development of rigid joints, promoting circulation and lengthening muscles and tendons, reducing the risk of injury.
Think: Goal Setting
You've heard it before: "Failing to plan is planning to fail." The easiest way to plan for success is to write out your goals. An effective fitness plan is essential to any long-term weight and lifestyle management goal.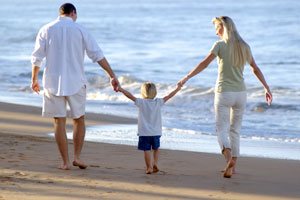 Week Two
Eat: Focus on Fiber
If it comes from the ground, it has fiber. Fiber-rich foods include beans and vegetables, fruit and whole grains such as oats, wheat, millet, barley and rye.
Move: Keeping Your Heart Happy
How do you get more energy? Exercise! Regular exercise is one of the best things you can do to promote better health and increase energy levels. A high level of physical activity is defined as three intense 20-minute workouts per week. A quick walk around the block eventually adds up to a mile-long jog.
Think: When it's OK to Indulge
Did you know that allowing yourself an occasional indulgence can actually help keep your weight-loss plan on track? Just think of the 90/10 rule: Eat healthy meals 90 percent of the time and allow yourself special treats 10 percent of the time.

Week Three
Eat: Good Fats vs. Bad Fats
We need fat in our diet, however, the Standard American Diet (SAD) is overloaded with unhealthy saturated and trans fats and deficient in essential fatty acids (EFAs) and mono- and polyunsaturated fats. Most varieties of fish are lower in saturated fat than meat. Mackerel, sardines, trout and salmon, contain healthful levels of omega-3 fatty acids, for heart and brain health benefits.
Move: Muscle Training
Each extra pound of lean muscle tissue or mass can burn up to 100 extra calories daily. Muscle weighs three times more than fat, which is why after a few weeks of weight training and aerobic exercise, your weight might not shift, but your clothes are looser and you feel lighter. Add weight-training to your exercise routine two or three times a week at a gym, or buy weights and train at home.
Think: Mindful Eating
Practice meditative eating by slowing down and enjoying your food. Too often we rush through our meals while watching television, reading the newspaper or surfing the web. Instead, turn off the TV and play some relaxing music while you eat.

Week Four
Eat: From Fast Food to Slow Food
When dining out, the impulse to indulge in unhealthy amounts of sugar, salt and fat increases. The next time you eat out, split an entrée with your dining partner and add a salad to your meal. Eating at home? Buy two new vegetables and serve with lean grilled chicken or fish. Enjoy fruit for dessert.
Move: Add Steps to Your Day
Long work days and long commutes devour most of our day, leaving little time for physical activity. Sneak exercise into your life by moving and walking whenever you can. Park your car far from store entrances, take the stairs and use a pedometer to track your progress. Aim for 10,000 steps per day!
Think: De-Stressing Yourself
Don't let stress get you down! Your reaction to stress determines its effect on you. Stress can leave you feeling depressed or anxious, which depletes energy levels. Relax, meditate or take a yoga class. Remember to breathe!

Week Five
Eat: Lean Proteins
Protein helps repair damaged tissues and build lean muscles. Most animal protein contains higher levels of saturated fats, which elevate "bad" cholesterol levels in the body. Plant-based protein (legumes, tofu, tempeh, nuts and quinoa) do not contain saturated fats, making them a healthier choice. Replace one serving of animal protein with plant protein each day.
Move: Keep Active
Today's children spend time sitting in school, watching TV, playing video games and working on computers instead of participating in physical activities. Fitness is a family affair. Experts recommend adults engage in at least 30 to 60 minutes of moderate-intensity physical activity per day and at least 30 minutes of moderate activity per day for kids.
Think: Portion Control
We've grown accustomed to "super-size" meals that provide enough food for two people, or a day's worth of calories. Here's a quick tip: use smaller plates. Studies show we consume 30 percent more food when using larger bowls, glasses and plates.

Week Six
Eat: Incorporate Natural or Organic Foods
Studies suggest that low-level exposure to pesticides over several years might lead to health problems. Reduce your exposure by including one certified organic food in one of your meals each day. Start with fruits and vegetables. One bite of an organic carrot and you'll be hooked!
Move: Always Stay Active
Enjoy a family game of Twister or miniature golf. Designate indoor and outdoor play areas where rolling, climbing, jumping and tumbling are allowed. Buy toys that promote physical activity, such as jump ropes, roller blades and chalk for sidewalk art.
Think: Embracing and Enjoying the You Renewed
Celebrate! Savor all the progress you made over the past six weeks. Any accomplishment is worthy of celebration. Stay positive as you move towards your healthy living goals. If you slip into old habits, simply stop, recognize, reorganize and get back on track as soon as possible. One day or one meal off your plan is not a failure. Pick up a copy of "You Renewed" at your local Henry's Farmers Market. Enjoy!
-------------------------
Janet Little is a Certified Nutritionist with Henry's Farmers Marketplace.