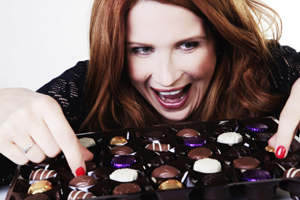 Is it inevitable that you'll gain a few pounds this holiday season? It doesn't have to be. This time of year is filled with bright lights, decorations, gifts, family, excitement and added stress. And with holidays, it's easy to get caught up with all of the activities and give up on self-control when it comes to eating. With some planning and determination, you don't have to welcome the New Year with a few extra pounds around your waistline.

1. Choose the Right Attitude
If you find yourself already resolved to gaining a few pounds this season and know you're going to start working on losing weight in the new year, then you'll be facing a huge hurdle when January first comes around. So stop the "tomorrow" thinking right now and choose a healthy attitude.
Eating healthy takes concentrated effort. However, it's not impossible and the benefits are so worth it. It's not about depriving yourself but making simple choices to be healthy and fit.

2. Plan, Plan and Plan
Eating out is part of celebrating during the holidays so make decisions on what you want to enjoy before you get to the restaurant. Restaurants have nutrition information for each dish on their website so look up your options before you go out. Make your choice before you get there.
If you can't check beforehand, many restaurants have menus that have the calories listed next to each entrée. If the menu does not have calories listed, you can ask the waitress for a separate calorie menu with the nutritional information.
If you're going out after work with your friends, don't skip a meal because you think that it will save you the calories.
"This strategy backfires, because you come to the meal starving and wind up eating way more than you ever intended," says Lauren Schmitt, MS, Registered Dietician, Certified Personal Trainer. Low blood sugar causes you to feel tired, not think clearly and it wears down any ability to make a healthy choice.
One option is to start eating healthier in the fall.
"Try to start eating healthy before the holidays so when the holidays roll around, you're already set in a world-class routine that you're familiar with," says Steve Siebold, author of "Die Fat or Get Tough: 101 Differences in Thinking Between Fat People and Fit People."

3. Move More
Exercise makes you feel good and allows you to better handle your daily stress. Taking extra care of yourself can be hard during the holidays because it may feel like one more thing to do. Add in a simple change like parking farther away from the store. All malls have escalators but you don't have to stay stationary while on the moving stairs. You can walk up or down the escalator just to get your blood pumping a bit more.
Invite your kids to exercise with you while you exercise along with the trainer on the exercise video. Most people make New Year's resolutions about exercise but you can start today. Remind yourself how great you feel after you finish even though sometimes it's hard to get started. It's also great for your kids to see you making healthy choices.

4. Just Say "No, Thank You"
Often times the hostess offers food or an additional serving to you out of good intentions. The host wants people to enjoy themselves at their party. But you don't have to have seconds or you can choose the lower calorie food in the first place.
"If someone questions you or pressures you to indulge, simply say, "No thank you. I'm working hard on improving my health and I'm watching what I eat,"' says Siebold.

5. Enjoy Socializing with Others
Before you leave for a party, eat something light or some protein like string cheese, a small handful of nuts or yogurt. Then concentrate on the people at the party and not the food. It's easy to eat out of nervous habit but focus your attention on friends and family members.
When you get to the party, check out the food and mentally make some choices. Decide on where you want to spend your calories. Pick a special dish that you only find this time of year but forgo all the other various holiday dishes. You can still enjoy good food and chat with others about it. You can always bring a new healthy recipe that you've found online. Be ready to share the yummy recipe with other guests.

6. Forgive Yourself
If you overeat, you may kick yourself mentally for making a mistake. Forgive yourself and start over at the next meal. "It is not just one unhealthy meal or even one unhealthy day that leads to weight gain," says Schmitt.

7. Make New Holiday Traditions
You can make new holiday traditions with your family like working in a soup kitchen together or going on a long hike as a family. You can start a certain holiday craft tradition that the entire family can get involved in or hang out at a bookstore together. Let your kids get in on the decision-making and see what they want.
The holidays are meant for celebration, family, traditions, food and fun. Eating on the run, food gifts and parties galore are going to happen regardless of careful planning. However, you can make the holidays merrier by making smart and healthy choices.

---------------------------
Jan Udlock is a freelance writer and mom of five. She's always looking for easy tips to add to healthy eating.
Published: January 2013