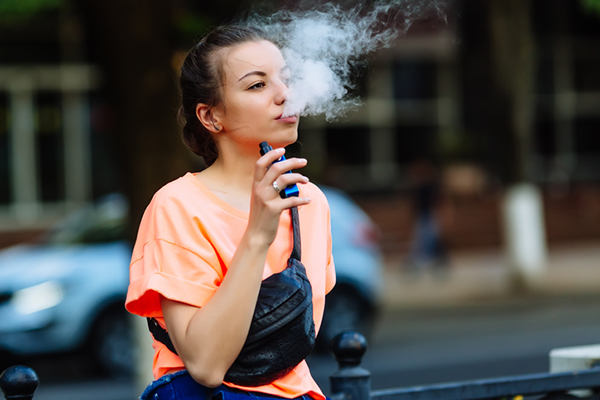 Parents are often shocked when they hear some of the dangerous things teens do. Teens are generally quick to experiment with the latest trends, whether it involves eating something for an online "challenge" or inhaling fruit-flavored vaping products at school. Often teens (even adults) don't realize that these actions can be harmful to their health. Here is information to help parents initiate important conversations with kids.
Note: If you, your child, or anyone you know needs help, contact the San Diego Prescription Drug Abuse crisis line at 1-888-724-7240.
Vaping and Smoking Trends
JUULing: This latest trend in high-tech smoking involves a sleek device that resembles a flash drive and is USB-rechargeable. It appeals to teens because it is easy to hide, comes in flavored pods, and can be customized with kid-friendly themed "skins." Each JUUL pod is filled with high levels of nicotine, a substance long known to be dangerous and highly addictive. A single JUUL pod contains the nicotine equivalent to an entire pack of cigarettes. Teens are particularly vulnerable to nicotine's toxic effects.
According to the FDA, JUULing is reaching near epidemic proportions among teens. The California Department of Public Health (CDPH) urges parents to talk to their kids about the harmful effects of e-cigarette use. Be on the lookout for suspicious devices that resemble flash drives or other high-tech gadgets.
Dripping: As explained by the CDPH, users apply drops of e-liquid directly to the exposed heating coil of an e-cigarette atomizer. A 2017 study found that 26.1 percent of youth e-cigarette users surveyed were "dripping."

The method produces thicker clouds of aerosol and makes e-cigarette flavors taste better. It also exposes teens to greater emissions of harmful chemicals like volatile aldehydes, which are associated with cancer or chronic obstructive pulmonary disease. The CDPH adds, "A study found that higher temperatures of e-cigarettes resulted in higher blood levels of nicotine; therefore, dripping could expose users to higher levels of nicotine than from a standard application of the e-liquid."
Online "Challenges"
Gone are the days when food challenges were limited to pie or hot dog eating contests at the county fair. Now there are countless online food-related challenges, well documented on YouTube, many of which involve items easily accessible to kids. Here are currently trending "challenges" and why they can be dangerous:
Chubby Bunny: People count how many marshmallows they can stuff in their mouths and say "chubby bunny." Warning: Can result in suffocation.
Cinnamon Challenge: Involves eating a tablespoon of ground cinnamon in under 60 seconds, without drinking anything. Warning: Can result in respiratory distress, burns, vomiting and collapsed lungs.
Hot Pepper Challenge: Requires eating a whole ghost pepper. Warning: Can result in pain, restriction of airways, diarrhea.
Salt and Ice: Participants pour salt on their skin, apply ice to the salted area, and see who can manage the pain the longest. Warning: Can result in frostbite-type damage, open sores and nerve damage.
Tide Pod Challenge: Not food, but this viral sensation involves intentionally biting into a laundry pod. Warning: Can result in seizures, pulmonary edema, respiratory arrest, coma, chemical burns and death.
Drug Trends
Synthetic Cannabinoids: You may be more familiar with the terms synthetic marijuana, Spice, K2, Spike or any one of hundreds of names. The CDPH clarifies that they are not actually cannabis. While they can have a similar appearance to natural marijuana or herbal tobacco, they are made from a different type of plant that is sprayed with much more powerful chemicals.

These drugs can be smoked, vaped or swallowed; use may result in nausea, anxiety, paranoia, brain swelling, seizures, hallucinations, aggression, heart palpitations or chest pains. Effects can be life threatening.
Mooking: Using a mixture of tobacco and marijuana certainly isn't new, but there are plenty of kids out there still doing it. The combo can be smoked either in the bowl of a pipe, or as a "spliff" — a rolled cigarette (or joint) containing half tobacco, half marijuana. Both substances trigger the nervous system, affecting mind and body. Health effects can be irreversible and ultimately include severe shortness of breath, a variety of respiratory illnesses, and end-stage lung disease at a young age.
Dabbing: We're not referring to the trendy dance move with the same name! The sticky goo or wax extracted from THC is a concentrated form of marijuana that is heated quickly on a very hot surface, and then inhaled through a special device. When an individual takes a "hit" in this way, the physical and mental effects of smoking marijuana are intensified. The THC content ranges between 60–90 percent – psychotic breaks, hallucinations and cannabis overdose are potential hazards.
Common Household Items: Kids can (and do) get high on a variety of items that are easily accessible to them, such as drinking hand sanitizers or cough syrup, smoking nutmeg, sniffing bath salts, smoking Freon from air conditioners, and inhaling nitrous oxide (laughing gas) from canned whipped cream (known as "whip-its"). Dangers can include: headache, dizziness, stomach upset, elevated (or slowed) heart rates, seizures, organ, brain, and nerve damage, hallucinations, blackouts, coma and death.
Prescription Drug Abuse: "Boys and girls tend to misuse prescription drugs for different reasons. Boys are more likely to use stimulants to get high, while girls tend to misuse them to stay alert or lose weight," says Robert Harkins with the San Diego Drug Enforcement Agency (DEA). "Xanax (alprazolam) is a very popular depressant amongst high school teens, which is taken for fun, to get high, and to relieve anxiety or help sleep."
Side effects include drowsiness, problems with movement and memory, and slowed breathing; misuse can lead to addiction. Xanax can be purchased locally on the street for $15 for a 2 mg tablet or "bar." A recent survey shows that 11 percent of 12th graders report abusing prescription drugs.
Flakka: A recently developed, designer synthetic stimulant, Flakka or A-PVP (alpha-pyrrolidinovalerophenone) is also known as "gravel" due to its white, crystal-like chunks, or as "bath-salts." This strong psycho-stimulant can be smoked, snorted, swallowed, injected or vaped. Effects range from bizarre delusions and hallucinations, to fatal incidents — and include irregular heartbeat, increased blood pressure, dehydration, and muscle spasms. Research shows it is more addictive than methamphetamine.
Smartphone Dangers
Research suggests connections between the use of cell phones and certain negative health consequences, including brain cancer, headaches, memory and learning, hearing, behavior, and sleep. Many teens (and adults!) regularly trade sleep for smartphone use; this alone can impact physical, cognitive and mental health. The AAP recommends keeping cell phones out of a child or teen's bedroom at night and setting a media curfew, preferably 2-3 hours before bedtime.
The CDC reminds parents that children who start using cell phones early in life potentially will be exposed to more radiofrequency energy during their lifetimes. To reduce exposure, the CDPH states, "Don't sleep with your phone in your bed or near your head."
What else can parents do?
Talk to your kids about these trends and discuss the health risks involved. Ask if they have they experimented with any of them. What about their friends?
Monitor online activity, including online purchases and social media posts.
Dispose of outdated prescription medication and lock up unused, current ones.
Look for signs of drug abuse, which can include poor grades, bloodshot eyes, unexplained laughing, withdrawal from family, loss of interest in activities, poor hygiene or diminished personal appearance, avoiding eye contact, secretive behavior, slurred speech, dizziness, and more.
Resources
Vaping Information:
www.FlavorsHookKids.org
https://e-cigarettes.surgeongeneral.gov
Poison Control Center: 800-222-1222
Emerging Hazards:
https://aapcc.org/Track-Emerging-Hazards
Partnership for Drug-Free Kids:
https://drugfree.org

County of San Diego Addiction and Substance Abuse Resources:
http://up2sd.org/resources/addiction-substance-use
_________
Lisa Pawlak is an award-winning contributing writer and local mom of two teen boys.
__________