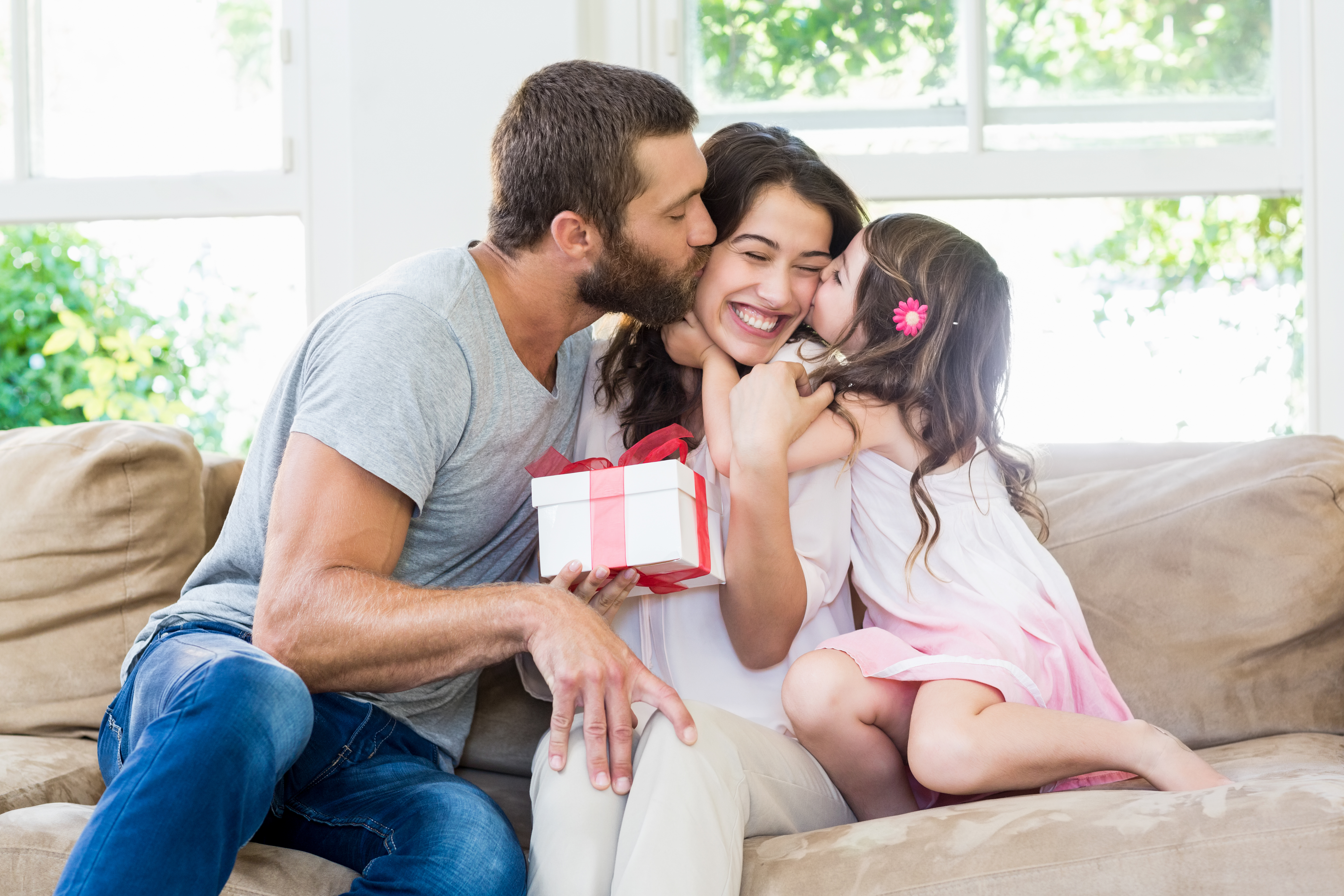 Gift Ideas for Moms! Looking for unique gifts for that special woman in your life? Check out these great ideas.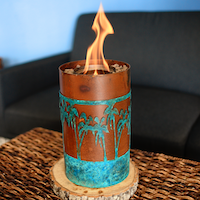 Baby Fire Pit
$94.99; BabyFirePits.com
Measuring in at only 10 inches tall, these are the perfect size for coffee tables or apartment patios. They are designed to be used with an odorless, smokeless, and nontoxic gel fuel for mess-free and hassle-free enjoyment.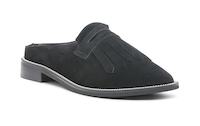 Lena Walking Loafer Mules
$94.99; RagNCo.com
The suave black mule in genuine suede is an ideal addition to your 9 to 5 and beyond look. A very comfortable pick with smooth leather construction, gilded insole with support, and gripping German sole that supports. From the day at work to an evening walk by the home, be comfortable and at ease with this pair of genuine leather Mule.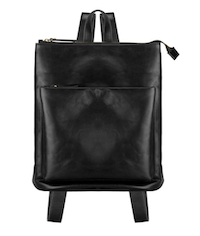 The Addison
$229; Andar.com
Made from premium full-grain oil waxed leather, this gorgeous bag comes in two color options and features several pockets to store essentials. Beautifully versatile, this is your must-have accessory for every occasion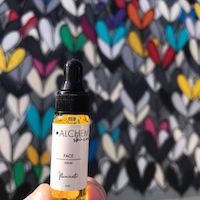 "On-the-Go" Mini Illuminate Brightening Serum
$20; https://myalchemyskincare.com/products/illuminate-beauty-blend-serum-mini
Supports both skin and whole body wellness by providing you with nutritional rewards and glowing results. Illuminate is a multi-purpose serum for your face and more. It's been found effective to help calm most any skin irritation - chapped lips, bald head, cuticles, cracked heels, rough elbows, bruising, razor burn and grooming hair from head to toe. It was originally formulated to address my damaged skin from cancer treatment.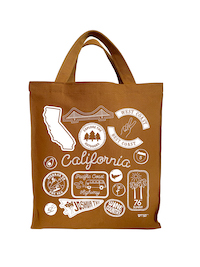 California Shopper Tote
$26; MapTote.com
Fun and whimsical design of patches and pins inspired by travel to California, this tote bag is perfect for everyday errands like grocery shopping with its short and sturdy handle. It is inspired by the classic brown paper bag you'd use at the grocery store.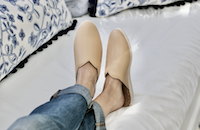 Dooeys
$129+; Dooeys.com
Made for modern home life and are beautiful shoes designed for comfort and made from premium, plant-based & recycled materials. Coziness of a slipper with the comfort of a sneaker. Made from sustainable materials including apple leather, sugarcane soles & recycled plastic.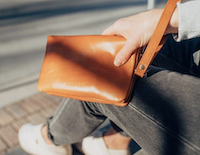 The Stevie
$109; Andar.com
The perfect choice for when you need to carry just a little more than your wallet can hold and a little less than what fills a bag. Features four interior card slots, a zippered pouch, and another slot perfect for your phone or keys. With a hidden magnetic clasp and a wrist lanyard for easy access, it is both secure and accessible.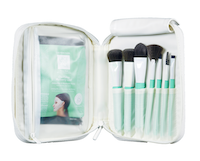 LARUCE Beauty x Dermovia Essential Facial Brush Set
$300; LaruceBeauty.com
Features multitasking makeup tools to help you apply Dermovia's Lace A Peel Charcoal Bamboo Mask Paste and Clarifying Mulberry Leaf Lace Your Face mask and reveal brighter and dewy looking skin.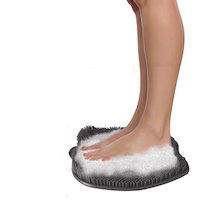 The Shower Sole Scrubber and Foot Massager
$13.95; Amazon.com
Treat your tired, achy feet to a massage –– all from the comfort of your own home. Whether you're dealing with foot pain, athlete's foot, ringworm, or simply love a foot rub, the Shower Sole Scrubber and Foot Massager is for you.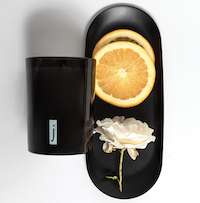 Joel Nolan Candle Collection
$59; JoelNolan.com
Whether you're looking for something warm and cozy or clean and fresh, you can light up your space with a great smelling candle to set the mood for a productive day. Available in three different scent profiles: Maverick (lime, lychee, rose, and lilac), Chatsworth (bergamot & sandalwood) and 191 Sutter (orange, petitgrain, neroli).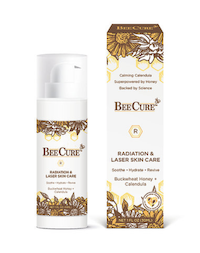 BEECure R Radiation & Laser Skin Care
$24.99; www.SanMelixLaboratories.com
SanMelix's line of BEECure products utilizes bioactive medicinal properties of buckwheat honey for the treatment of mild (BEECure R) to advanced (BEECure M) skin and wound care ailments. BEECure-R with Buckwheat Honey and Calendula is a radiation and laser skin care moisturizer that soothes, hydrates, and revives skin. BEECure-R was developed with patients in mind for those undergoing radiation and laser therapy, as well as those exposed to heat and sun.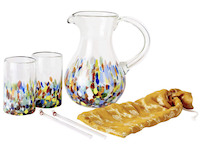 Punch Box Slim Iced Tea Pitcher and Glasses
$60; GlobeIn.com
Serves cold drinks with style, perfectly paired with tall handblown water glasses in our popular colorful dot design. Eco-friendly and chic doesn't end there, Punch Box includes a set of two glass straws for any sort of libation.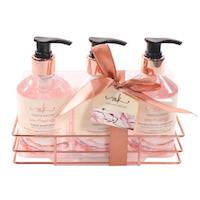 Anti-Bacterial Hand Sanitizer, Soap & Lotion Caddy
$24; MannakadarCosmetics.com
A hand sanitizer and anti-bacterial soap set from the Sea Minerals Collection that is effective against most common germs while being gentle on the skin. Features a pomegranate scent with soothing sea water.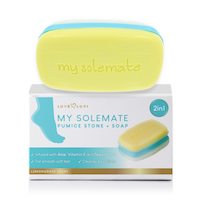 My Solemate 2 in 1 Pumice Stone and Callus Remover
$14.99; Love-Lori.com
The revolutionary product that makes an at-home pedicure possible. With lemongrass soap that soothes and moisturizes your feet, and the market's most effective synthetic pumice stone, you'll wonder why you've spent so much time (and money) in the salon.
Piece & Love Songbirds Tree 1000 Piece Jigsaw Puzzle
$21.99; eeboo.com
Twelve varieties of birds are perched on a tree amidst the beauty of a garden all around them. With their highly detailed radiantly colored plumage, these English Songbirds will engage any birdwatcher.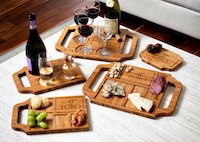 Left Coast Custom Charcuterie and Wine/Cocktail Boards
$48.50; LeftCoastOriginal.com
These custom charcuterie and wine/cocktail boards are original designs. Serve your guests with style and panache, or give these boards as a gift. Each engraving is burned deep into the board for a quality look and feel.
Fresh Squeezed Fragrance Oil Reed Diffuser
$36; BrokenTopCandleCo.com
A classic and beautifully crafted vessel that efficiently distributes fragrance over a long period of time. Cloaked in our signature botanical artwork, and set off by subtle black reeds, the diffuser is a tasteful addition to every living space.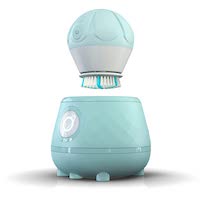 ONA Diamond Facial Brush
$67-$79; Amazon.com
Comfortably cleanses using powerful rotational technology. Its spinning motion, combined with the silky soft bristles thoroughly sweep through pores to safely dislodge dirt, dead skin cells and make-up residues. The TAO Clean Base Station keeps the brush head protected, clean and away from environmental contaminants and also dries the brush head while charging – allowing the brush ready for use when you are.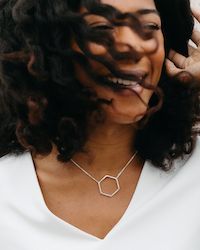 Hexagon Necklace
$95; LauraElizabethJewelry.com
Intended for women, especially mom's with tugging toddlers. The Hexagon necklace is available in both silver and gold. They are durable, there are no toxins left on the jewelry and made sustainably and ethically.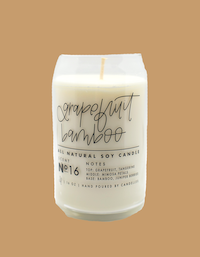 Grapefruit Bamboo Candle
$28; ChalkFullofLove.com
This candle is like walking through a blooming garden in the Springtime. It has a fresh, citrus scent with a hint of some floral notes. Burn this candle in the kitchen with the windows open and some happy music on the playlist. Nothing quite sets the mood for Spring like a fresh smelling candle.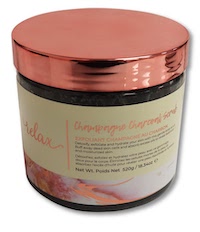 Champagne Charcoal Body Scrub
$24; MannakadarCosmetics.com
Bubbles anyone? This luxe champagne scented body scrub contains charcoal to remove dirt and build-up, leaving the skin polished, hydrated, and refreshed. Gentle enough to use every day.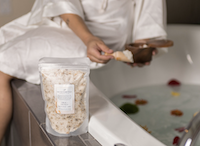 Bath Soak
$25; Honey-dipped.com
Fostering healthy, beautiful skin through all-natural handmade products. Add new boosts of freshness through your choice of three scents formulated with organic, vegan ingredients to address your skincare concerns and respond to specific needs. Available in Milk + Honey, Rose + Wildflower and White Tea + Lavender.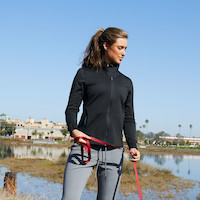 Women's Apex Jacket
$98; Hylete.com
Warm up, cool down, or take on cold-weather workouts in a breathable jacket with style lines that flatter your figure. A full zip lets you choose how to layer the Apex Jacket for big adventures or everyday essential wear.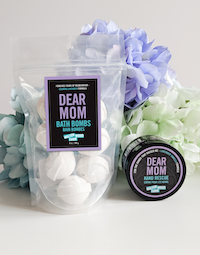 Walton Wood Farm Mommy Rescue
$33; WaltonWoodFarm.com
This duo is the perfect rescue combo for any mom. Featuring a soft lavender scent, this combo includes moisturizing hand rescue and de-stressing Dear Mom bath bombs. Free of harsh ingredients like SLS, Paraben, and Phthalate, these body care essentials are cruelty-free, vegetarian/vegan-friendly, and gluten-free.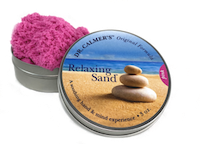 Dr. Calmer's Relaxing Sand Original Formula
$9.99; DrCalmers.com
Provides a purifying release of muscle tension through the gentle pressure of kneading and stretching. Also promotes focus and concentration in a relaxing, strengthening exercise. You can even add a small drop of your favorite essential oil to amp up the calming benefits. Available in Breathe Easy Blue, Unpressure Me Pink or Unwind Me Green.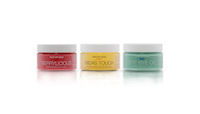 Wash Off Masks
$20 each; Hollyhoux.com
BERRYLICIOUS Brightening Clay Mask Five kinds of berry extracts work together to rejuvenate, brighten and clean dull skin. Rich in Anthocyanin, it's full of anti-oxidants that help prevent skin aging. MIDAS TOUCH Golden Touch Smoothing: moisturizes and helps firm the skin, while calming and soothing to bestow the look and feel of soft, silky, lifted skin. BYE-BYE OIL Clay Mask - Alaskan glacial water and three fresh mint extracts work together to clean, control oil and help tighten pores. Unlike other clay masks, our formula will not crack or harden while drying.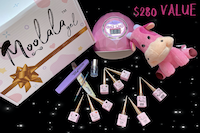 All You Need Moolala Gel Kit
$168.90; MiniManiMoo.com
The perfect kit for any nail polish lover. Suitable for home users and nail pros, it contains everything you need for the perfect gel nails, packaged in a gorgeous gift box.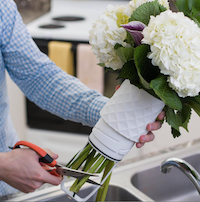 Amaranth Vase
$59.99; AmaranthVase.com
Amaranth Vases make it effortless to trim stems and add fresh water with a simple twist, drain and snip. These innovative vases allow you to conveniently remove the bottom of the vase making it easy to trim stems and get rid of the old water. With several colors to choose from, the decorative design is also made of a proprietary blend of marble powder that gives the vases a premium feel and they won't break or shatter if dropped.
Updated: July 2021