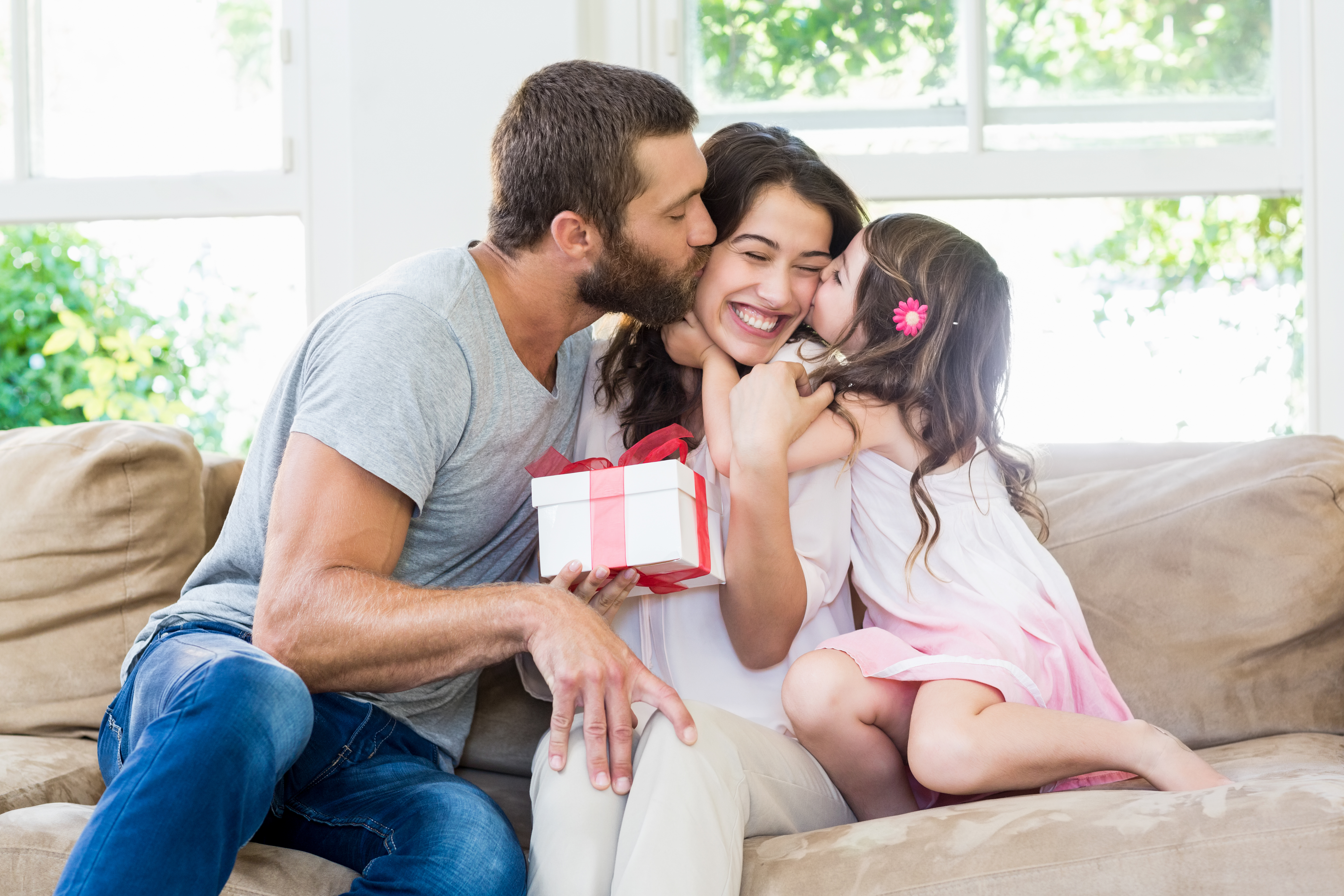 Gift Ideas for Moms! Looking for unique gifts for that special woman in your life? Check out these great ideas.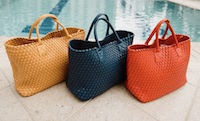 The Lucila
$129; HappyElsie.shop
Pop this chic, versatile, vegan leather tote bag on your shoulder and head to the beach or to the market. It is large enough to hold everything you need from day to night, is expertly hand woven, machine washable, and waterproof. Comes in a variety of exquisite colors.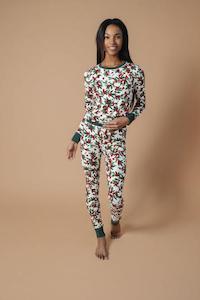 Holly Berry Knit Pajamas
$88; RachelParcell.com
Festive, cozy, and perfectly gift-able, this unisex knit pajama set makes an irresistible addition to the holidays. Features a premium knit, comfortable stretch, and chic prints inspired by the season.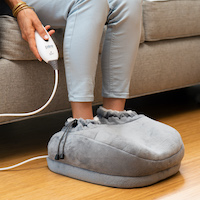 PureRelief Deluxe Foot Warmer
$49.99; PureEnrichment.com
Designed with super-soft micromink plush on the outside and a deluxe sherpa lining on the inside, this is ideal for warming up cold feet year-round with four heat settings that range in temperature from 110°F on the warm setting up to 140°F on high.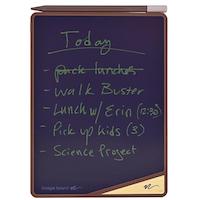 VersaBoard
$24.99; MyBoogieBoard.com
Offers both design and functionality for workspaces and around the home, seamlessly blending versatility, style, and organization with a new maximized note-taking surface. It can be mounted on a refrigerator or propped on a counter, and is perfect for grocery lists, quick notes, family game night score keeping and more.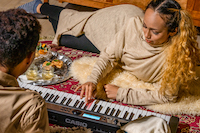 CT-S400 Casio Keyboard
$229.99; CasioMusicGear.com
The Casiotone CT-S400 is a great-sounding, ultra-portable keyboard that is perfect for making music at home or on the go. With hundreds of incredible Tones and Rhythms, it will inspire players of any age, skill level or budget for years to come.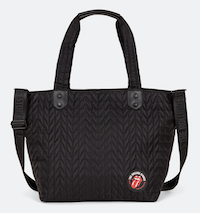 The Rolling Stones Quilted Nylon Tote Bag
$99.99; bfashionbags.com
With its neat chevron quilting, this high-quality nylon collection is synonymous with rock 'n' roll chic. Make a statement with five timeless designs, available in two elegant colors and featuring the world-famous Rolling Stones tongue logo, to add a touch of ROCK to any outfit.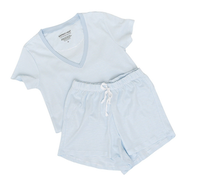 Sammy + Nat Blue Striped Pajamas
$98; SammyAndNat.com
These women matching adult pajama sets are hypoallergenic and gets softer with every wash and are perfect to match your little one.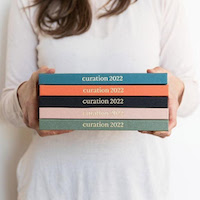 Saint Belford's Chic All-In-One Planner
$59.95; SaintBelford.com.au
Saint Belford has devised the ultimate system for prioritising self-care, with time left to smash all your goals as well. There are 12+ features to help you stay organized in all areas of your life including goals, bucket lists, finances and meal planning. This "all-in-one" lifestyle planner seamlessly blends day-to-day tasks with self-care, mindfulness, habits and goals. With everything in one place, you can organise your time mindfully, prioritise your wellbeing, stay on track with your most important intentions and celebrate your progress along the way.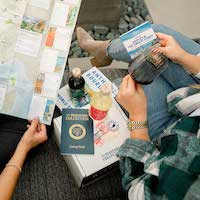 The Passport Collection
$65 for 8 Single Serve Bottles; ingoodtaste.com
In Good Taste offers an innovative experience that delivers eight chic mini bottles of wine directly to your door so you can try out different types and find what you like. This pourable postcard packs Old World charm into eight adventurous minis, sure to satisfy their palate and feed their wanderlust.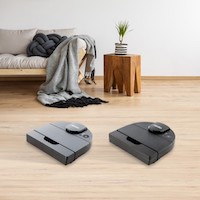 Neato D10 and D9 Vacuums
$699–$799; NeatoRobotics.com
Neato D10 is designed for large homes with the ultra-performance for the ultimate clean with 60% better dust pickup and Neato D9 is flexible and adaptable for no-compromises cleaning in medium-sized homes with 40% better dust pickup. Both products feature Neato's signature D-shaped design and LaserSmart technology that allow them to get into corners like no round robot can and clean in the dark without compromising the user's privacy and security.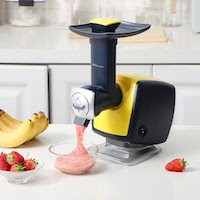 The Uber Appliance Sorbet & Ice Cream Maker
$69.99; UberAppliance.com
Whether you're shopping for kids, teenagers, adults, or grandparents, this sorbet and ice cream maker will bring healthy fun to everyone. It works by feeding frozen fruit or other tasty treats into the chute which quickly blends it into a delicious dessert without all the extra calories. Healthy has never been so delicious. Recipe book and popsicle mold included.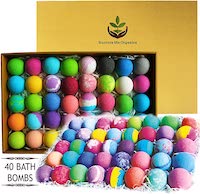 Nurture Me Organics Set of 40 Bath Bombs
$69.95; Amazon.com
Find a bath fizzy to match your every mood. Hop into the tub at the end of a long day with one of the many bath bombs included and relax into a deep and peaceful stress-free state of mind.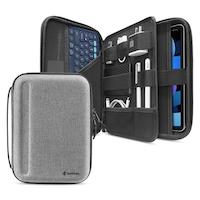 Smart A06 11-inch PadFolio Eva Storage Case
$36.99; Amazon.com
Tomtoc portfolio sleeve has high strength protection and storage function, which can meet all of your needs at one time.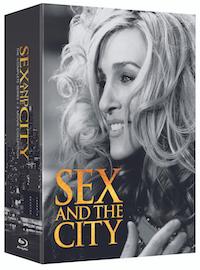 Sex and The City: The Complete Series + 2 Movie Collection
$179.99; WarnerBros.com
Hold on to your Manolos and Cosmos! Includes 96 unforgettable episodes of the iconic series plus Sex and the City: The Movie and Sex and the City 2 in one, elegant must-own box set. It's the ultimate collection for any Sex and the City fan and includes over 3 hours of previously released special features.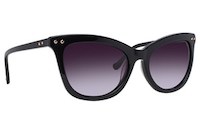 Marilyn Monroe Annabel Sunglasses
$39.95; DiscountGlasses.com
These Marilyn Monroe Annabel frames are classic cateye sunglasses that are perfect for any occasion.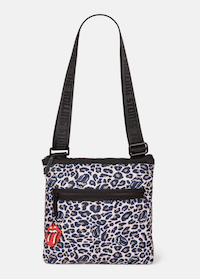 The Rolling Stones Crossbody Bag
$59.99; bfashionbags.com
Explore five timeless designs made with a modern, lightweight rip-stop nylon, perfect for people who like to rock. Choose between two styles of Rolling Stones prints: Go subtle or bold, but don't go unnoticed. Plus, all designs include black trims and zippers, and a detachable rubberized THE ROLLING STONES charm.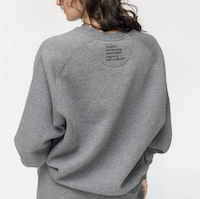 Olivia Oversized Sweatshirt
$85; ILoveMyPudus.com
If you're someone who needs a little extra coverage on your bum, look no further than this sweatshirt. This high-low crew neck has a slight scoop at the back for extra warmth during those chilly months.

Smiley Disc Necklace
$44-$48; MadeByMary.com
Created in collaboration with Kelsi Fullmer of @fullmhouse, it features a hand-drawn stamp inspired by Kelsi. Help someone you love find the silver lining by sharing this smile, or gift it to the person whose positivity has been a light to you.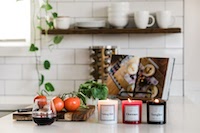 RareLumiere Candles
$39; RareLumiere.com
Enjoy 55 hours of burn time for each candle with 100% cotton wicks designed for the style of each glass vessel. Each hand-poured creation is elegantly packaged with a corresponding handwritten note included in the box.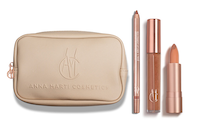 La Péche Bundle
$49.95; AnnaMartiCosmetics.com
The includes the Nude Finish | La Pèche, Goldie Luxe and Nué are a peachy nude shade inspired by the natural vibrant colors inside of the peach fruit. Also included is the Compact Premium Makeup Bag that is lightweight and the perfect size to store your makeup on the go. Feature natural ingredients that are vegan, non-toxic, paraben-free, and cruelty-free. Also available: Noor Red Bundle. https://www.instagram.com/annamarticosmetics/?hl=en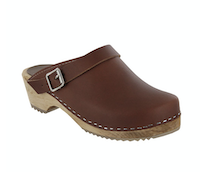 Alma Clog
$119.95; MiaShoes.com
This all-leather, Swedish wooden clog has a classic anatomic shape with a modest wooden platform and chunky heel. An adjustable sling-back strap can be worn two ways; perfect for making a stylish switch at any time. Created with versatility in mind the Alma's design is an excellent choice for the style chameleon.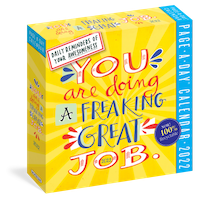 You Are Doing a Freaking Great Job Page-A-Day Daily Calendar
$15.99; Workman.com
It's the calendar of encouragement—every day, You Are Doing a Freaking Great Job will lift you up and keep you motivated with inspiring quotes and sayings, each illustrated with vibrant original graphics that enhance the message. Every entry is a breath of fresh positivity.

Faber-Castell's Hexo Rollerball Pen
$37; FaberCastell.com
Whether you're writing the perfect novel, penning a valentine to your sweetheart, or jotting down the notes to a new tune, HEXO will help you bring your creativity to life. Ergonomically shaped grip zone for comfortable writing, suitable for right-handed and left-handed users. Packaged in gift box.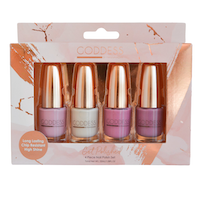 Get Polished
$24; MannaKadarCosmetics.com
This neutral necessities nail polish set is perfect for all occations. Ultra shine, long-wearing and chip resistant.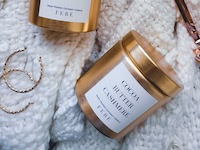 Cactus Flower Candle
$16; FebeCandles.com
Get a jump on the holidays with FEBE Candles, vegan, eco-friendly, and cruelty-free candle collection. There is something for everyone, from luscious aromas of cocoa butter cashmere to yes, man cave notes. Handpoured in gold glam vessels, the coconut wax candles are perfect for any home decor and heat up quickly to blissfully envelope a room.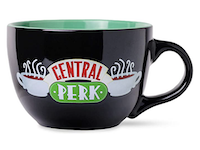 Friends Central Perk Mug
$11.99; Amazon.com
This oversized ceramic coffee cup holds 24 ounces of your favorite latte, cappuccino, or drip coffee when you need that extra boost in the morning and makes a perfect gift for all the Friends fans in your life. Now they can feel like they are having coffee at Central Perk with Rachel, Monica, Joey, Phoebe, Chandler and Ross.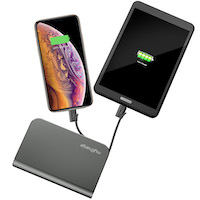 myCharge Hub Turbo 18W
$99.99; myCharge.com
Provides up to 6x extra battery life and has built-in Apple Lightning and USB-C charging cords that feature Apple Power Delivery and Qualcomm Quick Charge, meaning it can recharge iPhone and Samsung to 50% in about 30 minutes. The Hub Turbo also has foldout wall prongs on the back to directly recharge the unit.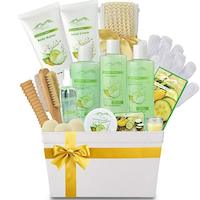 Cucumber Melon Deluxe XL Gourmet Gift Basket
$75; ardenorganics.com
Sensational bath accessories combined with spa goodies with Cucumber and Melon extracts and skin reviving hand mitts, back scrubber, brush, pumice and exfoliating bath pouf. We then add luxurious shampoo,body wash, bubble bath, bath salts, bath caviar and handmade soap.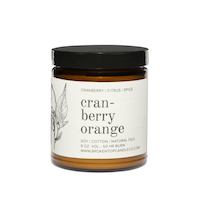 Cranberry Orange Candle
BrokenTopCandleCo.com
The seasonal Cranberry Orange scent is a warm scent that brings life to any space. Pairing two fruity favorites and a bit of spice to help clean and elevate during the fall season. Cranberry Orange consists of a tart citrus base with sweet cranberry top notes, a well-rounded favorite for all.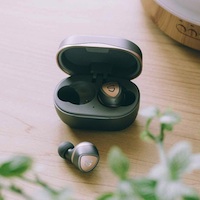 SOUNDPEATS Sonic
$49.99; SoundPeatsAudio.com
The perfect headphones for students whether they're tuning into virtual class or walking across campus. These wireless headphones feature smart touch technology enabling users to switch between songs, increase or decrease volume, and pick up phone calls all from the touch of a finger. The 15-hour battery life and charging case which holds an additional two charges makes these headphones ideal for long hours in the classroom.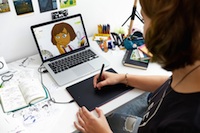 One by Wacom
$59.95; Wacom.com
You can sketch, draw, and edit photos with a simply great pen experience. It works with Chromebook too, which makes it perfect for students who want to handwrite digitally. The pressure sensitive and battery free pen brings a familiar, pen-on-paper feel to drawing and writing and is simple to set up and use. Everything from complicated cut-outs to delicate color adjustments, sketching and drawing is much easier and more precise. The tablet has everything you need, just connect the USB cable to your Mac, PC, or Chromebook, download and install the driver, and you're ready to go.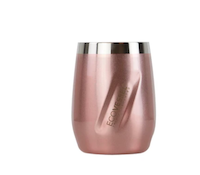 Port Insulated Stainless Steel Wine Tumbler
$21.95; EcoVessel.com
EcoVessel creates modern designed, performance-driven insulated stainless steel water bottles, mugs, tumblers, and growlers. These award-winning hydration vessels combine fashion and performance and keep your drinks hot and cold for hours.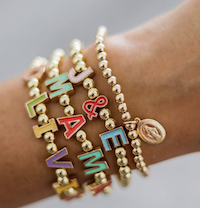 Isabelle Grace Jewelry Color Pop Letter Bead Bracelet- Isabelle Grace LOVE JOY gold bracelet
$34; Isabellegracejewelry.com
A stylish way to express yourself! Fun, bold and bright!! This trendy bead bracelet is upping the name bead bracelet game with super fun and colorful enamel letter beads. Perfect for stacking with a couple of your favorite sayings/names or they can be worn mixed in with a current bracelet stack. They can wear favorite people's names (or their own), short sayings, or cute messages. Self expression is the ultimate fashion statement!
eeBoo English Cottage 1000 Piece Puzzle
$23.99; eeboo.com
Piece together an afternoon walk along a path in the English countryside and discover this enchanted and colorful cottage. An open door invites you in for a spot of tea after puttering about in the flower and vegetable garden. Take a moment to enjoy the cat, the lounging dog, and chickens roaming freely among the tulips, all while little rabbits nibble in the garden. Beautifully illustrated by the English artist Victoria Ball.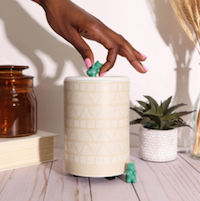 The Mod Wax Warmer
$39.95/Wax Melts $12.95+; HappyWax.com
A flame-free, trouble-free method of melting scented wax on a ceramic warmer to create fragrance. Set a timer for 3, 6, or 9 hours, so you can "set it and forget it" without any worry. Wax melts can also mix and match to create custom fragrances and discover your own signature scent.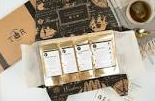 Loose Leaf Tea Subscription Box
$21.25–$25; TeaRunners.com
Tea Runners is the world's finest loose leaf tea club. Every month our members receive a curated collection of four of the world's best loose leaf teas, along with tasting notes and brewing instructions. Go with our curated selections or customize your own box from up to 20 tea selections per month.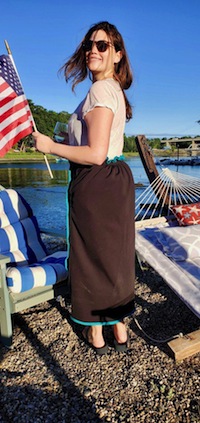 MOZY Softshell Blanket
$70; GetTheMozy.com
From cold bleachers to frost covered campsites, embrace the chill while staying cozy with the Mozy Softshell. Mozy's sleek design keeps you warm and mobile while in the stadium cheering on your favorite team, on the beach, during air travel, in a chilly office and more. This innovative wrap-and-go blanket is the perfect lightweight layer that provides adjustable warmth and moves with you as you refill your glass, join in the lawn games, or go for an evening stroll. Each Mozy features handy pockets for storing your phone, gear, or beverage and a unique foldable design for easy transport.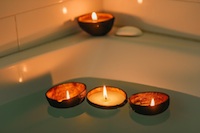 Backyard Candles Coconut Candles
$10–25; BackyardCandles.com
Handmade with up-cycled coconut shells that otherwise would have been tossed away, polluting the environment. The unique aromas invigorate a room while creating a serene environment for relaxation and comfort. Boost your self-care regime with a dreamy bath and coconut candles that float.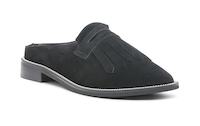 Lena Walking Loafer Mules
$94.99; RagNCo.com
The suave black mule in genuine suede is an ideal addition to your 9 to 5 and beyond look. A very comfortable pick with smooth leather construction, gilded insole with support, and gripping German sole that supports. From the day at work to an evening walk by the home, be comfortable and at ease with this pair of genuine leather Mule.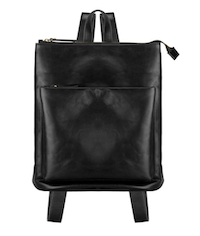 The Addison
$229; Andar.com
Made from premium full-grain oil waxed leather, this gorgeous bag comes in two color options and features several pockets to store essentials. Beautifully versatile, this is your must-have accessory for every occasion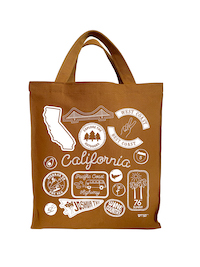 California Shopper Tote
$26; MapTote.com
Fun and whimsical design of patches and pins inspired by travel to California, this tote bag is perfect for everyday errands like grocery shopping with its short and sturdy handle. It is inspired by the classic brown paper bag you'd use at the grocery store.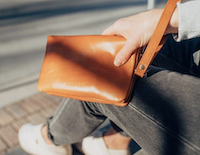 The Stevie
$109; Andar.com
The perfect choice for when you need to carry just a little more than your wallet can hold and a little less than what fills a bag. Features four interior card slots, a zippered pouch, and another slot perfect for your phone or keys. With a hidden magnetic clasp and a wrist lanyard for easy access, it is both secure and accessible.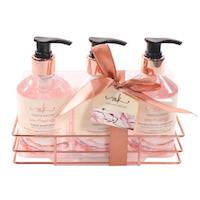 Anti-Bacterial Hand Sanitizer, Soap & Lotion Caddy
$24; MannakadarCosmetics.com
A hand sanitizer and anti-bacterial soap set from the Sea Minerals Collection that is effective against most common germs while being gentle on the skin. Features a pomegranate scent with soothing sea water.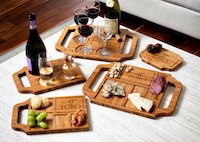 Left Coast Custom Charcuterie and Wine/Cocktail Boards
$48.50; LeftCoastOriginal.com
These custom charcuterie and wine/cocktail boards are original designs. Serve your guests with style and panache, or give these boards as a gift. Each engraving is burned deep into the board for a quality look and feel.
Updated: November 2021