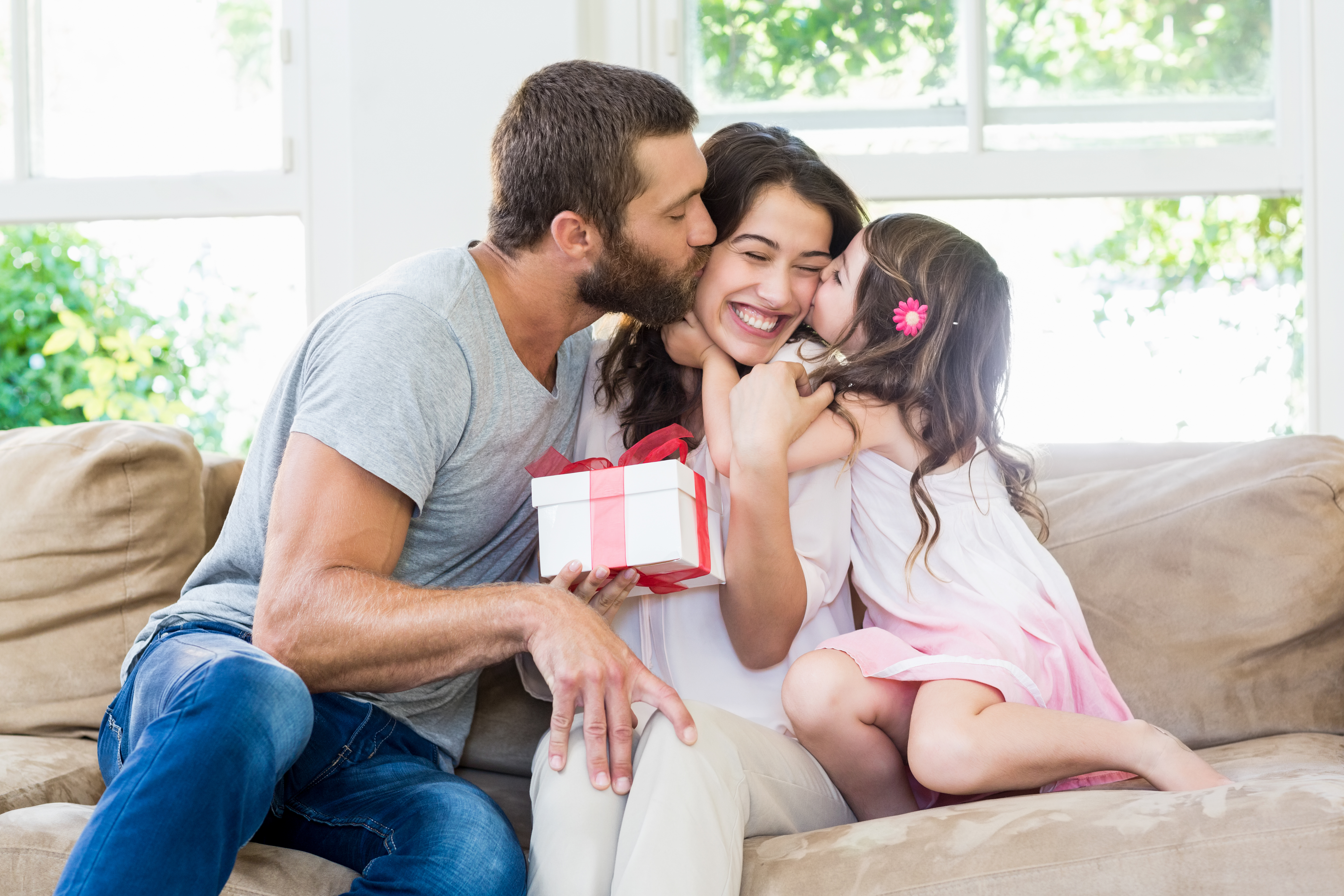 Gift Ideas for Moms! Looking for unique gifts for that special woman in your life? Check out these great ideas.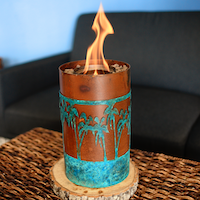 Baby Fire Pit
$94.99; BabyFirePits.com
Measuring in at only 10 inches tall, these are the perfect size for coffee tables or apartment patios. They are designed to be used with an odorless, smokeless, and nontoxic gel fuel for mess-free and hassle-free enjoyment.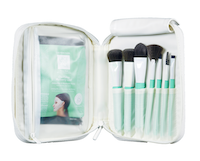 LARUCE Beauty x Dermovia Essential Facial Brush Set
$300; LaruceBeauty.com
Features multitasking makeup tools to help you apply Dermovia's Lace A Peel Charcoal Bamboo Mask Paste and Clarifying Mulberry Leaf Lace Your Face mask and reveal brighter and dewy looking skin.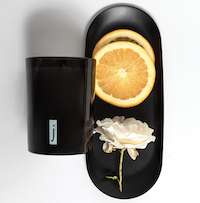 Joel Nolan Candle Collection
$59; JoelNolan.com
Whether you're looking for something warm and cozy or clean and fresh, you can light up your space with a great smelling candle to set the mood for a productive day. Available in three different scent profiles: Maverick (lime, lychee, rose, and lilac), Chatsworth (bergamot & sandalwood) and 191 Sutter (orange, petitgrain, neroli).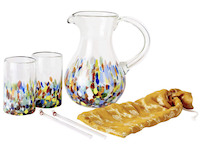 Punch Box Slim Iced Tea Pitcher and Glasses
$60; GlobeIn.com
Serves cold drinks with style, perfectly paired with tall handblown water glasses in our popular colorful dot design. Eco-friendly and chic doesn't end there, Punch Box includes a set of two glass straws for any sort of libation.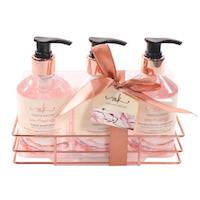 Anti-Bacterial Hand Sanitizer, Soap & Lotion Caddy
$24; MannakadarCosmetics.com
A hand sanitizer and anti-bacterial soap set from the Sea Minerals Collection that is effective against most common germs while being gentle on the skin. Features a pomegranate scent with soothing sea water.
Piece & Love Songbirds Tree 1000 Piece Jigsaw Puzzle
$21.99; eeboo.com
Twelve varieties of birds are perched on a tree amidst the beauty of a garden all around them. With their highly detailed radiantly colored plumage, these English Songbirds will engage any birdwatcher.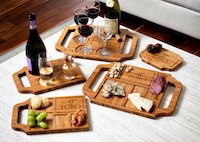 Left Coast Custom Charcuterie and Wine/Cocktail Boards
$48.50; LeftCoastOriginal.com
These custom charcuterie and wine/cocktail boards are original designs. Serve your guests with style and panache, or give these boards as a gift. Each engraving is burned deep into the board for a quality look and feel.
Fresh Squeezed Fragrance Oil Reed Diffuser
$36; BrokenTopCandleCo.com
A classic and beautifully crafted vessel that efficiently distributes fragrance over a long period of time. Cloaked in our signature botanical artwork, and set off by subtle black reeds, the diffuser is a tasteful addition to every living space.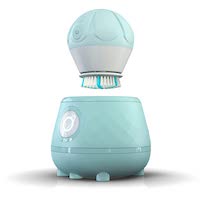 ONA Diamond Facial Brush
$67-$79; Amazon.com
Comfortably cleanses using powerful rotational technology. Its spinning motion, combined with the silky soft bristles thoroughly sweep through pores to safely dislodge dirt, dead skin cells and make-up residues. The TAO Clean Base Station keeps the brush head protected, clean and away from environmental contaminants and also dries the brush head while charging – allowing the brush ready for use when you are.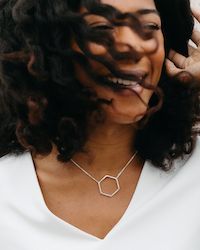 Hexagon Necklace
$95; LauraElizabethJewelry.com
Intended for women, especially mom's with tugging toddlers. The Hexagon necklace is available in both silver and gold. They are durable, there are no toxins left on the jewelry and made sustainably and ethically.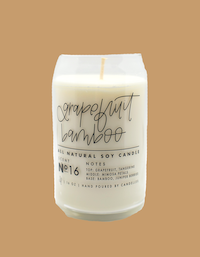 Grapefruit Bamboo Candle
$28; ChalkFullofLove.com
This candle is like walking through a blooming garden in the Springtime. It has a fresh, citrus scent with a hint of some floral notes. Burn this candle in the kitchen with the windows open and some happy music on the playlist. Nothing quite sets the mood for Spring like a fresh smelling candle.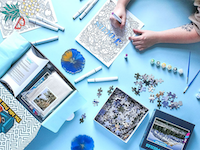 The Idle Free Box
$45; TheIdleFreeBox.com
An activity-based lifestyle subscription box delivered right to your doorstep. It is a one-stop-shop with fun activities that are turning mundane days into expressive moments of happiness. From DIY painting and embroidery kits to puzzles and workout plans, you'll be amazed at what will fill your time.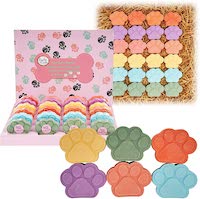 Shea Butter Bath Bombs Gift Set
$25; Amazon.com
Kick back, unwind, and relax after a hard day with these luxury essential oil bath bombs, which will fill your bathtub with intoxicating aromas, soothe your muscles and help you relieve anxiety & stress while healing your body from within. Naturally formulated with earth's best nourishing oils, shea butter, dead sea salt & clay that will hydrate, renew and restore your skin leaving it glowing naturally.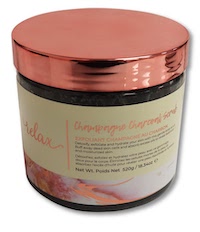 Champagne Charcoal Body Scrub
$24; MannakadarCosmetics.com
Bubbles anyone? This luxe champagne scented body scrub contains charcoal to remove dirt and build-up, leaving the skin polished, hydrated, and refreshed. Gentle enough to use every day.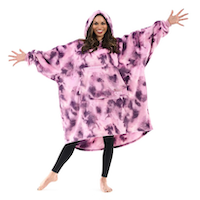 The Comfy Dream
$37.99; TheComfy.com
The ultimate snugly essential for the summer season - the softest most luxurious Comfy option yet with a single layer of buttery soft microfiber fabric taking the famous wearable blanket to the next level. Available in Heather Gray, Sky Blue and Heather Pink, Blue Tie Dye, Cotton Candy Tie Dye and Purple Tie Dye.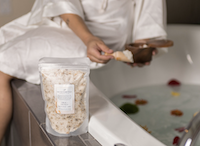 Bath Soak
$25; Honey-dipped.com
Fostering healthy, beautiful skin through all-natural handmade products. Add new boosts of freshness through your choice of three scents formulated with organic, vegan ingredients to address your skincare concerns and respond to specific needs. Available in Milk + Honey, Rose + Wildflower and White Tea + Lavender.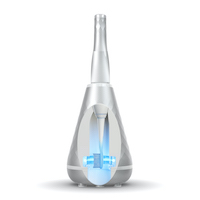 UMMA Diamond Toothbrush
$79.16; Amazon.com
Uses 40,000 tiny brush strokes per minute to sweep away plaque and gently polish away surface stains. A unique enclosed charging base cleans and dries your brush head. Once you dock your damp toothbrush after use, the 360-degree TAO Clean Halo uses powerful UV-C rays to kill 99.9% of bacteria. Then the built-in dryer wicks away any moisture from the brush to ensure that no germs or bacteria stand a chance.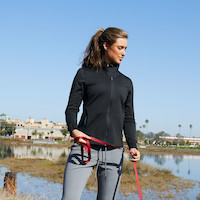 Women's Apex Jacket
$98; Hylete.com
Warm up, cool down, or take on cold-weather workouts in a breathable jacket with style lines that flatter your figure. A full zip lets you choose how to layer the Apex Jacket for big adventures or everyday essential wear.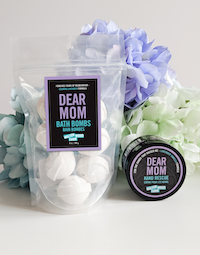 Walton Wood Farm Mommy Rescue
$33; WaltonWoodFarm.com
This duo is the perfect rescue combo for any mom. Featuring a soft lavender scent, this combo includes moisturizing hand rescue and de-stressing Dear Mom bath bombs. Free of harsh ingredients like SLS, Paraben, and Phthalate, these body care essentials are cruelty-free, vegetarian/vegan-friendly, and gluten-free.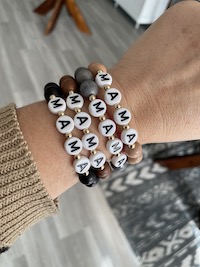 IsabelleGraceJewelry Mama Boho Bead Bracelet
$34; www.isabellegracejewelry.com
Wear your "MAMA" status in style with these fun MAMA Boho Bead Bracelets. They are gorgeous to wear on their own or perfect for creating popular stacked looks. The Bead Bracelets are made with powerful stretch cord and feature 10 mm natural wood beads in a variety of colors, accented with genuine 4mm 14kt gold fill or sterling silver bead.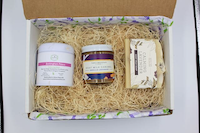 Mother's Day Gift Box
$29.99; TableMountainFarm.com
Features artisanal products made by women-owned businesses in Colorado. It includes their Lavender Vanilla Caramel Sauce, hand-blended Buckingham Palace Sereni Tea, and handmade palm oil-free Calming Lavender soap. The scent of lavender upon opening the box instantly melts any stress.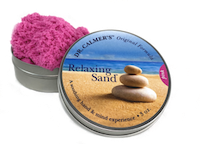 Dr. Calmer's Relaxing Sand Original Formula
$9.99; DrCalmers.com
Provides a purifying release of muscle tension through the gentle pressure of kneading and stretching. Also promotes focus and concentration in a relaxing, strengthening exercise. You can even add a small drop of your favorite essential oil to amp up the calming benefits. Available in Breathe Easy Blue, Unpressure Me Pink or Unwind Me Green.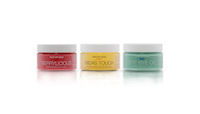 Wash Off Masks
$20 each; Hollyhoux.com
BERRYLICIOUS Brightening Clay Mask Five kinds of berry extracts work together to rejuvenate, brighten and clean dull skin. Rich in Anthocyanin, it's full of anti-oxidants that help prevent skin aging. MIDAS TOUCH Golden Touch Smoothing: moisturizes and helps firm the skin, while calming and soothing to bestow the look and feel of soft, silky, lifted skin. BYE-BYE OIL Clay Mask - Alaskan glacial water and three fresh mint extracts work together to clean, control oil and help tighten pores. Unlike other clay masks, our formula will not crack or harden while drying.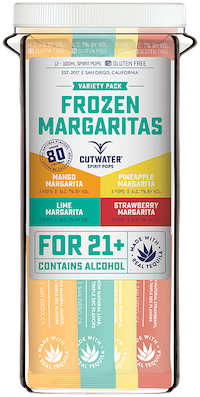 Frozen Margarita Pops
$22.99-$26.99; CutwaterSpirits.com
Inspired by our award-winning canned margarita, these flavored margarita pops feature our own real tequila, are less than 80 calories per serving, contain no artificial sweeteners, and are gluten-free. Just freeze overnight, cut off the top to open, and enjoy. Lime, Mango, Strawberry + Pineapple.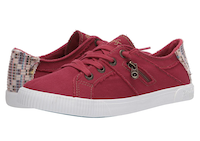 Blowfish Fruit Sneaker
$44.99; Zappos.com
A cool and effortless style to keep you comfortable on-the-go, the Fruit sneakers. Upper made of textile with zipper detail. Lace-up design, lightly cushioned, stationed insole with woven detail at the heel.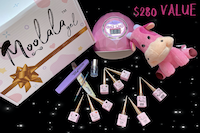 All You Need Moolala Gel Kit
$168.90; MiniManiMoo.com
The perfect kit for any nail polish lover. Suitable for home users and nail pros, it contains everything you need for the perfect gel nails, packaged in a gorgeous gift box.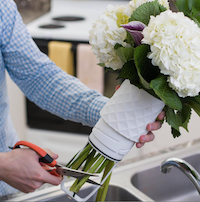 Amaranth Vase
$59.99; AmaranthVase.com
Amaranth Vases make it effortless to trim stems and add fresh water with a simple twist, drain and snip. These innovative vases allow you to conveniently remove the bottom of the vase making it easy to trim stems and get rid of the old water. With several colors to choose from, the decorative design is also made of a proprietary blend of marble powder that gives the vases a premium feel and they won't break or shatter if dropped.
Updated: April 2021