Beach, Pool & Summer Products! Headed to the beach, pool or waterpark this summer? Check out these cool new products to make your trip easy and fun.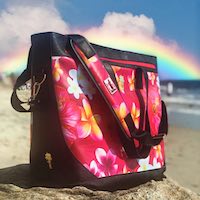 Hula Cula Cooler Bags
$279.99; Hulacula.com
With its premium design and utility, this cooler bag delivers everything the modern person needs for everyday use, as well as fun days at the beach, pool, ball field or special event. Hidden inside the beautiful exterior is the most functional cooler bag ever created. With a waterproof center cooler pocket, utility side pocket with three cell phone sizes pockets, zippered valuables pocket, electronics storage and key holder clip, and a dry storage side pocket with a built in sunglasses holder and space for adding monogram, you won't be stressed for space.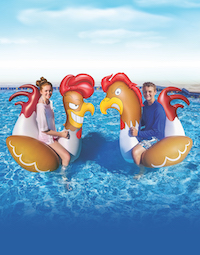 Chicken Fight
$39.99; 8+
LesliesPool.com
Chicken Fight! Inflatable Pool Float Game Set includes 2 Giant Inflatable Chicken Floats. Flip Your Friends into the water! Mount your chicken ride-on water float and wrestle your friend off theirs! Fun for kids, teens and even adults.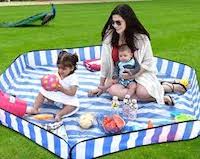 Sandy Bumz
$29; MySandyBumz.com
A lightweight, easy to use product that keeps you and your family clean and safe from pests. Sandy Bumz is perfect for the beach, the park and anywhere you and your family want to sit in comfort outdoors.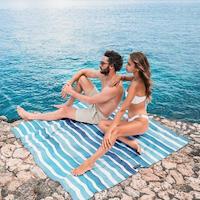 Tesalate Sand-free Towels
$59-$99; Tesalate.com
These towels from Australia truly repel sand. Utilising cutting-edge textile technology, Tesalate created the exclusive AbsorbLite fabric to bring you a towel that's simply smarter than the rest. Aside from being sand-free, it can also absorb up to 1L (33 oz.) of water yet it dries up pretty fast. With over 30 designs to choose from, this lightweight towel can roll up into a small bundle and comes with its own waterproof nylon drawstring pouch.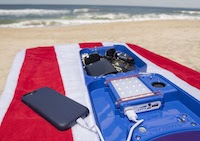 beachsafe Portable Safe
$79.99; thebeachsafe.com
beachsafe allows you to have peace of mind in knowing your valuables are safe wherever you are. This portable, lightweight safe is designed with a 4-digit combination lock, water-resistant exterior, and a stainless-steel securing cable that easily attaches to your beach chair. beachsafe's high-tech features include two USB ports, a powerful built-in solar powered battery pack to charge phones on the go, and a cooling fan to protect your smart devices while keeping them charged.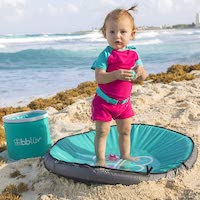 Spläsh Portable Baby Paddling Beach and Travel Pool with Carry Bag
$18; Amazon.com
Let your little ones splish, splash their way into summer with the Spläsh. It is perfectly sized for infants or toddlers to enjoy water through sunny days. For extra shade, the Spläsh can be inserted into any tent. Ages 6-12 months.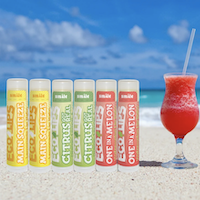 Summer Lip Balm
$11.99; EcoLips.com
Fresh outta the juicer comes these fresh-pressed summer flavors: Main Squeeze, One in a Melon (Watermelon) and Citrus Got Real (Orange, Lime and Lemon). This variety 6-pack of summertime lip balm packs a pucker and sweetness for a refreshing summertime treat. Features organic coconut oil and beeswax to keep lips supple and soft all season long.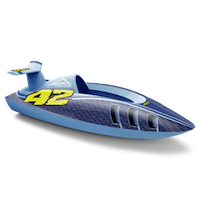 SwimWays Speed Beasts
$14.99; 5+
Target.com
Battery powered boat that instantly begins to move upon water contact. Automatically reverses when hitting a wall. Set its rudder in various positions to perform tricks, take turns, and much more. Three styles inspired by a shark, alligator and manta ray.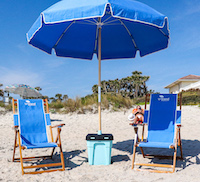 The U-Stand
$49.99; TheUStand.com
It's the world's most versatile umbrella stand. It's perfect for providing "shade anywhere" -- tailgating, beach, outside sports, fishing, even your backyard. Allows you to properly secure any umbrella. Tested to withstand winds of 40mpm. Made with UV protected durable plastic, never worry about it breaking. Includes 4 cup holders that will fit even the largest cups.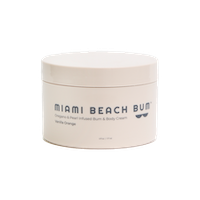 Miami Beach Bum + Body Cream
$45; MiamiBeachBum.com
Features oregano to target blemishes and pearl to brighten and smooth your complexion. The botanical formula is gentle and effective to use as an everyday moisturizer and treat other skin flare-ups such as folliculitis, acne, eczema, psoriasis, keratosis pilaris and more. Choose from mint and vanilla orange varieties.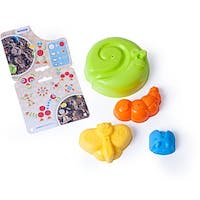 Miniland Kids Beach Sand Molds
$6.99; Amazon.com
Includes a circle, square, triangle and semi-circle molds with fun grooves that create unique shapes. Helps develop children's curiosity in the world around them, hand-eye coordination and dexterity skills.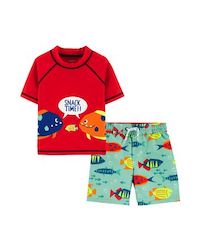 2-Piece Fish Swim Bundle
$23.40; Carters.com
This fish rashguard is UPF 50+ sun protected and designed with a quick-drying fabric to keep him cool all summer long. Plus, with a pair of matching swim trunks, this set is perfect for his next beach adventure.
The Navy Labyrinth Beach Towel
$40; Teema.co
By utilizing dozens of different colored threads in each design, the Labyrinth's weave creates a hypnotizing, breathtaking display of interwoven colors. The Labyrinth Towel is woven on traditional jacquard looms by seamstresses in Turkey. It is thicker and softer than towels made on automatic looms.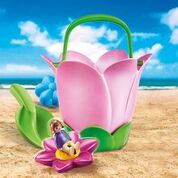 PLAYMOBIL Sand Spring Flower Bucket
$16.99; 2+
Playmobil.us
Dig in at the beach with Spring Flower Bucket! Use the leaf shovel to scoop up the sand and then pour over the sieve to separate out any seashells. Kids can then use the collected sand to fill the flower mold. Or, fill the bucket with water and then watch the pretty pink flower float! Set includes one figure, flower bucket with handle, sieve, leaf shovel, and flower mold.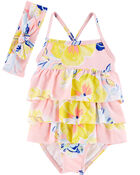 Carter's 1-Piece Floral Ruffle Swimsuit
$17; Carters.com
Designed with UPF 50+ sun protection and super cute ruffles, this floral 1-piece comes with an adorable matching headwrap to complete this beachy look. Includes matching headwrap.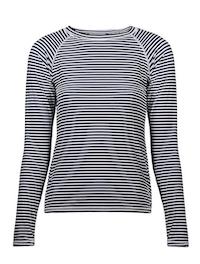 Womens Waiheke Stripe Long Sleeve Rash Top
$80; SnapperRock.com
Go sailing with this contemporary nautical striped long sleeve rash top. Cut for a flawless fit from UV50+ fabric, this quick drying swim top will block all harmful UVA and UVB rays. A perfect complement over any other item when more cover is required.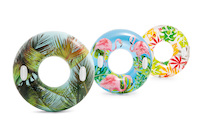 Intex Lush Tropical Tubes
$24.99; IntexCorp.com
These swim tubes are ideal for floating, swimming or playing with in the pool. Heavy-duty grab handles are provided for holding on. Available in 3 assorted bright tropical designs.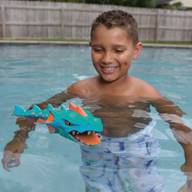 SwimWays Aqua Monsters
$14.99; 5+
Target.com
Aqua Monsters swim erratically for realistic sea creature effect. Aggressive and edgy, this monster slitters across the water with an articulated body and tail.
My Audio Pet SPLASH
$39.99; MyAudioPet.com
A unique line of speakers that are designed to look like you and your kids' favorite animals. The SPLASH line features waterproof speakers designed as adorable ocean-dwellers like "Rocktopod the Octopus" and "Narmony the Narwhal" who are perfect for the beach, pool parties or making bathtime fun.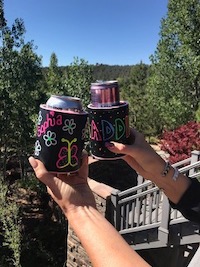 Keepzit Kooler
$22.97; KeepzitKooler.com
With its hard outer shell and wider base, Keepzit Kooler provides more stability, so your drink won't tip over and spill. Marker writes like a paint pen, but dries to look just like chalk. Quick drying and smear resistant once dry. Includes two Chalkboard Keepzit Koolers and one White Liquid Chalk Marker.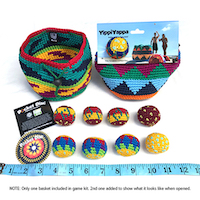 YippiYappa
$34.99; All Ages
Buenaondagames.com
The YippiYappa game kit has 4 games and growing. Dump out the balls, pick the game and the teams and have at it. Kit contains two teams of 4 color-coded Peloties (mini sacks) each and one basket.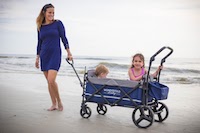 Wonderfold Wagon
$259-$549; WonderfoldWagon.com
This utility wagon is especially unique because unlike its competitors, it can hold up to four kids -- plus the diaper bag, towels, toys and anything else you need for a fun day at the park, zoo or beach! Choose a two-seater or four-seater wagon with a sun-blocking canopy, bench and extra side pockets to hold smaller items. This cost-effective wagon comes in four colors and can hold up to 300 pounds. Easy to collapse, Wonderfold Wagon fits into the trunk of any car.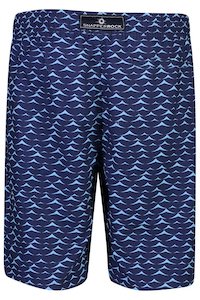 Mens Blue Swell Boardies
$75; SnapperRock.com
These Blue Swell Board Short have a classic print that Dads and their mini me's will both love. Classic navy with aqua waves feature on these volley style shorts. Match with a rash top for total sun protection. Quick drying, lightweight and breatheable. Zip closed back pocket with mesh lining.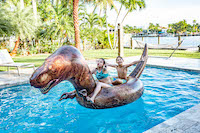 Gigantic Dinosaur
$44.99; 6+
LesliesPool.com
Go Big or Go Extinct! Bring excitement and adventure to your pool with the King of the Pool Floats – T-REX! This gigantic raft is nearly 10 feet long, easily accommodating two adult riders! Every terrifying detail of this powerful beast was captured using high-resolution RealPrint technology from PoolCandy. Enjoy life as the apex predator on a pool float 66 million years in the making.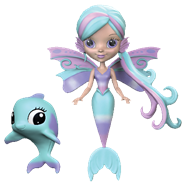 SwimWays Fairy Tails
$4.99; 5+
Amazon.com
These adorable pool toys easily transform into magical mermaids. The mermaid tail changes color in the sun and back again in cooler water. Discover six different dolls, each with their own 2" pet.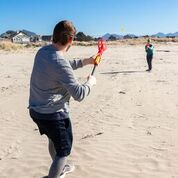 Pop and Pass
$24.99; 6+
HogWildToys.com
Grab a launcher and insert the soft foam ball. Simply pull back the handle to load, then get ready launch. A fun and oddly satisfying "bloop" sound effect accompanies each pop and pass! The functional basket design auto-reload and hands-free operation makes of Pop & Pass super fun and easy for all ages.
Football
$12.99; All Ages
Buenaondagames.com
Great for close range catch; soft and safe for little hands and heads and it floats. 5 inches in length, cotton crochet with recycled pellet/poly combo fill.
Updated: July 2020