Beach & Pool Products! Headed to the beach, pool or waterpark? Check out these cool new products to make your trip easy and fun.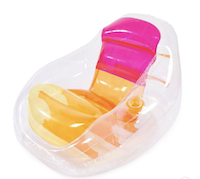 SwimWays Dry Float
$44.99+; 15+
Amazon
Soak in the sun while staying completely dry in one of three above water floats. Features a translucent PVC with bright eye-catching color-blocking, an integrated cupholder and patent-pending Hyper-Flate Valve Technology for 3x faster inflation and deflation. Sit upright to socialize in the Socializer, lie back in the Lounger and relax under the shade in the Shadester featuring a removeable canopy.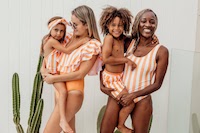 Infamous Swim Swimsuits
Prices vary; InfamousSwim.com
Women will appreciate that Infamous Swim is passionate about promoting positive body image, loving the skin you're in and creating a community of like-minded women who support one another. Offered in sizes up to 3XL, from bikinis, one piece swimsuits, rash suits and beyond, every garment they create is designed for the female form, in every shape and size, through every stage of womanhood. Infamous Swim also offers men's boardshorts plus UPF 50+ sun protection rash shirts and a plethora of suits, trunks, rash shirts, hats and more for kids and teens.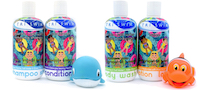 TRISWIM Kids Gift Set
$43.99; Amazon.com
Cutely packaged and colorfully labeled to appeal to your little ones, the TRISWIM KIDS family consists of salon quality shampoo, conditioner, body wash and lotion that will help protect your child's skin and hair from the long term damaging effects of Chlorine, sea salt and hard water.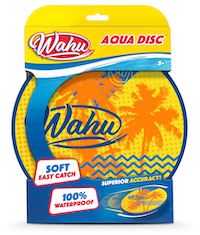 Wahu Aqua Disc
$7.99; 5+
GoliathGames.us
Designed with 100% waterproof neoprene skin for incredible durability, this high performance throwing disc is equally at home in the backyard, park, pool or the beach! Super easy to throw and catch, you can take it anywhere and have a blast.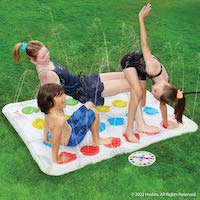 Twister Splash
$19.99; 6+
WowWee.com
Just like everyone's favorite Twister game, players follow hand and feet placements directed by the included spinner. Connect the mat to a hose, spin the wheel and start playing. Fun for the entire family.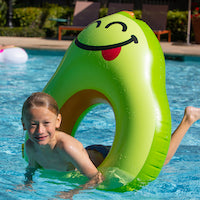 Avocado Pool Floatie
$14.99; 5+
GoodBanana.com
The perfect size (and quality) floatie for kids while integrating the kind of characters they would love spending the summer with. Crafted with soft-touch PVC and easy-fill air valves, this pool floatie series is the perfect way to kick off the pool party.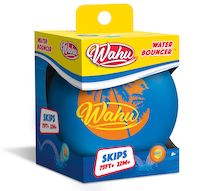 Wahu Water Bouncer
$6.99; 5+
GoliathGames.us
A fun addition to your day at the pool, beach or lake. Designed to skip over 75 feet on the water. The Water ouncer is 100% waterproof and created with a special compound foam for superior bounce and easy catching.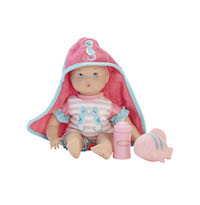 Madame Alexander Splash and Play Seahorse
$54.95; 2+
MadameAlexander.com
This 12" soft doll wears a striped seahorse print swim set and a headband and includes a hooded towel with a tail. The perfect beach, pool or bath buddy. Fully submersible, the doll floats and drip-drys.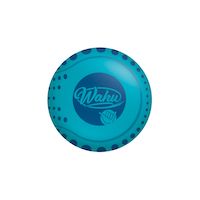 Wahu Super Grip Skimball
$5.99; 5+
GoliathGames.us
Designed to skip 150+ feet across the water, challenge your friends to see who can skip the farthest. The Super Grip Skimball is 100% waterproof and features texturized grip designs for easier throwing and catching.
Inflatable Splashy Sprinkler Flamingo
$39.99; 3+
GoodBanana.com
A 360-degree soak zone for hours of imaginative play that is ready in mere minutes. Just inflate, connect a hose and go.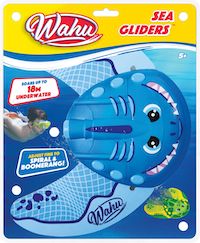 Sea Gliders
$9.99; 5+
GoliathGames.us
This uniquely designed toy is a self-propelled jet which slices through water – no batteries required. Easy to use, simply submerge the Sea Gliders, release and watch it soar distances up to 60 ft. underwater.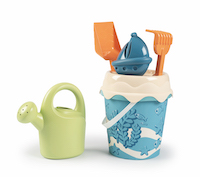 Smoby Green Garnished Bucket
$19.99; Amazon
With this bucket, sieve, rake, shovel and sand mold, kids can build sandcastles and carry sand and water. After playing, all accessories fit inside.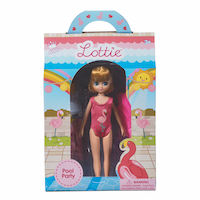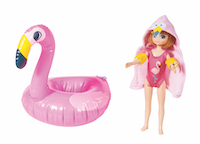 Lottie Dolls Pool Party Doll
$27.99; 3+
Lottie.com
This cute portable Pool Party Lottie Doll comes complete with arm bands, real inflatable flamingo & hooded flamingo towel. Perfect for any flamingo themed pool party!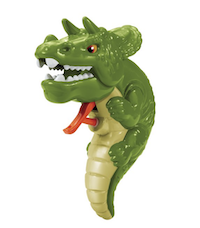 Play Day Dino Squirter
$3.68; 4+
https://buzzbeetoys.com/
Play Day Dino water blasters are safe, light, and perfect to bring with you on every road trip and vacation. Though we made sure the design is compact, we did not want to sacrifice the range. Dino water blasters produce a squirt of water that shoots up to 25 feet away.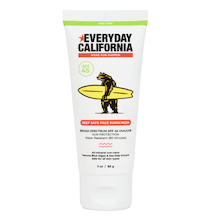 Everyday California Mineral SPF 45 Reef-Safe Face Sunscreen
$24.95; EverydayCalifornia.com
Everyday California's long-lasting face sunscreen is built for ocean adventure and water activities. Made with reef-safe formulas that are 100 percent free of Oxybenzone, Octinoxate, Phenoxyethanol, Parabens and all other chemical UV filters, this sunscreen allows users to enjoy long beach days without harming the ocean. A portion of every purchase also goes back to ocean conservation through the brand's ongoing partnership with 1% For the Planet.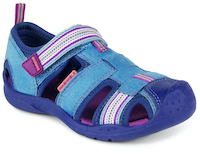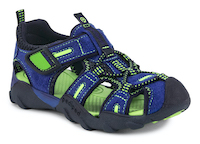 pediped Adventure Line Shoes
$53; pediped.com
Go from land to sea in these quick dry water sandals that are designed to be durable enough for a hike and safe for the splash pad, too. These water safe, machine washable shoes are perfect for summer.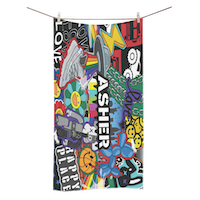 KicksBySammy Towel
$45; KicksBySammy.com
An array of vibrant beach, pool, and bathroom towels perfect for the whole family that can be customized with the user's first name, initials, or camp name, for a personalized touch. They feature KBS founder and artist Samantha Handler's whimsical and colorful hand-drawn designs.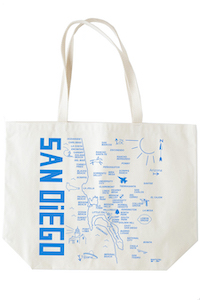 San Diego Beach Tote
$32; MapTote.com
This oversized tote bag is ready to carry whatever you need to your destination. It is great to have on hand for impromptu trips to the beach and weekend adventures.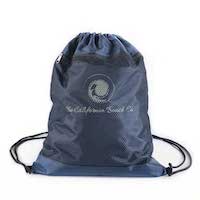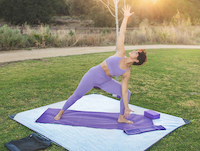 California Beach Blanket - Whimsical Waves
$85.97; TheCaliforniaBeachCo.com
Large enough for three adults with weighted corners to hold it down, it is sand-resistant, water-resistant, and heat-resistant. Plus, it has a secret zipper pocket for storing your valuable items. Stays cool under the hot sun and packs up into a drawstring backpack in less than 10 seconds for easy transport with extra space for towels, sunscreen, and more. Ground and sand stakes included.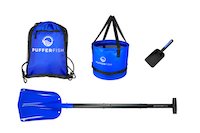 Pufferfish Solo Sand Castle Kit
$79.99; Pufferfish.fun
Includes everything you need to make something amazing and the whole kit weighs just over 3 pounds. The Super Scoop is made of recycled fishing nets, and the SandBag is made of recycled plastic, too. As proud members of 1% for the Planet, 1% of every purchase goes towards Ocean clean-up efforts.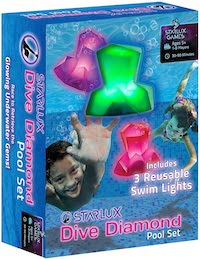 Starlux Dive Diamonds
$19.90; StarluxGames.com
Race to retrieve glowing underwater gems or go on an underwater treasure hunt with these waterproof game pieces. Sold as a set of three.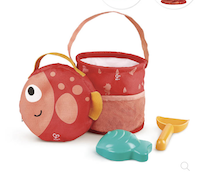 Fold & Go Beach Set
$12.99; Hape.com
Be fully-prepared for the summer with this adorable beach play set. The flat, easy-to-carry fish-design canvas bag contains a fold-out bucket, a small spade and a cute fish-shaped sand mold.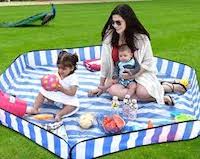 Sandy Bumz
$29; MySandyBumz.com
A lightweight, easy to use product that keeps you and your family clean and safe from pests. Sandy Bumz is perfect for the beach, the park and anywhere you and your family want to sit in comfort outdoors.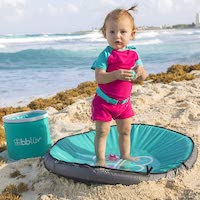 Spläsh Portable Baby Paddling Beach and Travel Pool with Carry Bag
$18; Amazon.com
Let your little ones splish, splash their way into summer with the Spläsh. It is perfectly sized for infants or toddlers to enjoy water through sunny days. For extra shade, the Spläsh can be inserted into any tent. Ages 6-12 months.
My Audio Pet SPLASH
$39.99; MyAudioPet.com
A unique line of speakers that are designed to look like you and your kids' favorite animals. The SPLASH line features waterproof speakers designed as adorable ocean-dwellers like "Rocktopod the Octopus" and "Narmony the Narwhal" who are perfect for the beach, pool parties or making bathtime fun.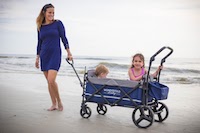 Wonderfold Wagon
$259-$549; WonderfoldWagon.com
This utility wagon is especially unique because unlike its competitors, it can hold up to four kids -- plus the diaper bag, towels, toys and anything else you need for a fun day at the park, zoo or beach! Choose a two-seater or four-seater wagon with a sun-blocking canopy, bench and extra side pockets to hold smaller items. This cost-effective wagon comes in four colors and can hold up to 300 pounds. Easy to collapse, Wonderfold Wagon fits into the trunk of any car.
Updated: May 2022