Beach, Pool & Summer Products! Headed to the beach, pool or waterpark this summer? Check out these cool new products to make your trip easy and fun.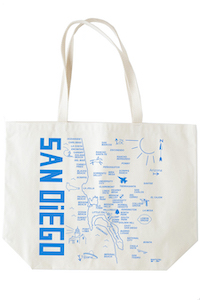 San Diego Beach Tote
$32; MapTote.com
This oversized tote bag is ready to carry whatever you need to your destination. It is great to have on hand for impromptu trips to the beach and weekend adventures.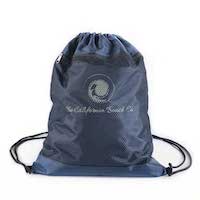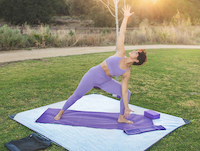 California Beach Blanket - Whimsical Waves
$85.97; TheCaliforniaBeachCo.com
Large enough for three adults with weighted corners to hold it down, it is sand-resistant, water-resistant, and heat-resistant. Plus, it has a secret zipper pocket for storing your valuable items. Stays cool under the hot sun and packs up into a drawstring backpack in less than 10 seconds for easy transport with extra space for towels, sunscreen, and more. Ground and sand stakes included.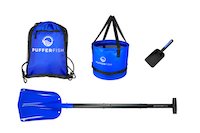 Pufferfish Solo Sand Castle Kit
$79.99; Pufferfish.fun
Includes everything you need to make something amazing and the whole kit weighs just over 3 pounds. The Super Scoop is made of recycled fishing nets, and the SandBag is made of recycled plastic, too. As proud members of 1% for the Planet, 1% of every purchase goes towards Ocean clean-up efforts.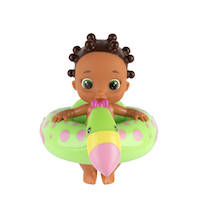 Bloopies Floaties
$7.99; 2+
Amazon.com
These Bloopies sisters love to swim and come with their own animal-shaped float. Watch them swim alongside you by pulling the rope to rotate the motor. For even more fun, give Bloopies Floaties a squeeze and make the float squirt water. Collect all five.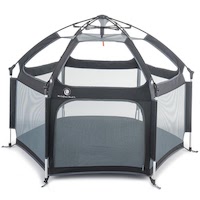 Pop N' Go Portable Play Yards
$289.97; TheCaliforniaBeachCo.com
Provide your children with the ideal space to be themselves both indoors and outdoors. Built to last while being simple to transport and effortless to set up. The "pop and release" technology is constructed so that you can press down once to have a functional space for your kids in seconds. Comes with a shade cover and carrying bag for extra convenience and comfort.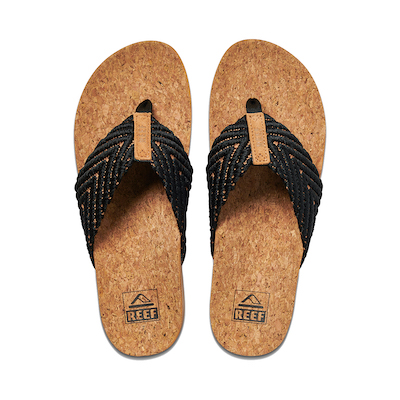 REEF SANDALS
$45.00; REEF.com
The REEF Cushion Strand is equipped with a comfy, cork-lined footbed. It's stylish, supportive and ecofriendly, as its straps are made from recycled plastic bottles!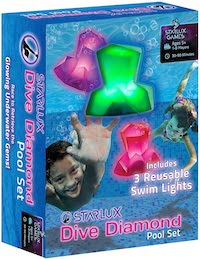 Starlux Dive Diamonds
$19.90; StarluxGames.com
Race to retrieve glowing underwater gems or go on an underwater treasure hunt with these waterproof game pieces. Sold as a set of three.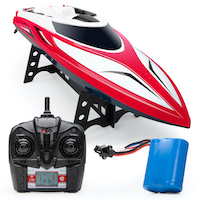 Velocity Boat
$69.99; https://force1rc.com/products/h102-velocity-remote-control-boat-for-pool-outdoor-use
Put other remote controlled boats to shame with this fast brushless high speed boat. Race multiple RC boats with no interference using the 4 channel speed boat remote control. Pilot this remote control boat for pools and lakes. Sturdy design, simple flip capsize recovery and easy controls. Have fun racing the Velocity remote speed boat at high speeds (20 mph+)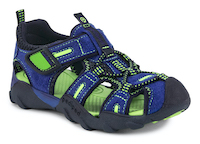 pediped Adventure Line Water Safe Shoes
$53; pediped.com
These water safe shoes are light-weight, eco-friendly, and able to handle dunks and splashes, so they still look great after a day at the pool or beach. Featuring quick-dry EVA footbeds which are designed to express water quickly, your little one will go from wet to dry in a hurry. Features: Clarino upper, breathable neoprene lining, flexible rubber sole, quick-dry EVA footbed and adventure sandal with Velcro closure.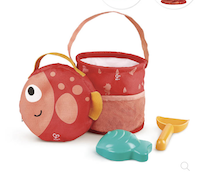 Fold & Go Beach Set
$12.99; Hape.com
Be fully-prepared for the summer with this adorable beach play set. The flat, easy-to-carry fish-design canvas bag contains a fold-out bucket, a small spade and a cute fish-shaped sand mold.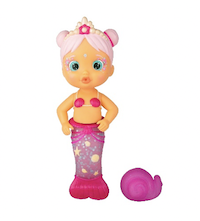 Bloopies Mermaids
$9.99; 2+
Amazon.com
Watch as their tails magically change color when they dive under warm water. When above water the Bloopies Mermaids squirt water and make bubbles for even more fun. There are six to collect, each featuring beautiful faces designs and sparkling glitter tails.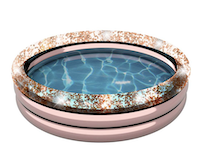 PoolCandy Sunning Pool
$39.99; Poolcandy.net
Pick from an array of lovely designs and colors. Enough room for two. Made of durable, non-toxic, premium quality PVC Vinyl.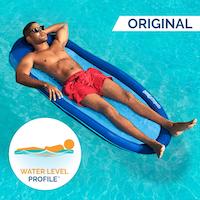 Spring Floats with Hyper-Flate Valve
$17.99; SwimWays.com
The most comfortable, fabric-covered float inflates and defaltes 3 times faster, with no pump needed. Engineered to increase airflow in, while preventing airflow out. Deflate just as quickly by inserting the tail of the valve cap and folding the float into three compact circles for convenient portability and storage.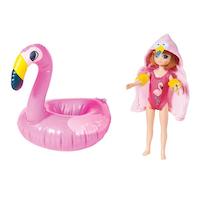 Pool Party Lottie Doll
$24.99; Lottie.com
This cute portable Pool Party Lottie Doll comes complete with arm bands, real inflatable flamingo and hooded flamingo towel. Perfect for any flamingo themed pool party.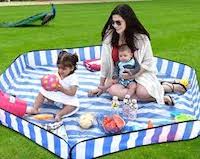 Sandy Bumz
$29; MySandyBumz.com
A lightweight, easy to use product that keeps you and your family clean and safe from pests. Sandy Bumz is perfect for the beach, the park and anywhere you and your family want to sit in comfort outdoors.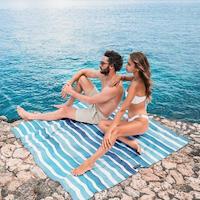 Tesalate Sand-free Towels
$59-$99; Tesalate.com
These towels from Australia truly repel sand. Utilising cutting-edge textile technology, Tesalate created the exclusive AbsorbLite fabric to bring you a towel that's simply smarter than the rest. Aside from being sand-free, it can also absorb up to 1L (33 oz.) of water yet it dries up pretty fast. With over 30 designs to choose from, this lightweight towel can roll up into a small bundle and comes with its own waterproof nylon drawstring pouch.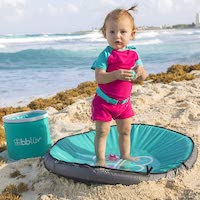 Spläsh Portable Baby Paddling Beach and Travel Pool with Carry Bag
$18; Amazon.com
Let your little ones splish, splash their way into summer with the Spläsh. It is perfectly sized for infants or toddlers to enjoy water through sunny days. For extra shade, the Spläsh can be inserted into any tent. Ages 6-12 months.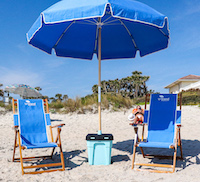 The U-Stand
$49.99; TheUStand.com
It's the world's most versatile umbrella stand. It's perfect for providing "shade anywhere" -- tailgating, beach, outside sports, fishing, even your backyard. Allows you to properly secure any umbrella. Tested to withstand winds of 40mpm. Made with UV protected durable plastic, never worry about it breaking. Includes 4 cup holders that will fit even the largest cups.
The Navy Labyrinth Beach Towel
$40; Teema.co
By utilizing dozens of different colored threads in each design, the Labyrinth's weave creates a hypnotizing, breathtaking display of interwoven colors. The Labyrinth Towel is woven on traditional jacquard looms by seamstresses in Turkey. It is thicker and softer than towels made on automatic looms.
My Audio Pet SPLASH
$39.99; MyAudioPet.com
A unique line of speakers that are designed to look like you and your kids' favorite animals. The SPLASH line features waterproof speakers designed as adorable ocean-dwellers like "Rocktopod the Octopus" and "Narmony the Narwhal" who are perfect for the beach, pool parties or making bathtime fun.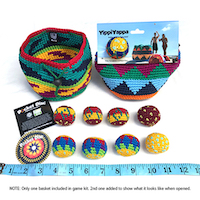 YippiYappa
$34.99; All Ages
Buenaondagames.com
The YippiYappa game kit has 4 games and growing. Dump out the balls, pick the game and the teams and have at it. Kit contains two teams of 4 color-coded Peloties (mini sacks) each and one basket.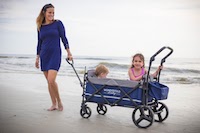 Wonderfold Wagon
$259-$549; WonderfoldWagon.com
This utility wagon is especially unique because unlike its competitors, it can hold up to four kids -- plus the diaper bag, towels, toys and anything else you need for a fun day at the park, zoo or beach! Choose a two-seater or four-seater wagon with a sun-blocking canopy, bench and extra side pockets to hold smaller items. This cost-effective wagon comes in four colors and can hold up to 300 pounds. Easy to collapse, Wonderfold Wagon fits into the trunk of any car.
Updated: May 2021