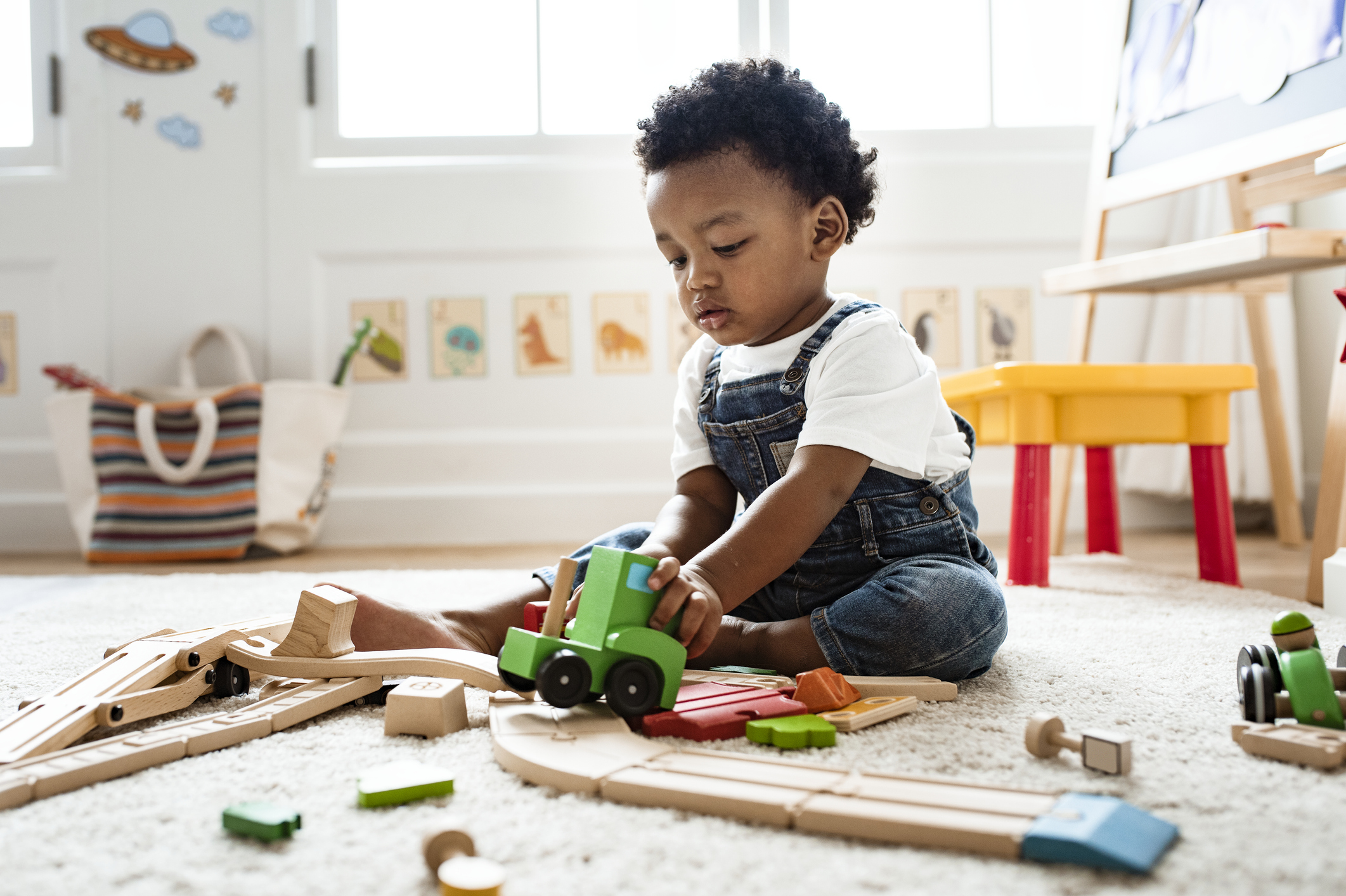 Parents! Check out these cool new toys that every baby or toddler will love.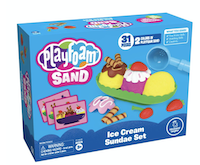 Playfoam Sand Ice Cream Sundae Set
$21.99; AGE
Playfoam® Sand Ice Cream Sundae Set
Dig into triple helping of sensory-exploration, pretend play, and early learning fun! Choose an ice cream order card, build a matching sundae out of sculptable, moldable Playfoam Sand, and sprinkle some fine motor and early math practice on top. Sculpting and squishing help develop fine motor skills, number recognition and counting skills, encourages creative play, is perfect filler for sensory bins.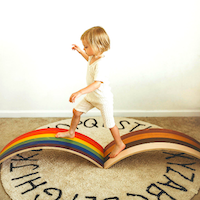 Wobble Board
$89-$159; 3+
https://bunnyhopkinstoys.com/collections/wobble-board-collection
Purposefully minimal and inspired by the sheer joy of free open-ended play, Wobble Boards can be a fun balance board, teeter totter, pirate ship or a doll cradle (children can nestle on it as well). It's an open-ended toy for kids that helps stimulate their creativity, promote physical play, and helps develop gross motor skills while they have fun. Flip the Wobble Board over to make it a slide, an obstacle course or magical rainbow fairy castle and spark creativity with so many more imaginative play scenario.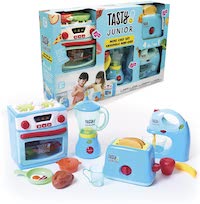 Tasty Junior Mini Chef Set 4-in-1
$79.99; 3+
Amazon.com
Tasty Junior toys were made to ease little chefs into the culinary world, in a safe, creative, and clean way. These toys are perfect for having your little rockstar cook along with you for the ultimate bonding experience. With realistic action, lights, and sound they can have the pretend play experience with this incredible set! Including pretend food and pressable buttons, this toy has all the features to entertain your child.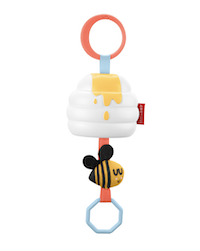 ABC & Me Beehive Jitter Toy
$10; 0+
ABC & Me Beehive Jitter Toy
Keep your busy bee entertained with our buzz-worthy beehive stroller toy. Soft and plush to the touch, just pull the ring to wake-up the honey bee and shake-up the hive. Attach it to your stroller and keep baby smiling wherever you go.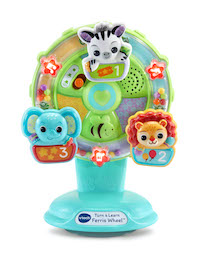 Vtech Turn & Learn Ferris Wheel
$15.99; 6 months +
VTech® Turn & Learn Ferris Wheel™
Your baby will explore animals, numbers and objects while listening to playful sounds and four sing-along songs. When kids press the friendly yellow lion, black and white zebra and blue elephant buttons they'll hear the animals introduce themselves, numbers and objects using their own unique voices. See your child light up as they spin the brightly colored wheel around. Each spin plays sounds and songs with three flashing stars to capture their interest. Bring the carnival to town by sticking the suction cup on a highchair tray or any smooth surface.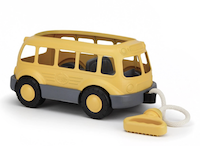 School Bus Wagon
$31.99; 18 months+
GreenToys.com
This oversized toy is sturdy and durable, features a 100% cotton rope handle that easily tucks inside for convenient, safe storage, and has an awesome open-roof design to make loading up passengers a breeze. With chunky tires and a low-set bed, it is the perfect size for little ones to haul around their most prized possessions, both indoors and outside.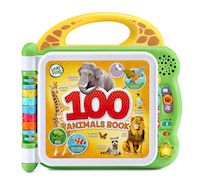 100 Animals Book
$19.99; 18 months+
100 Animals Book™
Hold 100 animals in your hands with the touch-sensitive pages of the 100 Animals Book! Six double-sided, interactive pages feature animals from 12 habitats and environments. Kids have a natural curiosity about animals, and this book provides lots of opportunities for exploration with illustrations and photographs of animals from the desert, savanna, rain forest and more. Three modes teach about animal names, animal sounds and fun facts on each page. Switch the language setting to hear about the animals and listen to songs in either English or Spanish.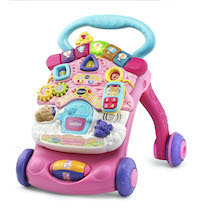 Stroll & Discover Activity Walker
$44.99; 9–36 Months
VTechKids.com
The easy-to-remove activity panel is great for floor play and is packed with features and the legs fold for easy storage. Five light-up piano keys introduce colors and numbers, while spinning gears and a removable cell phone help develop fine motor skills. Meet six friendly animals by inserting the three shape sorter pieces, pressing the puppy button, sliding the mouse or batting the bird to hear their unique voices and sounds. Attach the panel to the adjustable two-speed walker as little ones grow, and watch them go.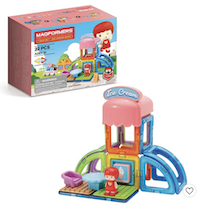 Magformers Ice Cream Store Set
$29.99; 3+
Magformers.com
Create 3D structures from 2D nets. Build your own Ice Cream Stand and serve your customers delicious Ice Cream treats. Build along with the step-by-step instructions and develop color and shape recognition, fine motor skills and problem-solving ability.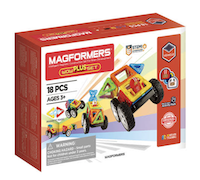 Magformers WOW Plus Set
$49.95; 3+
Magformers.com
Build over 30 different magnetic vehicles with magnetic shapes, wheels and a racing driver character! Follow along with the idea cards to create, or build your own vision! Compatible with all Magformers shapes and accessories. Super strong, safe and durable BPA-free High Quality ABS plastic.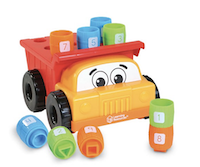 Tony the Peg Stacker Dump Truck
$14.99; 2+
Tony the Peg Stacker Dump Truck
Build all-new fine motor skills alongside this hard-working dump truck! As they stack and sort the 9 colorful barrels atop Tony's truck bed, kids strengthen their hand muscles, coordination, and other fine motor essentials. Barrels come with 3 different shape bases (circles, triangles, and squares) for extra shape-sorting fun. Barrels fit inside truck for easy cleanup! Great for fine motor, color identification, shape sorting and counting.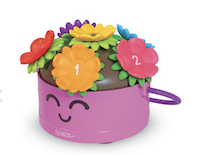 Poppy Count & Stack Flower Pot
$14.99; 2+
Poppy Count & Stack Flower Pot
Grow all-new fine motor skills with the help of this friendly flower pot! As kids explore Poppy's 5 stackable two-piece flowers, they'll build the necessary hand-eye coordination to succeed in real-world situations! Each flower comes with different colors and numbers for added learning fun. All pieces store inside pot for easy cleanup. Great for fine motor, color identification and counting.

Published: June 2022