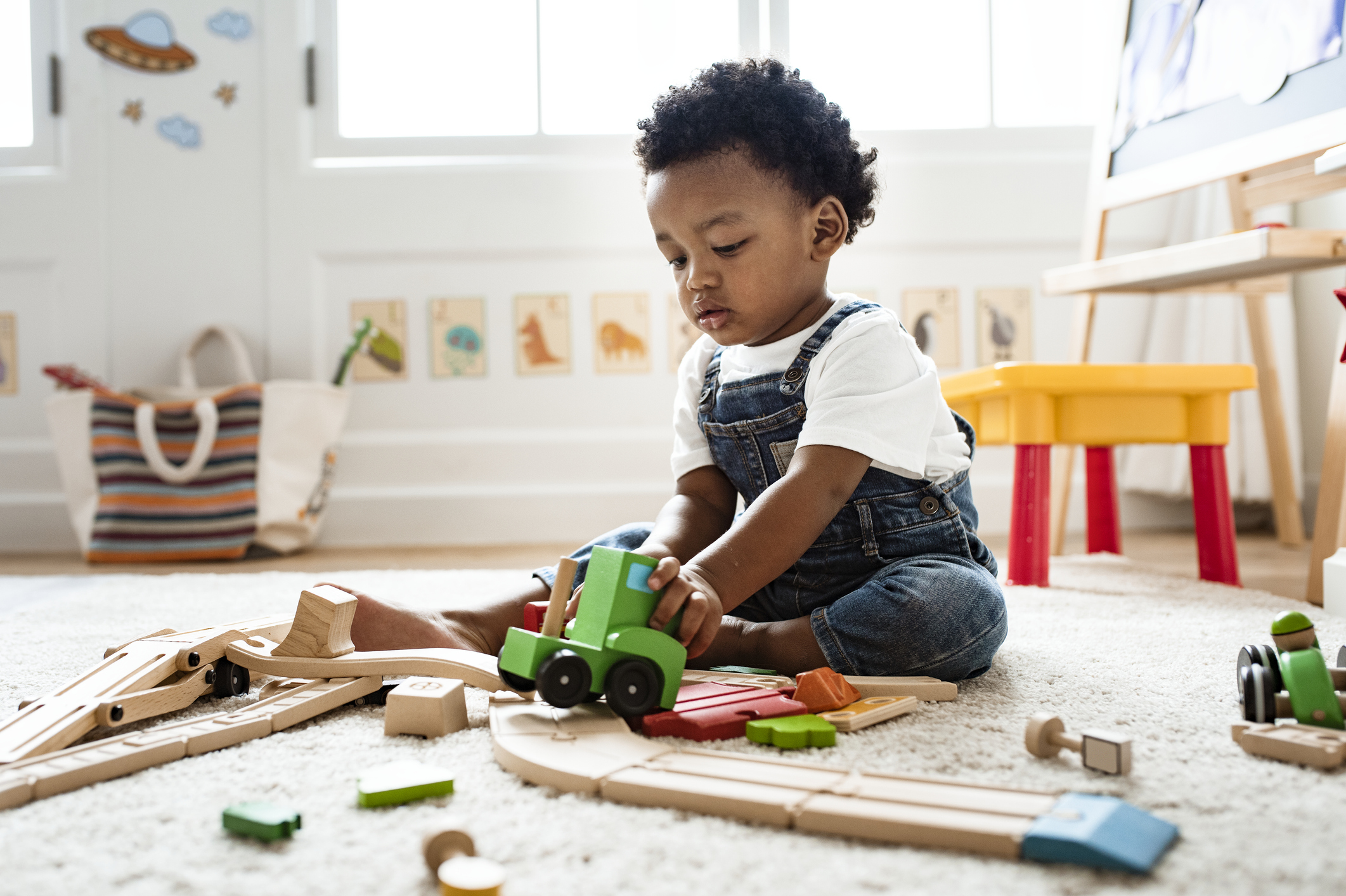 Baby and Toddler Toys! Check out these cool new toys that every baby or toddler will love!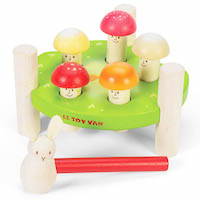 Hammer Game "Mr Mushroom" by Le Toy Van
$30.95; 1+
Amazon.com
A classic hammer pounding toy and features five little mushrooms in a circle and a bunny hammer. This toy encourages manual dexterity and hand eye co-ordination. Sensory layers of colors, sounds, textures and discovery foster curiosity and encourage early learning through play.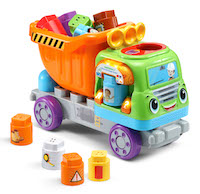 LeapBuilders Store & Go Dump Truck
$19.99; 2+
LeapFrog.com
Kids can build using the easy-to-hold pieces and double-sided learning blocks that feature vocabulary and shapes. Insert the 10 double-sided learning blocks into the interactive Smart Star cube, and it will respond with educational songs and encouraging phrases that enhance building play with learning content.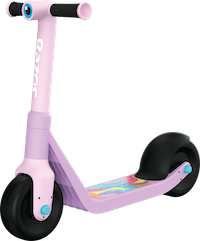 Wild Ones Junior Kick Scooter Unicorn
$34.99; 30 months+
Razor.com
With a low deck perfect for little learners, Wild Ones junior kick scooter keep kids and their feet closer to the ground, enabling them to learn to balance and build the skills – and the confidence – needed to master two-wheeled rides. Also available in Shark theme.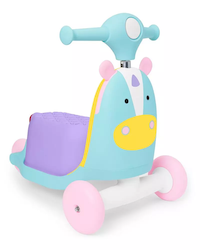 Zoo 3-In-1 Ride On Toy
$60; 1+
SkipHop.com
Designed to grow with your little one for three stages of fun, it offers an entertaining way to encourage motor skills development, balance and coordination at playtime. They'll love pressing the button at the front for a headlight, melodies, a beep sound and more fun sound effects as they whizz along.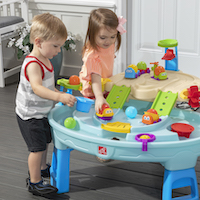 Ball Buddies Adventure Center
$89.99; 1.5+
Step2.com
Features simple machines and fun accessories like slides, cups, spinners and funnels, to teach early physics concepts. Toys that incorporate water play spur additional sensory exploration as kids experience new textures, temperatures, sights and sounds. There's even an interactive whirlpool spinner on the bottom level so little ones can get the water moving to create a lazy river.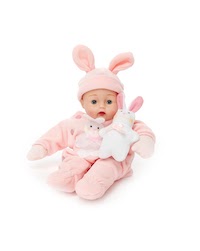 Pink Bunny Huggums
$59.99; 2+
MadameAlexander.com
This beautiful baby doll wears a footed, pink velour onesie that has snap openings on the sides of the feet. An appliqué of a white felt rabbit with floppy bunny ears, and has an embroidered face and a pink ribbon. This baby comes with a plush white bunny.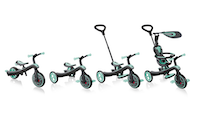 Globber Explorer Trike Series
$199.99; 10 months-5years
Globber.com
Equipped with wheel mechanism to easily and quickly convert the two rear wheels into a double-width wheel, to transform the product from a tricycle to a balance bike. Product highlights include 5-point harness and safety bar for added toddler security, adjustable parent handle with a built-in steering system in the body, patented wheel mechanism transformation, and built-in front freewheel system with lock and unlock button.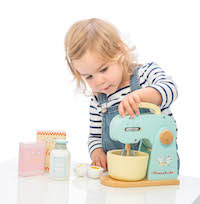 Honeybake Mixer Set by Le Toy Van
$49.95; 2+
Amazon.com
Toddlers can act out real-life scenarios with the help of a moving whisk, a rolling pin and a bowl. This mixer builds social skills and creativity through imaginative role-playing.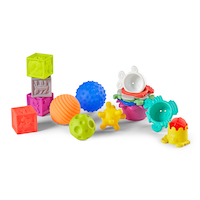 Balls, Blocks, and Cups 16-piece Gift Set
$14.99; 0m+
Infantino.com
Babies will have a blast rolling, stacking, scooping, building, tossing, counting, and exploring these sensory assortment. Encourages sensory exploration and tactile development, promotes gross motor development, early problem solving, and early crawling.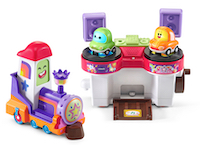 Go! Go! Cory Carson DJ Train Trax & the Roll Train
$19.99; 2+
VTechKids.com
Help Cory and Chrissy dance on stage or roll DJ Train Trax to light up his rainbow chimney while listening to sounds and phrases from the show. Place Cory and Chrissy on the stage to watch them light up, do "The Chrissy" and hear them interact with DJ Train Trax. Press DJ Train Trax's hat or move him around to trigger phrases, sounds, songs and special lighting effects.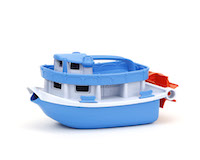 Green Toys Paddle Boat
$14.99; 6 months+
GreenToys.com
The perfect addition to any bathtub fleet. Features an easy-grasp handle and scoop-and-pour spout, and also has a spinning paddle wheel on back. It is as functional as it is fun – it's great for washing hair and also comes apart for easy cleaning in the dishwasher.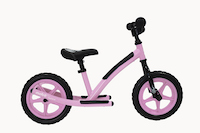 Mobo Explorer Balance Bike
$89.99; 2-6 years
MoboCruiser.com
Kids can experience the thrill of riding California freestyle with the security of having two feet on the ground. As your child builds strength, balance and confidence they'll have a blast using the integrated footrest to roll in style. With never-flat tires your child will have many years of maintenance free fun. The explorer's sturdy frame and optimized geometry makes it stable and easy to handle.

Published: May 2020