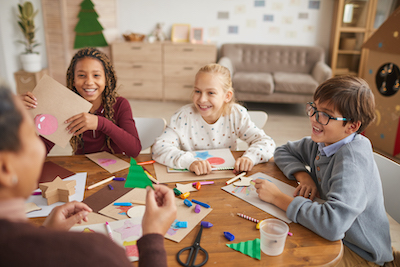 Craft Kist & Activities! Here are our favorite craft kits and activites to stimulate creativity and relieve boredom.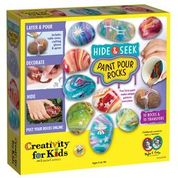 Hide & Seek Paint Your Rocks
$13.99;6+
Creativityforkids.com
This activity is fun to do and mesmerizing to watch. Complete set includes ten natural river rocks, four bottles of paint and metallic galaxy transfers for a finishing touch. Thoughtful extras –including an apron, craft gloves and a table cover –are provided for less-mess successful activity.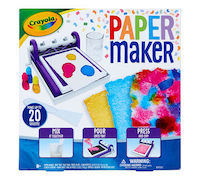 Crayola Paper Maker
8+; $19.99
Crayola.com
The included step-by-step instructions make it fun and easy for kids to craft 20 sheets of 5" x 8" paper, perfect for DIY cards, décor, notes and other arts and crafts projects.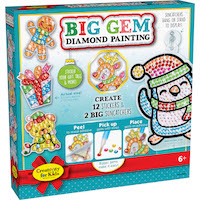 Big Gem Diamond Painting Holiday
$14.99; 6+
Faber-Castell.com
No glue needed. Just peel the clear cover off your designs to reveal adhesive, then use the stylus to pick up and place the colorful gems. Apply your shimmering stickers to greeting cards, gift tags, ornaments, journals, bookmarks and so much more.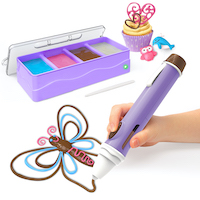 Chocolate Pen
$29.99; 6+
Chocolate-Pen.com
At the touch of a button you can write words, draw one-of-a-kind designs, or use the 40 molds to make rainbows, hearts and other fun shapes. Automatically loads the pen with chocolate while the warming tray keeps your chocolate candy melted and ready to go.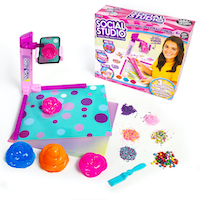 Social Studio
$19.99; 6+
Target.com
Includes everything you need to shoot your very own viral videos. Equipped with an adjustable base and rotating head to shoot at the best angle possible, this device allows kids of all ages to shoot viral videos hands free. Includes fun and trendy backgrounds, mixing tools, various slimy compounds, and sparkly mix ins.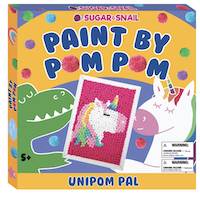 Paint by Pom Pom
$14.99; 5+
PaintbyPomPom.com
The framed artwork is designed with a peel and stick background that shows the image. Simply place the colored pom poms by following the numbers on picture below to complete your pom pom masterpiece.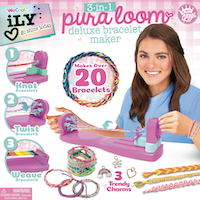 iLY Pura Loom Bracelet Maker
$19.99; 6+
Amazon.com
Learn different techniques to make a variety of textured and colorful bracelets for you and your friends. Create colorful twisted designs with beads, charms & more! It's easy to create, wear, and share with your BFF. The combinations are endless, the only limit is your imagination.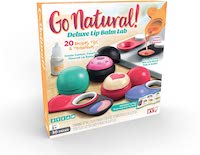 Go Natural! Deluxe Lip Balm Lab
$29.99; 8+
Amazon.com
Includes the main ingredients needed to make custom lip balms, including flavor and color. As they create, young cosmetic scientists will learn about humectants and emollients and discover why water and oil don't mix.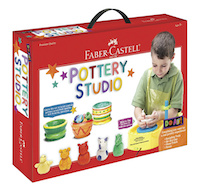 Do Art Pottery Studio
$62.49; 8+
FaberCastell.com
Introduces children to the art and history of hand sculpted pottery. From pinch pots to clay figurines, this pottery wheel set will teach and inspire.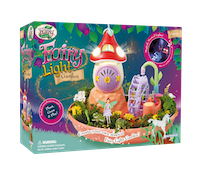 My Fairy Garden Fairy Light Garden
$29.99; 4+
Target.com
A toy that's also a real, live garden. Features a charming fairy house, that when children blow on it, lights up like magic. There's also a small pond and working water wheel for added play.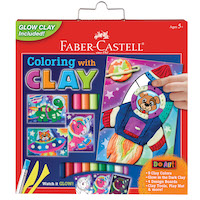 Do Art Coloring with Clay Space Pets
$14.99; 5+
Faber-Castell.com
Blend, marble, shape and place your clay to create art with texture and depth. Add glow-in-the-dark clay accents to make your pictures look out of this world.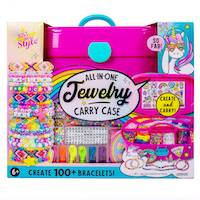 Just My Style All-in-One Jewelry Carry Case
$29.99; 6+
Kohls.com
Packed with a variety of cording and beads, each jewelry piece can be uniquely detailed with colorful patterns, monograms, and fun textures. Learn different bracelet-making techniques with ease as you use the friendship wheel and easy-to-follow directions. This kit has everything you need to start creating — plus a carry case to keep yourself organized and design on-the-go.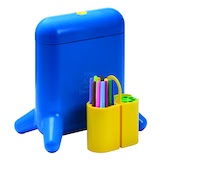 Discovery Kids Art Tracing Projector
$19.99; 6+
Amazon.com
Tracing projector helps you draw your own images like a professional artist. It includes 12 bright and colorful markers, 20 sheets blank drawing paper, and four interchangeable image discs featuring 32 fun illustrations.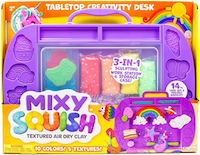 Mixy Squish Tabletop Creativity Desk
$19.99-$29.99; 3+
Amazon.com
Transform airy, fluffy clay into a world of seriously squishy, textured fun. Create on the convenient carry and storage case. Use the included molds and texture plates to add extra dimension to your projects! Follow the fully-illustrated instruction booklet to learn how to use your sculpting tools and molds to make cute creatures and characters.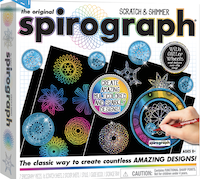 Spirograph Scratch and Shimmer
$19.99; 8+
Playmonster.com
Create amazing designs with this creative scratch design set. Use the stylus tool, deluxe non-slip ring and glittery gears to scratch beautiful designs on special coated paper. Add an artistic touch to almost anything with sparkly or rainbow scratch stickers.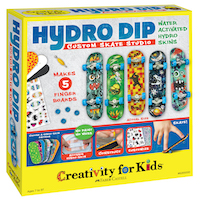 Hydro Dip-Custom Skate Studio
$14.99; 7+
Faber-Castell.com
Using water and graphic "skins," our kid-safe process allows you to apply graphic images to the skateboard decks. No toxic chemicals or spray paint needed. When you're finished, assemble your skateboards and get your fingers ready to do ollies, kick flips, heel flips and more.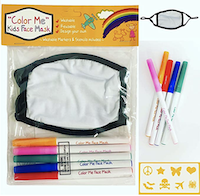 Color Me Face Masks
$12.99; 1+
Amazon.com
Make staying safe fun and let your kids create their own unique designs. Each individually wrapped cloth face mask is made with breathable material and packaged with markers and stencils to be colored and washed over and over.
Published: November 2020