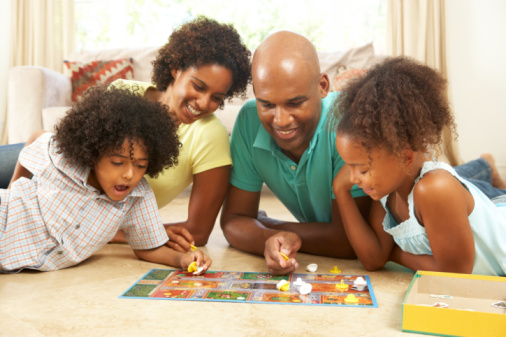 Fun Family Board Games. Nothing brings a family together like playing games. Put the phones away and connect with each other -- plan a family game night! Here are some of this year's fun games for kids of all ages.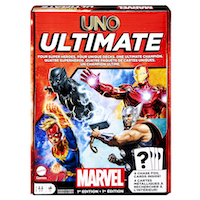 UNO Ultimate Marvel
$14.9; 7+
Amazon
With this UNO Ultimate card game, players may not be Marvel Superheroes, but they can play like they are. Features four card decks, each designed specifically for a popular, heroic character. Each player chooses to play as a character who has special powers that they can use on EVERY turn. A Danger Deck holds "Event" and "Enemy" cards to switch the balance of power.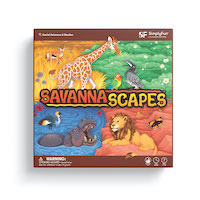 SavannaScapes
$40; 7+
SimplyFun.com
Learn fun facts about the ecosystem of the Serengeti-Mara to support animals and help them thrive. Players take turns moving around the play area choosing species tiles and placing them next to others to provide them with their needed habitats, creating an ecosystem. Point tokens are earned each time a player meets the needs of their animals or when an event tile is played.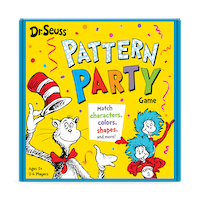 Dr. Seuss Pattern Party
$15.99; 3+
FunkoGames.com
Go for a spin with your favorite Dr. Seuss characters! Spin and match the character, color, shape, or pattern. Each player gets their own spinner and whenever someone spins SWAP! you all switch spinners. Match the four squares on your goal card to win. Spin, match, and join the party.
Snail Mail
$16.95; 7+
Winning-Moves.com
Four Snail Mail carriers are out on their routes and it's your job to help them make their deliveries. Your Snail Mail carriers bag will be filled with four cards, each card containing a number and a color. To complete deliveries, you'll need your cards to match the goal on a delivery card. Lots of different delivery cards allow for a different game every time.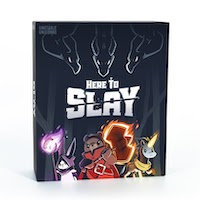 Here to Slay
$20; UnstableGames.com
An adorable and brutal new card game that is perfect for players of all skill levels, whether you're just entering the world of role-playing games or honing your masterful skills. For two to six players.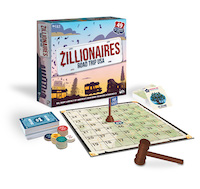 Zillionaires: Road Trip USA
$24.99; 8+
BigPotato.com
An auction party game, where you bid, bluff and buy 49 legendary American roadside attractions when they're up for sale. Outbid and out-bluff your Zillionaire rivals to get your hands on each attraction on the game board. Be the first player to buy up four attractions in a vertical, horizontal or diagonal line to win.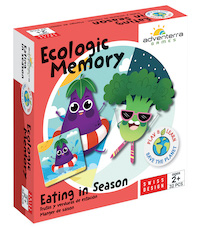 Eating in Season by Adventerra Games
$19.99; 2+
AdventerraGamesUSA.com
A fun concentration game to learn how to eat healthy by choosing seasonal products. The memory cards feature illustrated backgrounds that show children which season is best for eating a particular food. This classic memory game helps develop visual memory, classification skills and knowledge of seasonal fruits and vegetables.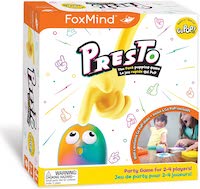 Go PoP! Presto from FoxMind
$24.95; 6+
Amazon.com
Race to pop the bubbles! Complete the challenges on the presto cards and be the first tap Bubblo to win the round. Players with quick reflexes, excellent eye-hand coordination and a good sense of observation will prevail in this fun party game for the whole family.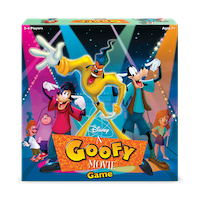 Disney A Goofy Movie Game
$23.99; 7+
FunkoGames.com
Join Max and his friends as they hit the road in this adventure-filled race to the concert. Make your way across the map, collecting fun memories for your scrapbook. Then hurry to score the best seats by the time Powerline hits the stage. Play cards to collect memories and travel to new locations! Roll the die to see if Powerline reaches L.A. or Goofy takes you on a wacky detour.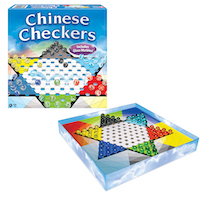 Chinese Checkers
$12.95; 7+
Winning-Moves.com
A great strategy game for two to six players. With beautiful glass marbles and a sturdy playing platform board, this Chinese Checkers game will be a great addition to anyone's game collection.
Published: June 2022