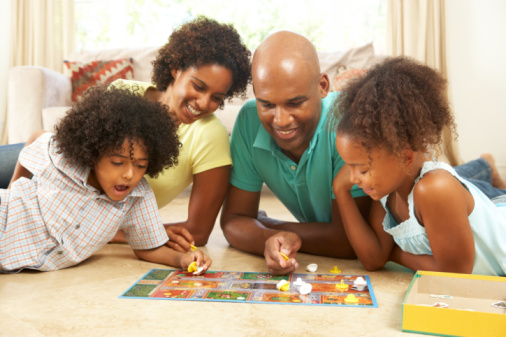 Fun Family Board Games. Nothing brings a family together like playing games. Put the phones away and connect with each other -- plan a family game night! Here are some of this year's fun games for kids of all ages.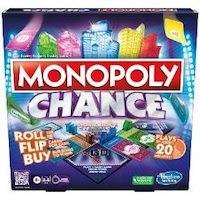 MONOPOLY CHANCE 
$19.99; 8+
Amazon.com
The Monopoly Chance game is the high-stakes, card-flipping version of the Monopoly game—and it only takes about 20 minutes to play. Instead of moving a token around the board, each player receives a token deck with Cash cards, Bankrupt cards, and strategic cards that lend an edge. Roll the die and flip over up to that many cards. Play it safe and flip over just enough cards to "cash out"—or risk it all for the big bucks. But watch out! One too many flipped cards could reveal a Bankrupt card.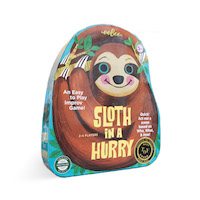 Sloth in a Hurry
$23.99; 5+
eeBoo.com
A fast-moving improvisation game for all ages that combines creative thinking and a sense of humor. A player draws a WHO card, a WHAT card, then spins for HOW, and briefly acts out the combination. Sometimes challenging, always a lot of fun.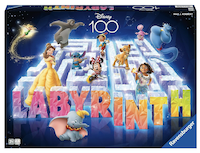 Disney100 Labyrinth (by Ravensburger)
$36.99; 7+
Ravensburger.com
Twist and turn through the sparkling Disney Labyrinth. Journey with your Mickey movers through the magical maze. Shift the paths carefully to help find all of your favorite characters for the big celebration.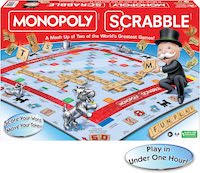 Monopoly Scrabble
$32.44; 8+
Amazon.com
No dice are included in this ingenious mash-up of Monopoly and Scrabble. Instead, you move your token ahead by the number of points you scored in the word you just played. For example, on your turn, you play the word FUN in the Scrabble potion of the board. That is worth 6 points - but instead of keeping score - you move your Monopoly token ahead 6 points along the outside of the board on the Monopoly track.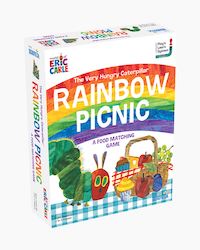 The Very Hungry Caterpillar Rainbow Picnic Game
$19.99; 3+
https://www.amazon.com
Helps young children practice color recognition, patience, gross-motor skills and vocabulary. Draw a card and choose a colorful food item from the picnic that matches. Be the first to fill your rainbow with six different colored foods and win the game. Creativity and curiosity are two key building blocks for a lifetime of learning, this game is designed not only to amuse and delight but to inspire fun, playful discovery.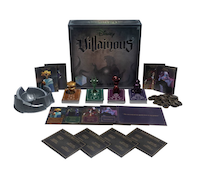 Disney Villainous: Introduction to Evil (Disney100 Edition)
$29.99; 10+
Ravensburger.com
This limited-edition game reintroduces four classic Disney Villains - Maleficent, Captain Hook, Ursula and Prince John - along with streamlined gameplay for beginners. It also introduces first-ever QR codes to the game's rulebook, a new box design featuring Ursula, lustrous movers and platinum rainbow-foil packaging, as well as a Disney100 sticker.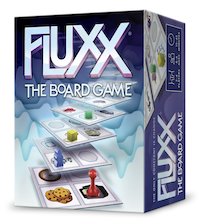 Fluxx: The Board Game
$25; 8+
LooneyLabs.com
Everything is in Fluxx in this unique game - the rules, the game board, even the color of your pieces! It's more strategic than the original Fluxx card game, with an ever-shifting landscape of tiles that can be rotated or uprooted to elsewhere on the table while you compete to occupy the right tile spaces to claim the current goal and reveal the next goal... getting you one step closer to victory.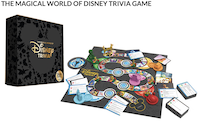 The Magical World of Disney Trivia
$49.99; 6+
Target.com
With questions spanning from Steamboat Willie to Encanto, this trivia game takes you on a journey through time.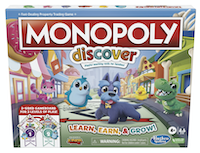 Monopoly Discover Game
$17.99; 4+
Hasbro.com
It features a double-sided gameboard with 2 levels of play, so you can decide which level is right for the family. One side focuses on counting and matching. Flip the board over for more advanced play, focusing on reading and simple math.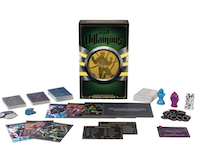 Marvel Villainous: Twisted Ambitions (by Ravensburger)
$29.99; 12+
Target.com
In this expandalone, each player takes on the role of one of three Marvel Villains (Doctor Octopus, Titania or Kang the Conqueror) and strives to complete a unique, story-based objective. While working towards victory, players will need to face off against iconic Marvel Heroes found in a shared Fate deck, including Spider-Man, Doctor Strange, She-Hulk and more.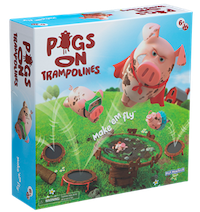 Pigs on Trampolines
$19.97; 6+
Walmart.com
Use the trampolines to bounce your pigs into the pig pen and try to land in the mud puddle. Every pig you land in the puddle earns you a mud pie. Keep on bouncing your pigs until all the mud pies are gone—the muddiest piggy wins.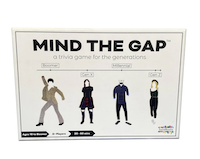 Mind the Gap
$29.99; 10+
SolidRoots.com
Players of all ages are required to work together to answer coming-of-age trivia questions. Team up with other generations to make it all the way around the board first with knowledge on popular TV shows, movies, music, slang, news-worthy events, and other insights from all the eras.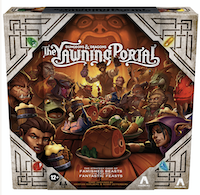 Dungeons & Dragons: The Yawning Portal
$55.99; 8+
Hasbro.com
This iconic inn attracts fascinating adventurers with one thing in common: they're famished and have unique tastes in food. As part of the tavern's staff, feed them by matching up food tokens with the orders pictured on their Hero card. Earn colored gems (and points) for every matching food token, or a bonus for completing an order.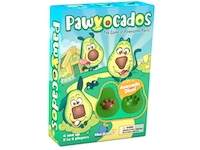 Pawvocados
$12.99; 4+
BlueOrangeGames.com
The Pawvocado pets have lost their noses... these cute pups, cats, and bunnies will need your help to find their Pawvocado pair and get their nose back. On each turn, roll the original avocado dice: the adorable fruit will break open and may reveal the little paw seed.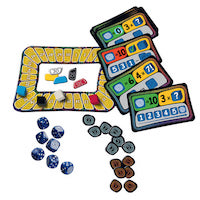 High Score
$14.95; 8+
ThamesAndKosmos.com
A competitive dice game that marries the luck of the dice with strategic gameplay and ever-changing rules. Players take turns rolling dice, deciding if they want to re-roll dice, and trying to get the most points possible as determined by the current challenge card.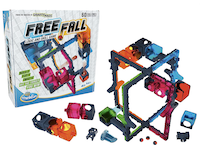 FreeFall (by ThinkFun)
$39.99; 8+
Amazon.com
A logic and skill game that puts your spatial reasoning and dexterity to the test. Build the puzzle and then flip, turn, and guide the ball from cup to cup to finish the maze. With 60 challenges to master, you'll be building and flipping to prove that you are the Master of Gravity.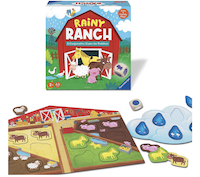 Rainy Ranch (by Ravensburger)
$19.99; 2+
Amazon.com
Players roll the die to lead animals into the barn, watch out for raindrops and get everyone safely inside before it rains. A perfect rainy-day activity, Rainy Ranch helps toddlers build fine motor skills, color matching, shape recognition, direction following, and turn taking.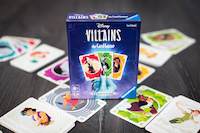 Disney Villains: The Card Game (by Ravensburger)
$10.99; 8+
BarnedAndNoble.com
Build the strongest team of Villains and Henchmen, matching the color or number on the cards in your stack. Cast curses, meddle in your opponents' plans, and unleash your sinister might with your Villain's special cards. Watch out for Heroes who will try to sabotage your team. Earn the most points to win.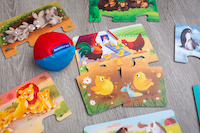 Hop, Waddle, Stomp! (by Ravensburger)
$19.99; 2+
Amazon.com
In this active game, toddlers will toss the soft, colorful ball, choose a matching puzzle piece, and waddle across the room to unite the baby animals with their families. The game teaches fine and gross motor skills, animal recognition, color matching, direction following, and turn taking.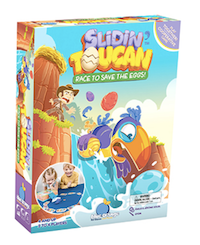 Slidin' Toucan
$19.99; 4+
BlueOrangeGames.com
In this unique cooperative game, players take turns launching the Toucan carrying its eggs down the sliding ramp, trying to escape from the unwelcomed explorer. The side the eggs land on after the chute will determine how far the explorer will advance.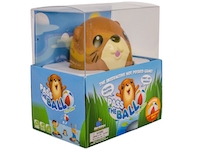 Pass the Ball with Olie
$19.99; 4+
BlueOrangeGames.com
Go as fast as you can but don't drop the ball or get caught with the ball in your hands when the music stops, or you will be eliminated. It's the perfect active game for young players to socialize and improve motor skills.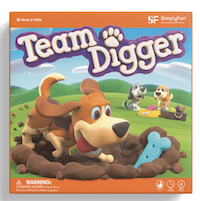 Team Digger
$36; 6+
SimplyFun.com
Play cooperatively to learn sequencing, spatial reasoning, and early coding skills. Each player creates a five-card sequence to move their dog from one dig site to another. Players win as a team when they find all four bones buried in the park before they dig up five unwanted objects, like an old shoe.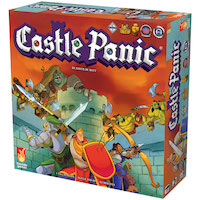 Castle Panic
$34.95; 8+
FiresideGames.com
Slay all 49 (!) monsters and have at least one of the six Castle Towers standing to declare victory. Monsters are attacking your Castle. Can you work together in this cooperative game to stop the horde, or will the Monsters destroy Castle Bravehold?
Updated: December 2023