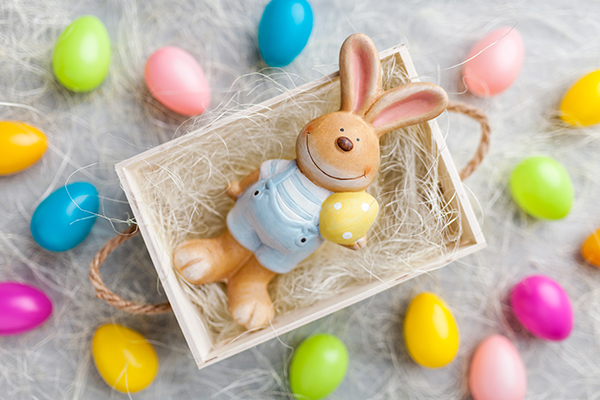 If you're out of ideas of what to put in your child's Easter basket this year, we're here to help. Here is a list of Easter goodies and gifts created by San Diego Family staff. Pick a few items from the list below, add some colorful Easter grass, pom-poms or raffia and boom, you got this!
Looking for creative alternatives to using Easter baskets? Think outside the box—make the container part of the gift. Put items in a baseball hat, toy dump truck, rain boots, a sand pail, laundry basket, cool bedroom trash can, child-sized wheelbarrow, toy wagon, tackle box, watering can, even a new training potty for toddlers. The options are endless!
Arts & craft supplies
Baking supplies
Baseball cards
Bath bombs
Bible
Books
Bow tie
Bubble bath
Bubbles
Bunny ears
Candy (some of our favorites):
Cadbury chocolate eggs
Chocolate bunny
Classic candies: Pop rocks, colorful candy buttons (on paper), Fun Dip, SweeTARTS
Foil-covered chocolate eggs
Giant chocolate egg
Jelly Belly Candies or jelly beans
Marshmallow Peeps
Reese's Peanut Butter eggs
See's Candies
Whoppers Mini Robin Eggs
Card games
Charm bracelet
Coloring books
Comic books
Decks of cards
Digital games
Dyed eggs
Favorite drinks
Favorite snacks
Fun drinking straws
Funko Pop! dolls
Gift cards
Hair clips or ties
Hot Wheels cars
Jewelry
Jump rope
Kids cookbook
Kite
Mad Libs
Makeup and makeup brushes
Movie passes
New hat for church
Photo stickers
Plastic eggs filled with:
Candy
Quarters
50-cent pieces
Pokémon cards
Pool toys
Sand toys
Scented Chapstick or lip balm
Sidewalk chalk
Small toys
Soaps
Sports caps
Sticker books
Stuffed animals
Sudoku game book or word search
Sunglasses
Themed socks
Travel-sized games
Wooden glider plane
Find festive recipes, Easter crafts, treat bag ideas and more in our Easter & Spring Round-Up.
Lisa Gipson is San Diego Family's managing editor.
_____________