Back to School Snacks! Healthy, fun snack ideas to throw in kids' lunch bags!

Kate's Real Food Snack Bites
KatesRealFood.com
Three mouth-watering flavors to choose from (Handle Snack Bites, Grizzly Snack Bites, Stash Snack Bites), all made with USDA-certified organic ingredients and sweetened with all natural honey. Try one of each or stock up on your favorite flavor of salty and sharable snack bites.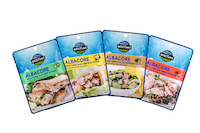 Tuna Pouches
WildPlanetFoods.com
Single-serve flavored tuna pouches. The best part is, their tuna is 100% pole and line caught (this is the most sustainable choice for tuna). With absolutely nothing to drain, these mess-free, nutritive pouches are perfectly convenient for bringing to school.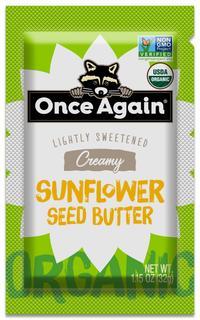 Once Again's Sunflower Butter Squeeze Packs
Buy.OnceAgainNutButter.com
Made with organic sunflower seeds, organic sunflower oil, and just a touch of organic cane sugar and salt. Processed in a peanut-free facility and is an alternative to peanut butter for kids with allergies. In addition to being certified-organic, it is also Non-GMO Project Verified, certified gluten-free, Kosher, vegan, and part of the brand's Honest in Trade program.

Silly Juice
SillyJuice.com
All Silly Juice varieties are designed to make consumers taste buds dance, and are made with real juice, no high fructose corn syrup, are non-GMO, gluten-free, low in sodium and contain no added colors. Availbale in Cool Blue Freeze, Orange Cream, Pink Strawberry Swirl, Red Apple Cherry Blossom, Watermelon Fruit Punch and White Grape Burst.

The Collaborative Non-Dairy Yogurt
CoconutCollaborative.com
The yogurts are vegan, low in sugar and don't comprise on taste or texture and uses plants to innovate deliciously creamy treats. The full line of yogurts offer dairy-free alternatives that are both vegan and gluten-free. Unbelievably creamy and tasty, these delicious yogurts are available in Plain, Vanilla, Blueberry, and Mango and Passionfruit.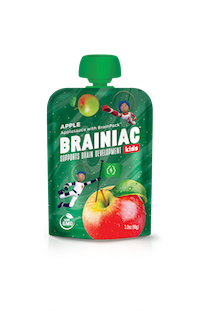 Brainiac Kids Applesauce Pouches
BrainiacKids.com
With no added sugars and reasonable prices, it's an easy way for moms and dads to make sure daily nutrient needs are met. Brainiac has packed its tasty applesauce pouches with a blend of nutrients developing brains need that includes Omega-3s, DHA and Choline. Plus, they have no added sugars. A no "brainer" for parents everywhere.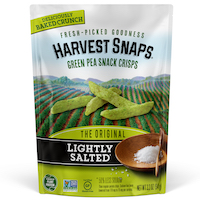 Harvest Snaps Snack Crisps
HarvestSnaps.com
Made from green peas, black beans or red lentils as the #1 ingredient. Baked (never fried!), the super-tasty, better-for-you crisps provide protein and fiber in every serving. They're also certified gluten-free and completely free of artificial flavors, cholesterol and the common allergens: soy, nuts, peanuts, wheat, and eggs.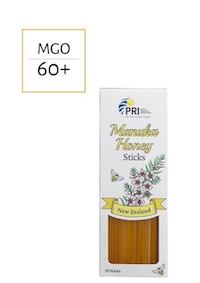 Manuka Honey Sticks
https://www.shoppri.com/collections/manuka-honey/products/manuka-honey-sticks-10pack
A great treat for kids lunch boxes or for those on the go. Take your daily dose of Manuka with you and enjoy it direct from the stick to give your immune system that extra boost during the day, put in tea or coffee, or even on your morning yogurt, granola or oatmeal.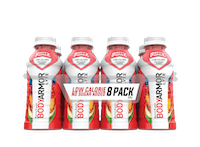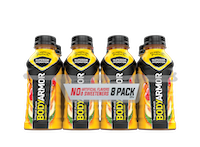 BODYARMOR
DrinkBodyArmor.com
When you're looking for hardworking hydration for your family, grab BODYARMOR Sports Drink. It's made with potassium-packed electrolytes, coconut water, B vitamins and antioxidants – all with no artificial sweeteners, flavors or dyes. Pick-up a 12oz 8-count BODYARMOR Team Pack at your local Ralphs.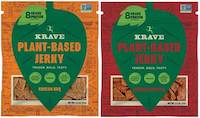 KRAVE Plant-Based Jerky
KraveJerkey.com
Perfect for flexitarians and those looking to incorporate more plant-based foods into their diets. Features a taste and texture similar to meat cuts but is made from peas and fava beans for an eating experience and nutritional profile superior to any vegan jerky currently on the market. With 8 grams of protein per serving, each bag is a good source of protein and comes in two uniquely savory flavors: Smoked Chipotle and Korean BBQ.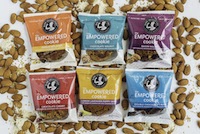 The Empowered Cookie
EmpoweredCookie.com
The Empowered Cookie is a sweet treat reimagined as it embraces plant-based eating for a brighter, more delicious, and convenient, yet sustainable future. Look for The Empowered Cookie varieties including Chocolate Cherry, Chocolate Walnut, Double Chocolate Chunk, Ginger Molasses, Lemon Lavender Poppy Seed, and Raisin Walnut.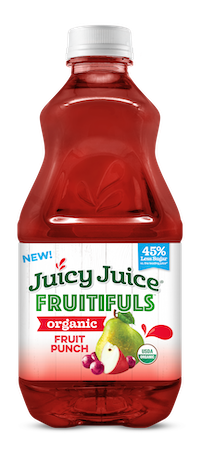 Juicy Juice Fruitifuls Organic
JuicyJuice.com
Features 45% less sugar than the leading juice (first ingredient is water) and packs a half cup of fruit in each 8-ounce serving with the same fruity flavor kids love. Now available in a new multi-serve bottle in Apple, Fruit Punch and Grape.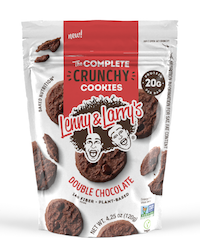 Lenny & Larry Cookies
LennyLarry.com
This complete crunchy cookies takes a beloved twist on cookies but this time providing more nutrients so even kids can benefit from snacking on the whole bag. Filled with the perfect amount of smooth and creamy chocolate chips, these will easily become your new favorite vegan snack. With no high fructose corn syrup, or artificial sweeteners, kids will love crunching on these.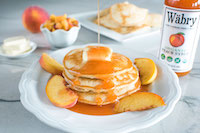 Wabry Syrup
WabrySyrup.com
Great on pancakes, waffles, sundaes, or mixed in milk. No artificial colors, flavors or preservatives. No high fructose corn syrup. Certified organic by CCOF. California Social Purpose Corporation supporting orphanages in developing countries.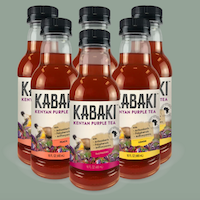 Kabaki Tea
KabakiTea.com
Boost your immune system with this delicious tea. This tea is vibrant in color, has high levels of potent antioxidants, and is delicately flavored.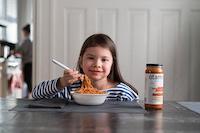 Otamot Organic Essential Sauce
OtamotFoods.com
Made of 9-12 organic vegetables each cooked at a precise time and temperature to retain natural vitamins, minerals and fiber – making it the healthiest option of its kind. The sauce is highly versatile, in addition to being great for classics like pasta/pizza, it can be eaten chilled as a crudité dip (it has a thicker consistency than traditional marinara), soup, stew, hummus, carrot cupcakes, and more.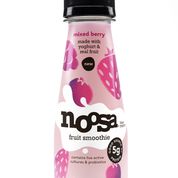 Noosa Fruit Smoothies
NoosaYoghurt.com
Perfect for on-the-go snacking occasions and delivering the same delicious "WOW" taste and flavor noosa fans know and love, noosa fruit smoothies are made with real fruit, all-natural ingredients, and are a good source of protein.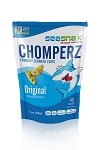 Chomperz
SeaSnax.com
Boldly going where no seaweed snack has gone before... Handcrafted whole pieces of premium seaweed with sticky rice, sea salt, and organic seasonings for a savory snack that delivers on the CRUNCH.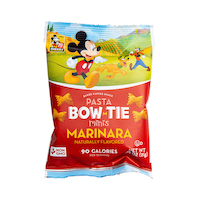 Pasta Bow Tie Minis
PastaSnacks.com
We're all ears! These crispy bite-sized pasta snacks are 90 calories of oven-baked, GMO-free goodness. Puffed to perfection these scrumptious Bow Ties are a tasty nod to Mickey's classic style.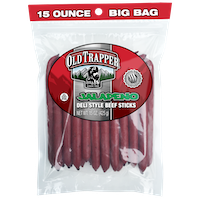 Old Trapper Beef Sticks
OldTrapper.com
Old Trapper meat snacks can deliver solid nutrition with each bite. A take-anywhere healthy snack that is low in calories yet high in protein - the perfect fuel or recovery snack. Each 1 oz serving contains only 70 calories, 0 grams of fat and 6 grams of carbs.

Seasoned Pistachio Kernels
SettonFarms.com
Each resealable bag is packed with three ounces of premium quality shelled and seasoned pistachios that are heart healthy, easy to enjoy on the go, and kid-friendly. With no artificial colors, flavors, or preservatives, these all-natural, seasoned kernels are a unique source of plant-based protein and make a great addition to almost any recipe. Available in Garlic Onion, Chili Limon, Chipotle BBQ, Jalapeno, and Salt and Pepper.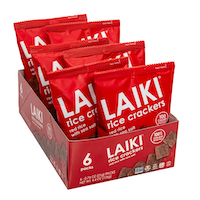 LAIKI Crackers
LaikiCrackers.com
With only 3 simple ingredients, these delectable crackers have an unexpected, satisfying crunch. There are no labels to read, no ingredients to worry
about – just 100% guilt-free, whole-grain goodness. Free from the top 8 allergens so it is perfect for school-aged children. Also Gluten Free, Non GMO verified, Vegan, Kosher, and FODMAP friendly so they are safe for almost everyone.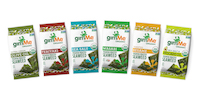 gimMe Organic Roasted Seaweed Snacks
gimMeSnacks.com
This superfood alternative is healthy without sacrificing the savory and bold flavors that kids love. GimMe Snacks are not only flavorful, but also high in nutrients including Vitamin C, iodine, calcium, Omega 3s, biotin, folate, fiber, protein and more. Plus, the packages are small and compact - perfect for school lunches.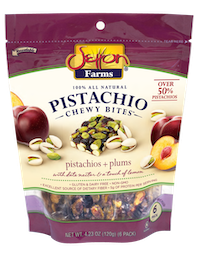 Pistachio + Plum Chewy Bites
SettonFarms.com
All-natural bite-sized bars packed with over 50% California grown pistachios, plums, date nectar and a touch of lemon. Each individually wrapped bite is loaded with protein, fiber, iron, potassium and antioxidants, making them an ideal, on-the-go, heart healthy snack that is both delicious and nutrient dense.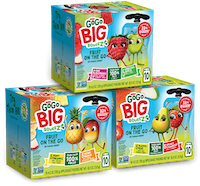 GoGo Big squeeZ
GoGoSqueez.com
A 33% larger version of our traditional 100% fruit products. No artificial flavors or preservatives. ½ cup of fruit per pouch. No sugar added, non-GMO Project certified. Apple Apple, Apple Raspberry Strawberry Vanilla, Apple Strawberry, Apple Pear Cinnamon Vanilla, Apple Mango Banana Passionfruit, Apple Pineapple Peach.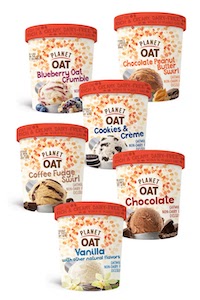 Planet Oat Non-Dairy Frozen Desserts
PlanetOat.com
Made for all, these desserts are perfect for those looking for a dairy alternative ice-cream or those looking to explore more plant-based products. Made with the unmistakable creaminess of Planet Oat Oatmilk, these are available in six rich and creamy flavors: Vanilla, Chocolate, Coffee Fudge Swirl, Blueberry Oat Crumble, Cookies & Crème and Chocolate Peanut Butter Swirl.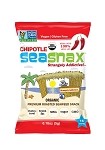 SeaSnax Roasted Sheets
SeaSnax.com
Made with premium organic nori and roasted until perfectly crisp in a light mist of organic extra virgin olive oil, then lightly seasoned with a touch of sea salt and organic seasonings for a savory, and satisfying crunch without the junk.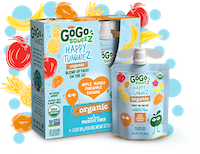 GoGo squeeZ happy tummieZ
GoGoSqueez.com
On the go fruit pouches designed to promote healthy good gut health in children with plant-based prebiotic fiber. Good source of fiber. Non-GMO Project and USDA Organic certified. Organic Apple Banana Strawberry, Organic Raspberry Pear Yellow Carrot, Organic Strawberry Pomegranate Spinach, Organic Apple Mango Pineapple Banana.
Published: July 2020