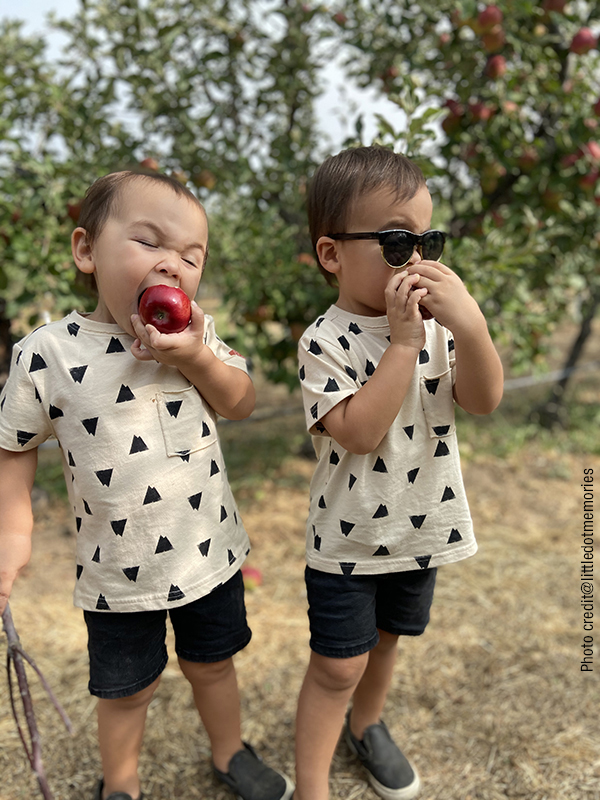 San Diego County apple orchards open for apple picking 2022. Apple-picking season typically starts in late August/ early September and often ends in mid-October (or when orchards run out of apples). Now is the time to plan your family's u-pick apple adventure! Photo credit: @littledotmemories
Below are orchards in Julian (about 40 miles northeast of San Diego). Check each website or social media page for up-to-date information, including important details about visiting and when apples are no longer available.
Crosscut Farm and Orchard (CLOSED as of Sept. 20, 2022)
1209 Farmer Rd. (just below Volcan Mountain)
www.crosscutfarm.wixsite.com/crosscutfarm
Pre-paid online reservations are required with a maximum of 50 people per group. U-pick dates are Sept. 10-18. Price includes parking, apple cider pressing demonstration and a short introduction to apple farming. Check website for reservation times.
Julian Mining Co.
4444 Hwy. 78
www.julianminingcompany.com
951-312-9940
U-pick apples will be available Oct. 15-16 and Oct. 22-23.
Peacefield Orchard
3803 Wynola Rd.
www.3803wynolaroad.com
310-902-6321
Pick apples Saturdays and Sundays from 9 am-2 pm beginning Aug. 27-28 until apples run out. From Hwy 78/79 East, halfway between Santa Ysabel and downtown Julian. Left on Wynola Rd.; second (hidden) driveway on the right.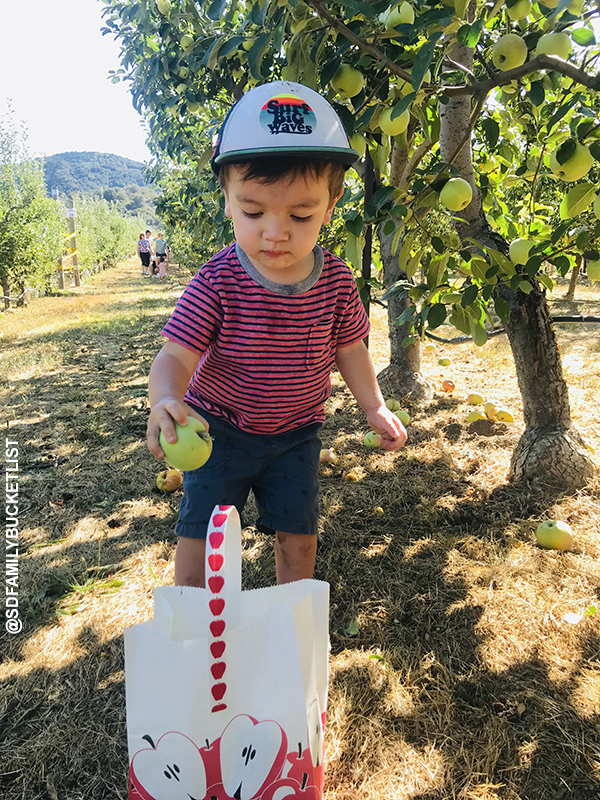 Apples and Art Orchards (No longer taking reservations as of Sept. 10)
1052 Julian Orchards Dr.
www.applesandartorchards.com
760-310-6368
U-pick apples will be available beginning Sept. 10 for groups of 20 or more. $15 per bag of apples; cash only. All guests should be fully vaccinated and boosted.
Julian Farm and Orchard (U-Pick Apple Tours are SOLD OUT for 2022 Season)
4381 Julian Hwy.
www.julianfarmandorchard.com
760-765-5494
U-pick apples are available with a reserved farmer-guided educational tour only. Apple picking tours are available for reservations, subject to crop readiness/availability, $10 per person (age 5 and over) and $20 for a u-pick bag. Tours are free for kids ages 5 and younger.

Volcan Valley Apple Farm (CLOSED for U-Pick as of Sept. 13)
4444 Hwy. 78
1284 Julian Orchards Dr.
760-302-4574
Apple picking will begin on Sunday, Sept. 4 at 9 am. Keep an eye on Facebook and Instagram @volcanvalleyapplefarm for updates and more information.
---
Now that you have all those freshly picked apples, find tasty recipes in our Apple Recipe Round-Up! You'll find Apple Cider Donuts, Apple Pie Filling in a Jar, Apple Cider Sangria, Apple Strudel and much more.
Discover u-pick apple orchards (and other fall fun) outside of San Diego County -- Oak Glen is just two hours northeast of San Diego. We recommend visits to Riley's Farm and Los Rios Rancho. Start planning your FAMILY DAY TRIP today.
----------
Adrienne Sigeti is the Editorial Assistant at San Diego Family. Her favorite Fall tradition includes a day trip to Julian for a fresh slice of Apple Mountain Berry Crumb pie (a la mode of course) from Julian Pie Company.
Updated: August 2022