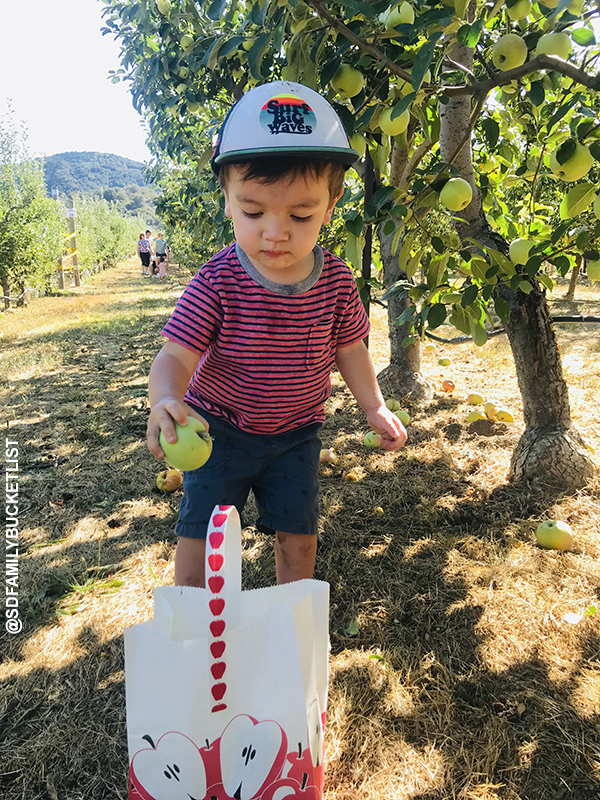 San Diego County apple orchards open for apple picking 2020. Apple-picking season typically starts in September and often ends in mid-October (or when orchards run out of apples). Now is the time to plan your family's u-pick apple adventure – a perfect activity for social distancing.
Below are orchards in Julian (about 40 miles northeast of San Diego). Check each website or social media page for up-to-date information, including important details about visiting and when apples are no longer available.
Crosscut Farm and Orchard
1209 Farmer Rd. (just below Volcan Mountain)
www.crosscutfarm.wixsite.com/crosscutfarm
605-431-0136
**Apple picking CLOSED for the 2020 season. Updated Sept. 29.** Group reservations only with a minimum of 10 people per group. Open weekdays Sept. 21-25. Price includes parking, cider demonstration and background on local history and farming. Contact This email address is being protected from spambots. You need JavaScript enabled to view it. for more info.
Julian Farm & Orchard
4444 Hwy. 78
www.julianminingcompany.com
951-312-9940
**U-pick apples CLOSED for the 2020 season.** Other activities are still available. Updated Sept. 29. Check Instagram page @julianminingco_and_julianfarm for more info.
Peacefield Orchard
3803 Wynola Rd.
www.3803wynolaroad.com
310-902-6321
Pick apples Saturdays and Sundays from 9 am-2 pm beginning Aug. 29. Visit website for orchard updates, pricing and special offers. For everyone's health and safety, masks and social distancing are required when approaching orchard points of entry and anytime that your group may come into contact with any other group or staff. Sanitary facilities are limited. Please plan to bring your own mask, hand sanitizer, wipes, towelettes and gloves.

Apples ripening at Peacefield Orchard. Photo courtesy of Maija Beeton.

Volcan Valley Apple Farm
1284 Julian Orchards Dr.
760-302-4574
**CLOSED for the season.** Updated Sept. 29.
Not sure what to do with all those freshly picked apples? Find tasty recipes in our Apple Recipe Round-Up.
Discover u-pick apple orchards (and other fall fun) outside of San Diego County -- Oak Glen is just two hours northeast of San Diego. We highly recommend visits to Riley's Farm and Los Rios Rancho. Start planning your FAMILY DAY TRIP today.
Be mindful of social distance protocol while apple picking. Always wear a mask and keep six feet away from anyone outside of your household.
----------
Updated: September 2020