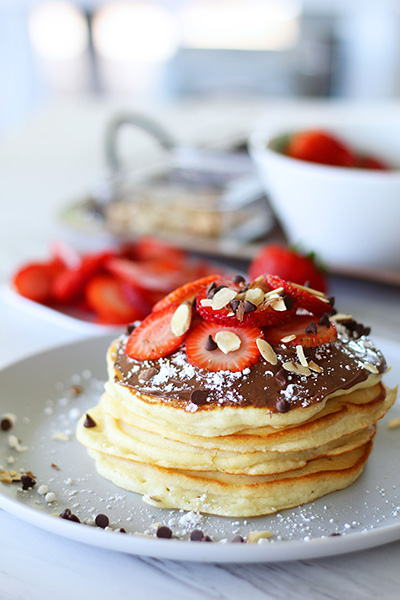 Nothing expresses "love" like strawberries and chocolate! Whether you're celebrating Valentine's Day, Mother's Day, a birthday or another special occasion, your family will "flip" over these fluffy Strawberry Nutella Pancakes, compliments of local food blogger and cookbook author, Brianne Grajkowski.
INGREDIENTS
1½ cups flour
3 teaspoons baking powder
1 teaspoon salt
1 Tablespoon sugar
1¼ cups milk
1 egg
3 Tablespoons butter
1/2 jar Nutella (about 1 tablespoon per pancake)
10 strawberries, sliced
3 Tablespoons powdered sugar
3 Tablespoons shaved almonds
3 Tablespoons mini chocolate chips
INSTRUCTIONS
Mix the flour, baking powder, salt and sugar in a bowl.
Add in milk, egg and butter and stir until combined. Let the batter sit for a few minutes to make the pancakes fluffier.
Heat a skillet on medium heat; then butter the pan.
Use a 1/2 cup measuring cup to pour pancake batter into the pan.
Wait until there are bubbles all over the pancakes before flipping.
Cook an additional 1–2 minutes on the other side and remove to a plate.
Spread Nutella on top of the pancake. Top with sliced strawberries, powdered sugar, shaved almonds and mini chocolate chips.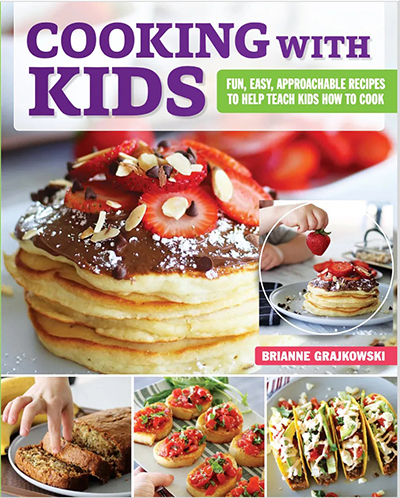 This recipe is also featured in Brianne Grajkowski's cookbook "Cooking with Kids: Fun, Easy Approachable Recipes to Help Teach Kids How to Cook." Pick up her book at www.brigeeski.com for more great kid-friendly recipes with easy-to-follow directions and color photos.
Looking for more special occasion breakfast recipes? Click below for:
_____________