It's always fun to start a special day with a special breakfast treat! Whether it's a milestone birthday, Valentine's Day, Mother's Day or another occasion, these Chocolate Chip Scones are worthy of a celebration (they also make a delicious snack), compliments of local food blogger and cookbook author, Brianne Grajkowski.
INGREDIENTS
Cooking spray
3/4 cup half & half
1/4 cup sugar
2 tsp vanilla extract
1 large egg
2½ cups all-purpose flour + more for kneading
1 tbsp baking powder
1/2 tsp salt
3 tbsp chilled butter, cut into small pieces
3/4 cup mini chocolate chips
1 large egg white
1½ tbsp sugar
INSTRUCTIONS
Preheat oven to 375 degrees.
Spray baking sheet with cooking spray or olive oil.
Combine the half & half, sugar, vanilla and egg in a medium bowl, stirring with a whisk.
In a separate large bowl, combine flour, baking powder and salt; stir with a whisk.
Cut chilled butter into flour mixture. Mix butter well with hands. Add milk mixture, stirring just until moist.
Gently fold in chocolate chips.
Place dough onto a floured surface and knead lightly four times with floured hands. Form dough into an 9-inch circle on baking sheet, about 3/4" thick. Using a knife, slice dough into 8 wedges all the way through.
Brush egg white on all pieces and sprinkle with sugar.
Bake for 20 minutes or until golden on the edges.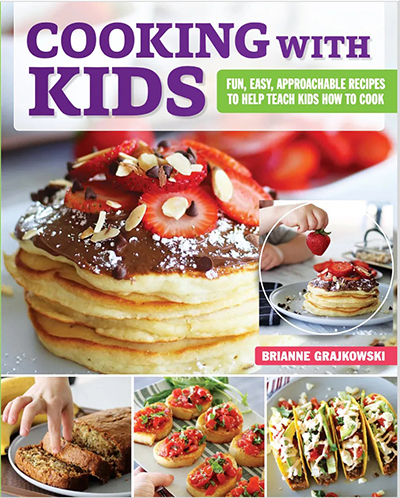 This recipe is also featured in Brianne Grajkowski's cookbook "Cooking with Kids: Fun, Easy Approachable Recipes to Help Teach Kids How to Cook." Order her book at www.brigeeski.com for more kid-friendly recipes featuring easy-to-follow directions and color photos.
Looking for more breakfast recipes for a special occasion? Click below for:
________________