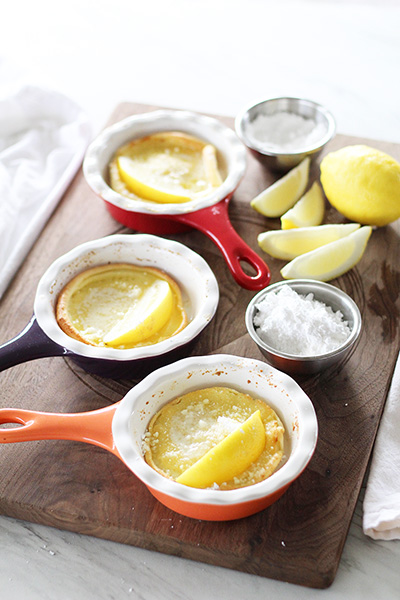 Whether its Mother's Day, a birthday, Valentine's Day or another special occasion, here is a delicious breakfast recipe worthy of a celebration, compliments of local food blogger and cookbook author, Brianne Grajkowski. Your family will love these miniature versions of Lemon German Pancakes (also known as mini Dutch baby pancakes).
INGREDIENTS
1 stick butter (1/2 cup)
4 eggs
1/2 cup flour
1/2 cup milk
1/2 teaspoon vanilla extract
1/2 teaspoon lemon extract or squeeze of fresh lemon
1/2 teaspoon salt
1 lemon, sliced
1 Tablespoon powdered sugar
INSTRUCTIONS
Preheat oven to 425 degrees.
Put 1/2 tablespoon butter in each mini pan.
Put mini pans on a cookie sheet and heat until melted; remove from oven and brush some of the melted butter up the sides of each pan.
Mix eggs, flour, milk, vanilla, lemon and salt in a blender.
Fill each pan halfway with batter (approx. 1/3 cup).
Bake for 10–11 minutes. Keep an eye on them to make sure they don't burn!
Top each pancake with a lemon slice, pat of butter and powdered sugar.
Order Brianne Grajkowski's cookbook "Cooking with Kids: Fun, Easy Approachable Recipes to Help Teach Kids How to Cook" at www.brigeeski.com. The local mom of two offers great kid-friendly recipes with easy-to-follow directions and color photos.
Looking for more special occasion breakfast recipes? Click below for:
________________