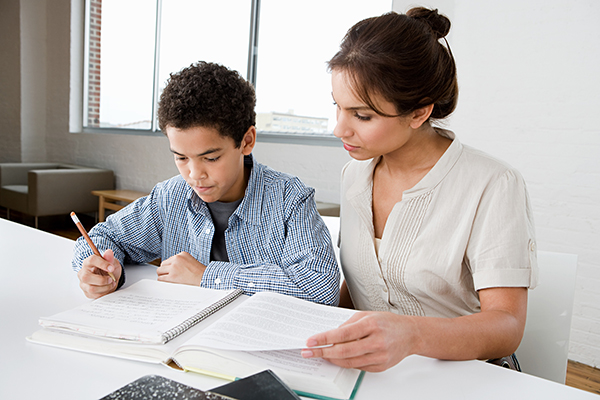 The day my son's sixth grade teachers asked why I'd chosen to homeschool him through elementary school, all my fears about homeschooling came rushing back. Were there giant gaps in his education? Was he behind other students his age? Had I failed him somehow?
But the words I heard next laid my fears to rest: "Taylor is remarkably well-prepared and focused. Have you ever thought of becoming a teacher?" I laughed out loud. No, I never thought about becoming a teacher, and definitely not a homeschool teacher.
Homeschooling for us was an experiment meant to last a year or two while our family transitioned into a new community. It turned into six years spent learning together and a way of life my family will never forget.
As parents across the country step into the shoes of teaching kids at home, this reluctant homeschool mom has words of encouragement to address doubts and questions—the same ones I had when I first started homeschooling.
I don't know enough to teach my kids.
It might feel like teaching is all on you, but it's not. Kids learn like sponges. Whether you're doing structured lessons or snuggled up together on the couch reading, they are absorbing information. Take a deep breath and let go of the pressure you're putting on yourself. Your job is to set them up for success, and homeschooling gives families freedom and creativity to make that happen.
For example, we used a literature-based curriculum that usually left science for the end of the day. But my son loved science, so we invested in self-directed science projects for him—age-appropriate kits that provided all instructions and supplies needed for experiments he could explore independently. We also had stacks of science books, videos and games. Guess what subject Taylor scored highest in year after year? Science. Last year Taylor graduated with a degree in molecular biology and now works as a research associate in a biotech company.
Find San Diego Family's list of parent-approved STEM toys and games at www.sandiegofamily.com/for-the-kids/kid-tested-toy-product-review/stem-toys-and-games.
Won't homeschooling feel like hours of homework?
Your schedule when schooling at home will be very different from when the kids go to school all day and come home with homework. Schoolwork can be completed in a few hours, and kids often finish much faster than parents expect. You can use this as an incentive. Once finished with assigned work, kids can explore, learn, and discover other things they find interesting.
Having time for self-directed learning turned out to be a significant benefit to our family. Learning became an enjoyable part of life, not just a required exercise like homework. We came to appreciate the natural curiosity and wonder that fuels our desire to learn. As we incorporated schooling into life, we all became life-long learners.
Escondido mom Rachel Henry, who grew up in a homeschooling family, says homeschooling taught her to consider life (as a whole) as an educational opportunity, not limited to time spent in a particular building. Henry now teaches a writing class at a homeschool co-op group in Poway.
"The students are accustomed to integrating what they learn into regular life," she says. Henry plans to homeschool her two young sons and says she hopes they keep this mindset forever.
I don't want to be a drill sergeant.
Keeping a schedule is beneficial because it helps the kids know you mean business about school time, playtime, mealtime and household responsibilities. It alleviates stress and gives rhythm to your days. But it's a good idea to stay flexible and take everyone's attention spans and energy levels into consideration as you balance time for lessons.
There is a law of diminishing returns when you try to do too much and sticking to a strict timetable isn't fun for anyone. Let go of thinking you have to do it all and use your schedule as more of a guideline. Add in lots of time for reading, thinking, playing and exploring. Your kids will relax, and you'll all enjoy homeschooling more.
I'm worried about socialization.
It might seem like teaching kids at home means being isolated from the world. Under normal circumstances, nothing could be further from the truth. Homeschool groups and co-op classes abound in San Diego County, giving parents much-needed support and kids opportunities to learn everything from advanced science taught by real-life scientists to archery classes taught by former Olympians. Right now, socialization is, indeed, a challenge. But remember that this is temporary. Virtual get-togethers connect homeschooling families to a vibrant community of people eager to share tips and offer encouragement.
Take it from this reluctant homeschool mom—you can do this. Your kids will continue to learn, even when it's not on purpose. The time you spend learning and experiencing life together will far outweigh the facts and figures you're worried about them missing. The example that is set for them on how to handle unexpected challenges when life doesn't go as planned will last a lifetime.
________
Jody Lee Cates is a local mom and award-winning writer who blogs about healthy relationships at www.jodyleecates.com.
Find lots of great tips in our article "Homeschooling Basics" at www.sandiegofamily.com/resources/education-directory/homeschooling-basics.
________