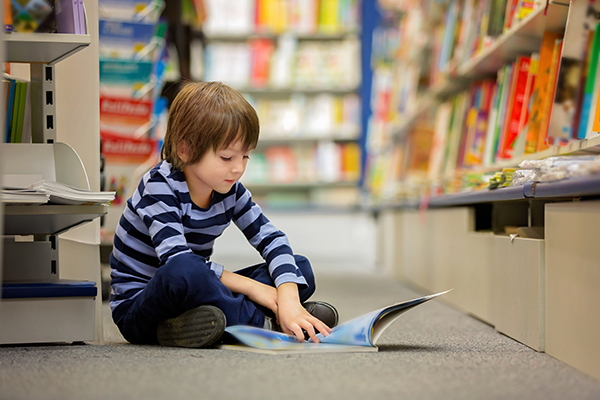 If it's been awhile since you've been to the library, perhaps you only associate it with hardcover and paperback books. The library has so much more to offer than awesome books! Stop in your local branch today and get the full experience. Here are 20 reasons we love the library:
1. E-books – Many people choose eReaders over paper books. To save money, check out the local library eBook catalog (available online). OverDrive is used by libraries around the globe and offers 2.6 million titles to check out for free.
2. Audio Books – Also available through OverDrive or as CD sets to check out. Children's audio books usually come with a matching paper book as a great reading aid.
3. Music – Library collections include a variety of music on CD. E-music is available through apps like Freegal Music or Hoopla. It's a great way to extend your own music library.
4. Videos – Watch the latest release or binge watch TV shows you've missed. Videos are available for all ages and genres. Check out free DVDs or Blu-rays or watch them via online access through free apps like Hoopla.
5. Storytime – Most libraries offer storytime in the children's area. Kids can listen to the story while you browse the adult section or parents can sit in, too. There may even be a craft project to complement the story.
6. Clubs – Often there are clubs that meet through the library. Some of the adult clubs at my local library include knitting, Scrabble, English as second language, and book clubs for a variety of genres. Check with your local branch to see what is offered in your neighborhood.
7. Speakers – The library schedules speakers on many subjects. Speakers at my branch have included historians, tax advisors, super couponers and small business consultants.
8. Computers – Not only do libraries offer free Wi-Fi for your devices, they also have computers and printers that you can use onsite. There is a small fee per sheet for printing, so bring pocket change.
9. Other Media – Your local library might also have scanners, fax machines, equipment to convert VHS to DVD, 3-D scanners and printers. Inquire about fees associated with use or if it's necessary to reserve space during busy times.
10. Classes – Need to brush up on your computer skills? Check with your local library for free seminars and classes on Microsoft Office, analog converting software or graphics software. The classes may not make you an expert, but they'll help get your feet wet.
11. Genealogy and Local History – Research historical databases, newspapers, archives, military records and more. Libraries often carry memberships to websites like Ancestry.com, Fold3 or HeritageQuest.
12. Online Resources – Online memberships at the library are not limited to history. Ask your librarian about databases for business, legal, career assistance, medical, investments or to learn a language through Rosetta Stone.
13. Interlibrary Loans – If you can't find something at your local library, borrow it from another library through interlibrary loans. You can request books, DVDs, CDs, magazines or journals on microfilm. It's a great resource for research not available online.
14. Business Services – Libraries offer services to help people find jobs, update resumes, brush up on computer, speaking or writing skills, and start their own businesses.
15. School Books – When your child forgets a book at school and the online book has a glitch, contact your local library to see if they have a copy in their reference section. Our library carries many school district books for 1st­–12th grade.
16. A Place for Teens – Libraries are one of the many places competing for teen's attention. Libraries offer designated space for socializing, homework assistance, teen book clubs, writing contests, movie nights, teen clubs like Anime, ACT/SAT prep and video game loans.
17. Homeschool sources – With more than 1.7 million homeschooled kids in the U.S. alone, libraries have stepped up to meet their needs. Ask your local branch about events for homeschoolers such as daytime speakers, workshops, writing classes, book clubs or exhibits.
18. Programs Just for Kids – In addition to storytime, libraries offer crafts, author celebrations (Dr. Seuss' birthday), puppet shows and more. Kids also have a designated space with lower shelves and comfy spaces to sit. Computer games in the children's section offer help with grammar, spelling, and math or a fun break from homework.
19. Book and DVD Sales – Friends of the Library sales allow libraries to cull their collection of multiple copies or slow-moving materials. Prices are usually 25 cents to a dollar and go towards the purchase of new books and media.
20. Work Spaces – People often come to the library to get away from distractions at home, to meet with a tutor or to work on group projects. Private rooms are available for small groups or larger community meetings.
______________
Pam Molnar is a freelance writer, mother of three and frequent library visitor.
______________