Recent scientific studies have shown that, unlike other activities, playing a musical instrument engages almost every area of the brain simultaneously—including the visual, auditory and motor cortices. Below, local experts explain more about why music education matters and what it means to them.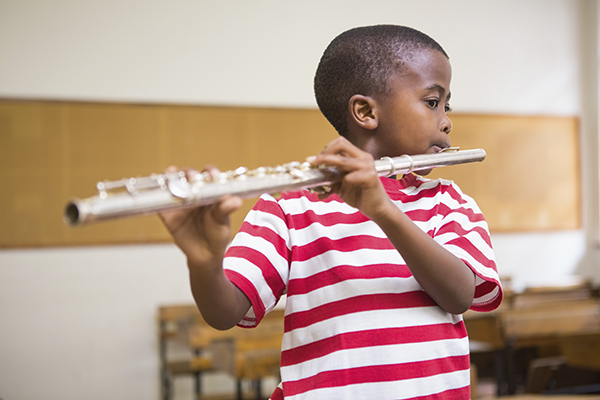 Personal Fulfillment and Social Connection
"I feel that music has long lasting effects on our quality of life and on how we experience the world. It connects us as human beings to one another. It can help us navigate our human experiences, it can facilitate understanding of ourselves and others and it is one way to give our experiences and our feelings a 'voice.'"
— Carolyn Grant, executive director, Museum of Making Music

Language Development and Creativity
"When children have a musically enriched childhood, they are more apt to be articulate, to become good readers and to become comfortable expressing themselves in different languages. All learning stems from these foundational abilities, so when we give children music as a part of their essential education and in their lives at home, we help them become the capable, creative people they were born to be."
— Jessica Baron, executive director, Guitars in the Classroom

Intellectual Benefits
"The students who get involved in music have a tendency to improve in other intellectual aspects of their life. They have a good sense of organization, better use of time, a rise of concentration—those skills are reflected in their studies."
— Juan Palacios, conductor, San Diego Youth Symphony (SDYS)

Academic Success
"I feel that music education is a central part of the core curriculum simply because rather than teaching 'what to think,' rigorous, sequential music and arts instruction teaches students 'how to think'—how to think critically, how to solve problems creatively and collaboratively. Music education facilitates student academic achievement, it improves recall and retention of verbal information, it advances math achievement, it boosts reading and English language arts (ELA) skills and increases average SAT scores."
— Sharon Bryant, senior project manager, NAMM Foundation

Success Beyond School
"We all too often want to look for cause and effect—but because music penetrates the deepest levels of our brains, some of the outcomes don't manifest for years and years. The study of music isn't just about today's academic success, it is also about this accumulation of experience and reflection and being able to see parallels. Music is full of parallels—everyone's contribution is building towards something better, a practice of collaboration, communication—all embedded in the way we make music and the outcomes of learning music."
— Dalouge Smith, president and CEO, San Diego Youth Symphony

Engaging the Whole Child
"When I discuss the benefits of music education, I tend to emphasize that music should be core curriculum because in and of itself, music orchestrates success in every child who receives it. Music addresses the whole child, and engages the mind, body and spirit in a way that other subjects don't. Music helps each student create their own identity as a person and serves as an outlet for expression that is essential to the human experience."
— Russ Sperling, visual and performing arts coordinator, San Diego County Office of Education

Read A Trio of Rising Stars to learn about three local teens who play with the San Diego Youth Symphony.

Read Start School on the Right Note to discover how to foster a love of music in your child, what to do when your child doesn't want to practice his instrument, and what's being done in San Diego to support music education.
---

Lisa Pawlak is an Encinitas resident and mother of two boys. She is a frequent contributor to the Chicken Soup for the Soul series and San Diego Family Magazine.