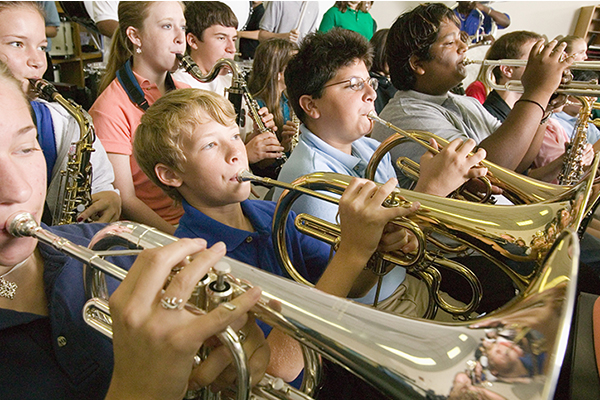 The benefits of music education are extensive, life-long and surprisingly diverse. Studying music can improve memory and concentration, create superior critical thinking skills and help individuals develop greater self-esteem and stronger team camaraderie.
Young musicians tend to be more focused academically, with higher grades and test scores, increased high school graduation rates and a greater likelihood of attending college.

Read Why Music Education Matters to learn more about the benefits of music education and what local experts have to say.

Below you'll discover how to help foster a love of music in your child, what to do when your child doesn't want to practice his instrument, and what's being done in San Diego to support music education.

7 Ways to Build Your Child's Inner Harmony
Help foster a love of music by doing any combination of these activities.
Let your child choose his instrument.
Register your child for an afterschool program (band, orchestra, choir) and encourage him to choose music as an in-school elective, if available.
Explore the Museum of Making Music in Carlsbad, where the whole family can play various instruments or attend workshops and events.
San Diego Music School hosts free events throughout the year, including Ukulele Club, Musical Petting Zoo, Guitar Maintenance and Rock Band Class.
Consider private or group music lessons. Grand Piano Academy is a great option for piano instruction. California Music Studios will connect your child with a qualified instructor for a variety of instruments or voice lessons.
Check the listings of your local libraries, community centers and churches for special music events and concerts.
Download music-related smart phone apps or have your child try composing on www.noteflight.com. If you use an Apple computer, Garageband (free and included on new Macs) is a fun way to try your hand at recording and arranging your own music.

Practice Makes Perfect
What do you do when your young musician doesn't want to practice?
Set realistic goals (e.g., 20 minutes a day).
Track practice time and celebrate successes with a reward chart.
Work towards a recital or performance.
Participate in a group music organization.
Be involved with your child's practice session. Play along, ask him to teach you, or simply be an encouraging audience.
Motivate focus with technology-based practice software such as smartmusic.com.
When all else fails, don't give up; try a different instrument or a different instructor.

Looking for inspiration? Read A Trio of Rising Stars to learn about three local teens who play with the San Diego Youth Symphony.

Notes of Hope for Public Schools
San Diego is filled with people who care about music and a lot is happening right now to support music education.

Community organizations such as Guitars in the Classroom and San Diego Youth Symphony's Community Opus Project, stepped up in recent years to respond to arts funding cuts in the public schools. These programs introduce instrumental music to many kids who otherwise might not have had the exposure.

Russ Sperling of San Diego County Office of Education, says, "The good news is that San Diego County school districts are hiring music teachers again—in particular, Chula Vista, which is investing $5 million in new funds to hire music and arts teachers. In general in the county, with more funding available after the recession, I am not hearing about arts and music programs being cut any more; I am hearing about adding teachers.

This exciting trend, particularly in Chula Vista, will hopefully have a domino effect across the entire county, state, and nation; introducing the benefits of studying music to kids of all socio-economic backgrounds, enhancing lives and brightening futures.
---

Lisa Pawlak is an Encinitas resident and mother of two boys. She is a frequent contributor to the Chicken Soup for the Soul series and San Diego Family Magazine.
Published September 2015