Three local teens who are dedicated musicians with the San Diego Youth Symphony.

There's nothing like a great melody to engage the mind and inspire the soul. Listening to music is wonderful; making music is even better.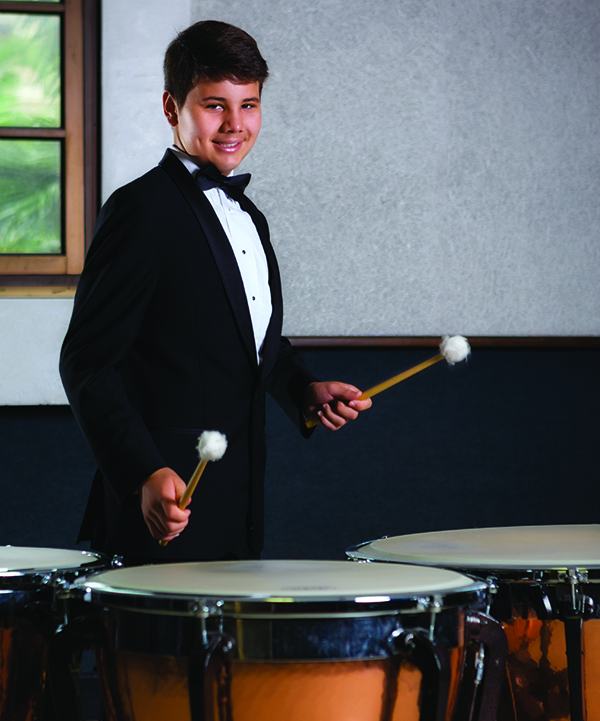 Kirusha Lanski (San Diego Family Magazine's cover kid, Sept. 2015)
Accomplished percussionist Kirusha Lanski, 14, also enjoys playing piano and baritone saxophone. Currently a freshman at Canyon Crest Academy, Kirusha has played in a number of musical organizations, including San Diego Youth Symphony (SDYS), school bands, various jazz groups and—most notably—a national honor band that recently performed at Carnegie Hall, New York.

Kirusha values the many friendships that have arisen through musical connections. "My absolute favorite thing about participating in music programs is the amazing music we create as an ensemble. [It] is so beautiful and mind-blowing, I feel like it has opened my mind to an entire new world."

A motivated self-starter, Kirusha approached his school's music teacher in second grade and requested private lessons. Upon observing this enthusiasm, Kirusha's parents have wholeheartedly supported his musical goals ever since.

Along with SDYS's weekend rehearsals, school band commitments and weekly private lessons—for marimba, timpani, snare drum and, on occasion, the drum set—Kirusha also practices about an hour each day. "Music is my relax time, when I get to do what I enjoy and forget everything else," he says.

Kirusha has also played competitive soccer, earns straight As and recently placed in both the Math Olympiad and GeoBee.

"Meeting and playing with people who are more experienced musicians than I am inspires me to work even harder in achieving my music and academic goals," Kirusha says. "No matter what my career is going to be, music will always play a huge role in my life."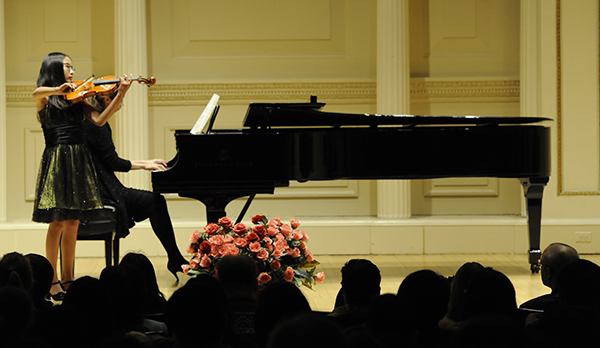 Susan Lee
Susan Lee, 12, began music lessons early after being inspired by her older sister's practice sessions. Susan started playing piano at age 4; violin at 7. These days, she plays violin with SDYS and was recently selected as concertmistress (leader of first violins) for the 2015–2016 season. She's also an accomplished pianist.

"I think playing an instrument is important because it helps you appreciate art at a deeper level and be reflective," Susan shares. "Playing music also helps to relieve stress or any negative emotions."

A student at Pacific Trails Middle School in Carmel Valley, Susan says that music has strengthened her academics. "Studying music has helped me with school because it teaches you to concentrate really well. I'm not really sure about my future, but I do know that math and music will definitely be a part of it."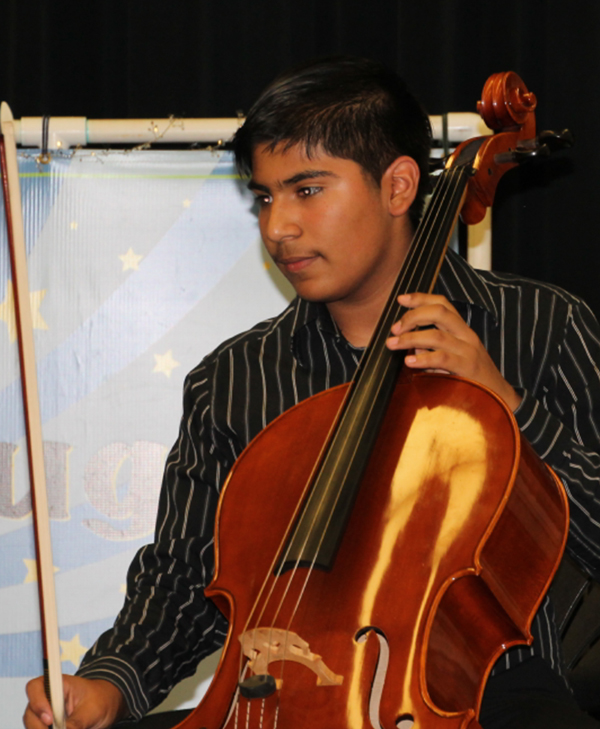 Bruno Bello
Before discovering music, cellist Bruno Bello, 13, questioned where he belonged; he didn't view himself as particularly athletic, nor did he see the point of working very hard in school.

"I believe studying an instrument is important because it is a way of expressing what you feel and it helps you deal with your problems by comforting you and giving you more self esteem. It also inspires you to have goals," Bruno says.

Now attending Chula Vista Middle School, Bruno has been studying music for five years after an introduction through SDYS's Community Opus Project, an affordable after-school instrumental music program that pioneered at his Chula Vista elementary school and has since expanded to include students from the entire district.

Bruno now performs with SDYS, his school's orchestra and numerous other community groups, "My favorite thing about participating in music programs is that it gives me the chance to learn and interact with other musicians from different places and ages."

Like many other young musicians, Bruno demonstrates the correlation between studying music and strong academic performance, "I think studying music has helped me be successful in school by giving me discipline and reasons to study. My future plans are to attend a university and become a professional musician."

Read Why Music Education Matters to learn more about the benefits of music education and what local experts have to say.

Read Start School on the Right Note to discover how to foster a love of music in your child, what to do when your child doesn't want to practice his instrument, and what's being done in San Diego to support music education.
---


Lisa Pawlak is an Encinitas resident and mother of two boys. She is a frequent contributor to the Chicken Soup for the Soul series and San Diego Family Magazine.
Published September 2015