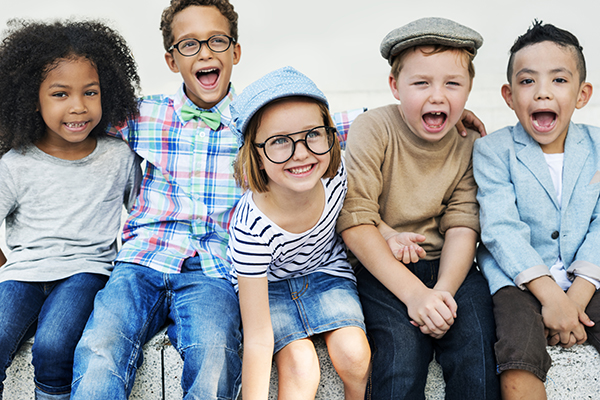 Martial arts training can promote all-around wellness in children. On a physical level, these disciplines build strength, balance, flexibility and stamina—because they utilize the full body. But martial arts training is a mental workout, too! Students must learn to control their own minds and anticipate the reactions of others. Many parents notice increased focus, respect and confidence in kids who participate regularly.
Nicki Blazyk of Santee recently enrolled her 8-year-old son in Brazilian Jiu Jitsu. "I love that he will listen and quiet his body during the session. He struggles with that in all other areas," says Blazyk. She also loves that the sport builds camaraderie and community—even as participants focus on individual goals.
Before choosing a martial arts class, it might help to consider which aspects of training appeal to your child. Some disciplines focus on real-life defense moves. Others train for competition, or even performance. Is there a cultural or historical aspect that might be of interest? The best way to find the perfect fit is to take a few introductory classes and compare. Here's a quick look at the most common martial arts styles for kids.
Taekwondo
Taekwondo is the most widely practiced martial art in the world. Perhaps you've watched it in the Summer Olympics. This Korean sport is known for its focus on kicking techniques. Students will master head-height kicks, spinning kicks and fast-kicking. In addition to individual strikes and blocks, practitioners learn longer combinations known as forms. Character development is an important aspect of training, as students strive to live by the Five Tenets of Taekwondo: courtesy, integrity, perseverance, self-control and indomitable spirit.
Kung Fu
Kung Fu refers to a variety of Chinese martial arts styles, including Wing Chun and Choy Li Fut. With unparalleled legend and history, these disciplines trace their origins to the earliest Chinese dynasties and the famed Shaolin Temple Monks. Students will learn to remain calm and focused while reacting to an opponent. The Sifu (instructor) may incorporate ancient philosophy, as well as training to harness the qi (energy, or life force). In addition to strikes and blocks, students might learn throws, joint-locks and pressure points. Some styles incorporate weapons. If you've seen the Marvel movies "Shang-Chi and the Legend of the Ten Rings" or "Doctor Strange," you've seen Kung Fu in action.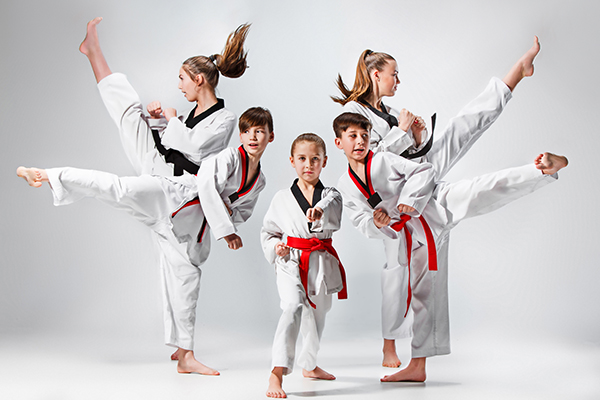 Karate
Karate is an Okinawan Japanese art that teaches balanced, full-body striking with the hands and feet. Compared to other disciplines, there is a greater focus on hand strikes, including those with an open hand (karate chop). Board and brick-breaking are common in this style. The Sensei (instructor) will work with students to cultivate self-mastery and self-discipline. Students strive to develop a proper Kokoro (attitude), which includes being humble, gentle and not easily drawn into a fight. Karate can be seen in the movies "The Karate Kid" and "Cobra Kai."
Brazilian Jiu Jitsu (BJJ)
In Brazilian Jiu Jitsu, a smaller person can learn to effectively defend against a bigger, heavier person by leveraging weight distribution and taking the fight to the ground. Students focus on sweeps, takedowns and grappling on the floor. Ultimately, the opponent will be forced into submission through joint locks or chokeholds. Striking is strictly forbidden in BJJ, so students won't encounter punches or kicks in this discipline.
Muay Thai
Muay Thai originated in Thailand and is sometimes called "Thai boxing." Traditionally, there is no ranking system (like belt colors). This is a close-fighting style with a focus on striking and clinching. While some combat disciplines teach four points of contact for striking opponents—two hands and two feet—Muay Thai utilizes eight points, to include knees and elbows. Young students can expect to wear plenty of protective gear.
Krav Maga
Krav Maga was developed for the Israeli armed forces by combining the most effective fighting techniques from various disciplines. Considered a non-sport martial art, Krav Maga is a practical option for those mainly seeking self-defense training. It is designed to keep the practitioner safe while incapacitating the opponent. Children's classes focus on personal protection, including anti-bullying and anti-abduction techniques. Students learn to respond to real-life attacks through swift and effective counterattacks. An example of Krav Maga can be seen in the James Bond movie "Skyfall."
Aikido
Considered a gentler martial art, Japanese Aikido was designed to neutralize attackers without injuring them. This is largely accomplished using wristlocks and takedowns. Students learn to flow with the attacker's momentum, rather than opposing it. For this reason, physical strength is far less important than skill. The philosophy of Aikido is to overcome oneself instead of cultivating violence or aggression. Training may include use of swords and staffs. If you've ever watched a Steven Seagal movie, you're familiar with Aikido.
Capoeira
Capoeira is a unique combination of martial arts, dance, acrobatics and music training. It is a wonderful physical and artistic outlet, especially for those interested in Brazilian culture. It is typical for students to play Brazilian instruments and sing in Portuguese while performing a capoeira routine.
Anne Malinoski is a contributing writer and mother of two boys. She would love to try an Aikido class someday.
_______________