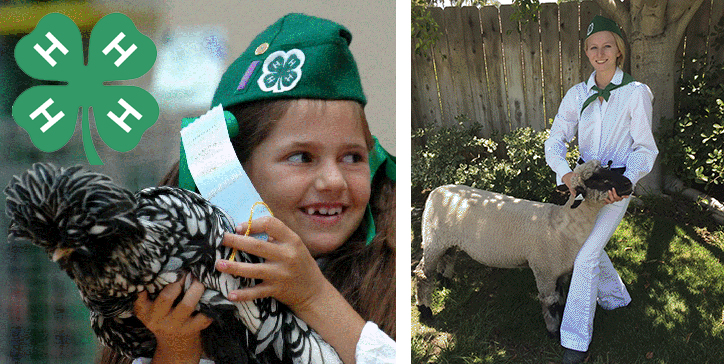 The Benefits of 4-H, from A to Z
Kids in 4-H clubs explore a wealth of fun and educational experiences. They raise animals, plant gardens, learn about archery, cook healthy foods and more. As the largest youth development program in the country, 4-H teaches kids valuable life skills while they participate in fun group projects surrounding a common interest.
Below, discover the A to Z reasons that 4-H is an afterschool activity worth exploring.
There are 23 community clubs and eight military partnership clubs. Find more information at www.ucanr.edu/sites/4HSanDiegoCounty/Club_Information.
Animals and More
Most local 4-H clubs are involved in livestock projects, but you don't have to live on a farm or be an animal lover to participate. Other activities, such as sewing, robotics, arts and crafts, photography, healthy living and science are also offered.
Being Healthy
Kids learn how to lead lives that balance physical, mental and emotional health. Related programs include nutrition, yoga, drug awareness, bullying prevention, health and fitness, safety and stress management.
Communication and Community
Working with others will develop your child's overall communication skills. Beyond that, he will learn good citizenship and civic engagement in the surrounding world.
Discover Hands-On Learning
Participants practice knowledge and skills in a safe, supportive environment. Learning through mistakes and successes, kids enjoy the process and experiences along the way.
Emotional Development
Members learn to see the bigger picture of life and how they fit into their community. They also establish positive relationships with peers and adults.
Fun
Kids have fun, make friends and share learning experiences. With so many great activities offered, everyone will find something of interest to explore.
Girl Power
According to the national 4-H website, girls who participate in 4-H are two times more likely (grade 10) and nearly three times more likely (grade 12) to take part in science programs compared to girls in other afterschool activities.
H's
The four H's of 4-H are perhaps best explained in the pledge: "I pledge my Head to clearer thinking, my Heart to greater loyalty, my Hands to larger service and my Health to better living, for my club, my community, my country and my world."
Independence
Kids gain independence through problem-solving and meeting challenges in a positive, mentored environment.
Junior and Teen Leaders
Older kids and teens can assist adult volunteers by planning meetings and teaching younger members. Opportunities also exist to travel to leadership and citizenship conferences.
Kindness
The member code of conduct begins, "Be nice, kind, helpful and respectful to other 4-H members; and to adult volunteers, youth leaders, 4-H staff, and other adults in charge."
Leadership
The organization really focuses on training kids of all ages to run meetings and events. There is also an annual Junior Leadership Conference and a summer camp, planned and run by teens.
Manage Projects
Project management skills—including organization, record keeping and time management— help kids with everything from today's daily homework to future career effectiveness.
New Experiences
Kids learn about a lot of new and different things they might not otherwise be exposed to; llamas, dirt bikes, calligraphy, bees, quilting or fishing, and more. The range of projects is only limited by the skills and availability of local volunteer leaders.
Organization's Impact
The 4-H organization empowers more than 1,500 local kids through both the Community Club and Military Youth Partnership Programs—and positively affects six million young people nationwide.
Public Speaking
Kids gain experience speaking in front of groups during monthly club and project meetings, and with the general public during culminating fair presentations.
Question the Surrounding World
Science-based programs, such as environmental science, engineering and technology, and plant and animal studies, encourage participants to question their surroundings, explore STEM careers and, ultimately, improve the world.
Role Models
4-H adult volunteers provide kids with positive role models and interactions.
Success in School
Perhaps as a result of important life skills learned in the program, students involved in 4-H often get better grades.
Teamwork
Working with others on group projects teaches kids how to coordinate efforts and maximize results.
Understanding
By solving problems, appreciating and accepting others, developing useful life skills and building healthy habits, kids gain better understanding of the surrounding world.
Vision
The official 4-H vision is, "A world in which youth and adults learn, grow and work together as catalysts for positive change." Participants are well positioned to take on this role.
Work Habits
A defined project with clear goals and mentored expectations leads to good work habits; these important life skills transfer seamlessly from 4-H to school and beyond.
XOXO
Members will learn compassion and caring for others in their community.
You Can Do It!
With the development of critical thinking and problem solving skills, 4-H kids discover that they are capable of figuring things out for themselves.
ZZZs
This one's for you, Mom and Dad. You can sleep well at night knowing that you have offered this incredible range of opportunities to your child.
Sophia Mock, a senior at San Dieguito Academy, joined 4-H when she was 11. Over time, she has served as secretary, treasurer and vice president of her regional San Dieguito club. She is currently president of the San Diego County Horse Advisory.
"I joined because I've always loved animals," Sophia says. After exploring group projects such as horses, lambs, rabbits, chickens, camping, cooking, presentation and dogs, she now reflects, "My favorite experiences in 4-H are when I can show everything I've learned throughout the year. Competing in the final horse show and going to auction with my lambs demonstrates how all my hard work has paid off."
Sisters Grace, 16, and Noelle, 10, have both participated in three years of 4-H projects and attended seven years of summer camp.
Noelle, who enjoys archery and rabbits, says, "My favorite part about 4-H has been summer camp and learning about animals. I also love hitting the bulls-eye at archery!"
Grace is now president-elect of the San Dieguito 4-H for the 2015-16 year. Her projects have included archery, rabbits, camping and cooking. "My favorite 4-H experiences are summer camp and State Leadership Conference. Both events are super fun and have taught me how to be a leader," she says.
Lisa Pawlak is an Encinitas resident and mother of two sons. She is a frequent contributor to San Diego Family Magazine and the Chicken Soup for the Soul series.