The All-American Soap Box Derby is a national youth racing program that teaches kids the thrill of competition and spirit of sportsmanship. In the San Diego region, outreach for the Derby has recently expanded to partner with local schools and introduce related aspects of STEM (Science, Technology, Engineering and Math) education into classroom environments.
As a result, kids are becoming inspired not only to accelerate their race cars, but also to excel at school.

Anyone (ages 7–20) is eligible to compete. The gravity-powered racing car kits are available through the organization and can be assembled in approximately 2–3 hours. There are three race divisions, each with a different type of car—Stock, Super Stock and Masters. Each division is based on age, height, weight and experience.

"Build workshops" are held every Saturday from February through May, to help ensure that all racers comply with car assembly regulations, so as to avoid disappointment on race day. The bodies of the cars are made from plastic and have wooden floorboards. Steering, axles, brakes and safety equipment are included with the kit. Kids learn helpful basic workmanship skills along the way. The entire family is welcome to help with assembly.

Participants often ask how they can make their cars go faster, creating clear opportunities for STEM-related discussions. Sherilin Heise, a member of San Diego's Derby Committee and Associate Professor of Mathematics at Ashford University, works with local schools to incorporate the Derby into the STEM curriculum.

"I hope that the Derby experience inspires students to want to understand how to win the race and how to make the cars go faster," Heise says. "I hope this leads to a natural curiosity about problem solving and how math can be useful in everyday life." Heise shares a notable success story—that of student Lekan Alabi—who won San Diego's local stock division race last year after participating in her math pilot program for third graders at McGill School of Success in downtown San Diego.

"Lekan went from two years behind his grade in math—the average for his class—to finishing the year two and a half years ahead," says Heise. "The key for the success of the math pilot was turning learning math into a sport." In Lekan's case, the Derby had that effect—and after winning the local race, he travelled to compete at the Derby's World Championships in Akron, Ohio.

"We manage to slide in some amazing educational material during a race career," explains Brian Graham, San Diego's regional director. "Drivers learn how gravity impacts speed and how the surface and contours of the track will affect their driving. Math skills are honed as they listen to the split times for each phase of the race. Weight distribution is something all drivers become very familiar with, adjusting it for each track."

San Diego hosts two types of Derby races each year: the Local Race and the Rally Race. The Local Race is held each May, in the neighborhood of Sherman Heights. Each local Derby region holds their own race and sends their three champions to compete in World Championships Akron's famous Derby Downs (July). There, they race against hundreds of racers who travel from as far away as Japan, Canada, New Zealand and Germany.

San Diego's other event, the Rally Race, is held each April in the neighborhood of Encanto. This is one of 30-35 rally races held in California, Nevada, Arizona, Utah and Hawaii (Region 2). Racers earn points by participating in as many rally races in the region as they desire, with the hopes of earning a Rally Regional Title qualification for the Derby Downs championship.

Families can purchase cars from the Derby's world headquarters in Akron, but the San Diego group also raises funds to provide cars free of charge for those wishing to participate but unable to invest in their own car. If racing a used car, kids can still attend the build workshops to rebuild their cars. The organization also helps families find sponsors to help offset the cost of participation. Travel expenses to Akron are covered for San Diego's three local champions.

While the STEM skills gained from a child's Derby participation are certainly invaluable, perhaps an even more important element is the quality time spent with family. Graham points out, "Unlike other sports, the family…is an essential part of the Derby experience, which lasts a lifetime." The San Diego Soap Box Derby simply equates to wholesome, educational, family fun. Visit www.facebook.com/sdsoapboxderby and www.soapboxderby.org to get involved.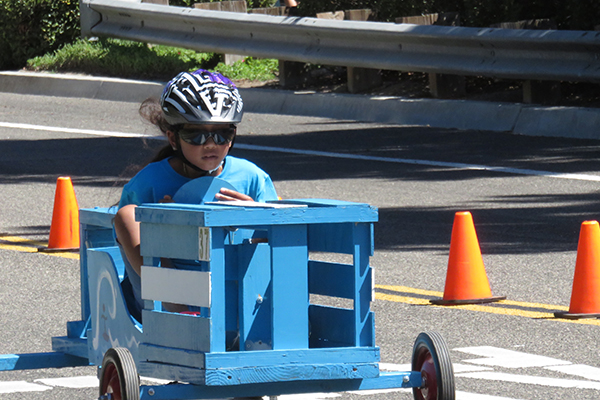 Orange Crate Derby
The Chula Vista Sunrise Rotary Club offers another fun racing event for families: The annual Orange Crate Derby takes place in Chula Vista in August. A recommended build-a-car workshop will be scheduled in advance of the weekend, to ensure that all safety and technical guidelines are followed. The event is open to racers ages 7–14. For more information, visit www.orangecratederby.com.
---

Lisa Pawlak is a contributing writer, Encinitas resident and mom of two boys.
Published May 2016