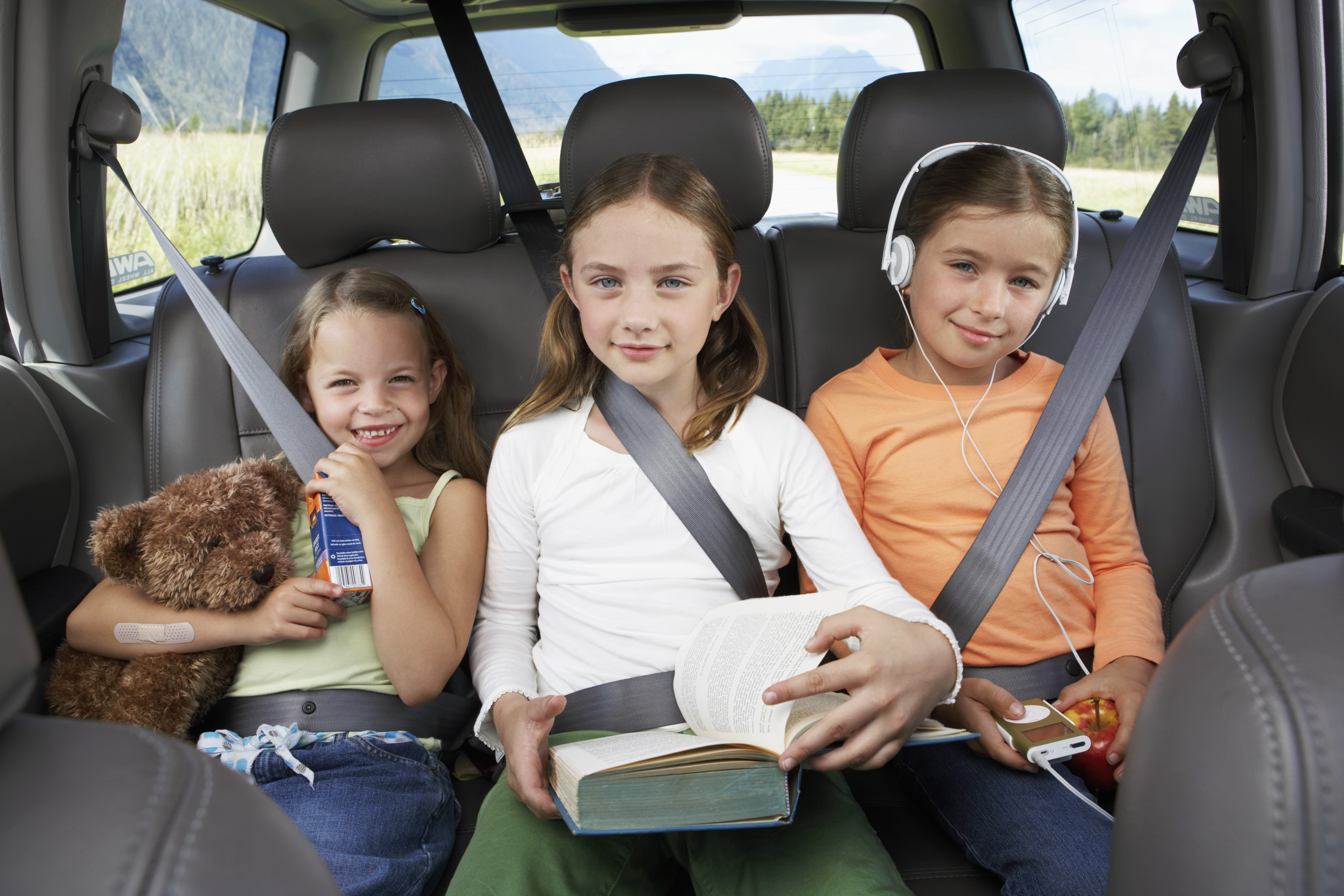 Family Road Trip Fun! If you're traveling by car on your next family vacation, keep the kids entertained between sights and rest stops with these travel games.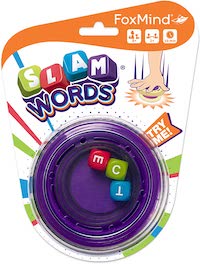 Slam Words
$14.95; FoxMind.com
Shake the cup, slam it shut to reveal three letters. Quickly find a word that uses the three letters and pass the cup to the next player who must find a new word, or they are out.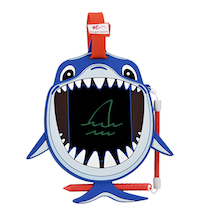 Sketch Pals Doodle Board – Clark the Shark
$19.99 MyBoogieBoard.com
Perfect for clipping on backpacks, lunch boxes or carry-on luggage, and with the push of Clark's nose, the doodle board instantly clears itself.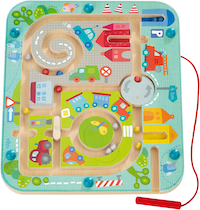 Town Maze Magnetic Game
$22.99; www.habausa.com
The colorful balls are trying to find their way home to their matching garage. Help them navigate through the city by dodging roadways that are blocked. Slide the magnetic wand over the plastic cover to guide the spheres along the intersecting tracks. This toy is the perfect travel toy. Bring along in the car, to the doctor's or to a restaurant.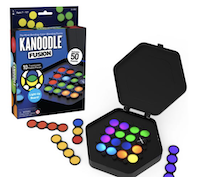 Kanoodle Fusion
$21.99; 7+
EducationalResources.com
Kanoodle takes a colorful twist with this brain-bending, color-mixing puzzle of logic and reasoning!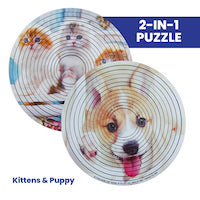 Spin Flip Puzzle
$14.99; 8+
https://tcgtoys.com
A 360 degree handheld puzzle with 14 concentric rings that spin, flip, twist and slide. Perfect for those who love brain teasers, this double sided puzzle features 6 designs.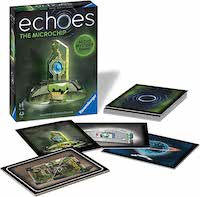 echoes: The Microchip (by Ravensburger)
$9.99; 8+
Amazon.com
Use sound clues to unravel the mystery of a ruined futuristic civilization in echoes: The Microchip, the latest story in the echoes audio mystery game series. Previous titles include echoes: The Dancer and echoes: The Cocktail.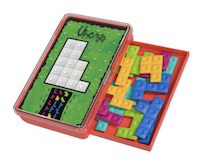 Ubongo The Brain Game To Go
$14.95; ThamesandKosmos.com
In this fast-paced, addictive, and easy-to-learn puzzle game, your goal is to fit a set of interlocking tiles perfectly into a specific area. This compact version features 15 colorful plastic tiles, 20 puzzle cards with over 200 puzzles, and a plastic game board that doubles as a durable travel case. Slide in a puzzle card and give your brain a workout. The puzzles get progressively more challenging as you go.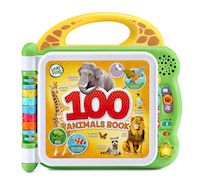 100 Animals Book
$19.99; LeapFrog.com
Six double-sided, interactive pages feature animals from 12 habitats and environments. Three modes teach about animal names, animal sounds and fun facts on each page. Switch the language setting to hear about the animals and listen to songs in either English or Spanish. Fun facts about animals promote early science awareness, making this book a must-have addition to every little learner's library.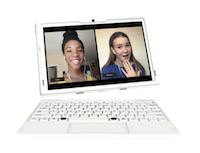 Tanoshi Scholar-Kids' Laptop
$299.99; https://tanoshikidscomputers.com
Features a detachable ergonomic keyboard, pre-loaded apps for distance learning such as Google Docs & Sheets, learn to code apps and the ability to use with or without Internet access.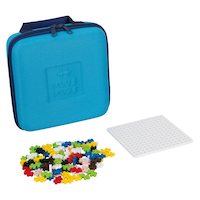 Plus-Plus Travel Case
$22.99; www.plusplususa.com
Take your Plus-Plus wherever you like to play. Durable, lightweight and ready for action, the travel case includes a white baseplate and 100 mixed color pieces. Start to play right away, or add your own Plus-Plus to make a custom travel mix.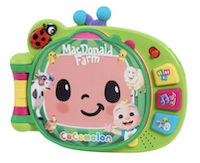 Cocomelon Learning Book
$19.99; Amazon.com
This fun, interactive book has over 50 learning phrases and features three modes of play: music, numbers, and animal sounds. Toddlers, preschoolers, and parents can sing along to "Old MacDonald Had a Farm," while looking at images of JJ with various farm animals. Press any of three colorful buttons to hear numbers, music, or animal sounds. With big buttons, music, and fun sounds, this engaging toy will entertain little ones while teaching valuable core skills, including learning to count, animal sounds, and music.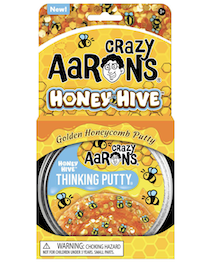 Honey Hive Thinking Putty
$12; CrazyAarons.com
You'll "bee" mesmerized by the energetic amber and glistening gold hues of Honey Hive Thinking Putty. The honeycomb sparkles and buzzing bees will make you want to be the beekeeper of this putty. Pull and stretch to see the bees rise in and out of the surface.
Go PoP! Colorio
$14.95; Amazon.com
Go PoP! Colorio is a captivating, soothing, tactile toy and smart bubble popping game. Designed to stimulate your child's senses and develop logic and reasoning skills. Endless creative ways to play.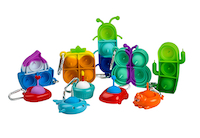 Big Bubble Pull 'N Pops
$5.99–$6.99; BlueOrangeGames.com
Pull 'N Pops are the newest fidgeting craze! The Big Bubble Pull 'N Pops each feature a bubble you pop on one side, and pluck on the other side by pulling the thingy until you hear the POP! These sensory keychain toys are for fidgeters of all ages and are so satisfying, you won't want to stop the popping! Collect all 5 cute designs: Car, Heart, Narwhal, Cat, Cupcake and attach them to your keys or bags to take them anywhere.
Published: November 2022