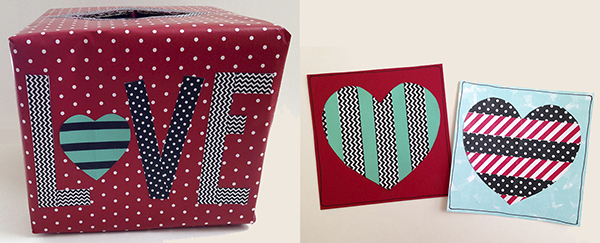 Kids love crafting their own Valentine's Day mailbox to collect cards and messages from friends and family! Washi tape provides an easy, fun and colorful way to create and decorate -- it comes in dozens of bright colors and patterns (available at craft stores).

Supplies
Washi tape (paper craft tape) in two or more colors/patterns
Colored card stock
Sheet of white paper
Cardboard box/shoe box
Wrapping paper
Pencil
Scissors
Ruler
Glue stick
Clear tape
A marker

Directions
1. Choose the colors of paper and tape desired.
2. To make a Valentine's Day card, cut a piece of colored card stock into a 4-inch square.
3. Cut a heart (about 3½ inches wide) from the white paper. (Draw the pattern free hand, or use a template.)
4. Tear one strip of tape long enough to go across the cut-out heart and past the edges a bit. Adhere the strip of tape to the heart smoothly.
5. One at a time, continue tearing tape strips and adhering them next to each other onto the heart until it is covered.
6. Turn the covered heart over and use scissors to cut all the extra tape around it's outline.
7. Use a glue stick to adhere the striped heart to the square of cardstock.
8. To finish, use a marker to draw a simple border on the front of the card and to write a happy Valentine message on the back.
9. To make the card "mailbox", wrap a cardboard box with gift wrap and clear tape.
10. Use the technique above to make letters and shapes to spell out a word or name and then use a glue stick to adhere them to the front of the box.
11. Cut a hole in the top of the box and it's ready to collect valentines at home, school or a party!


More tips and ideas:
• Decorate matching envelopes with washi tape if desired.
• Cover the background of each card and the box with washi tapes too.
• Leave a little space between the tape strips for a different look.
• Tear the tape into little squares instead of strips to make mosaic designs.
• Simply use paper strips and a glue stick if washi tape isn't available.
• Use the versatile washi tape to decorate a matching vase, tray or sign!

----------
Pamela Maxwell is an artist, author and mother of two growing boys. Her craft and scrapbooking projects have appeared in numerous books and magazines. Photo by Pamela Maxwell.