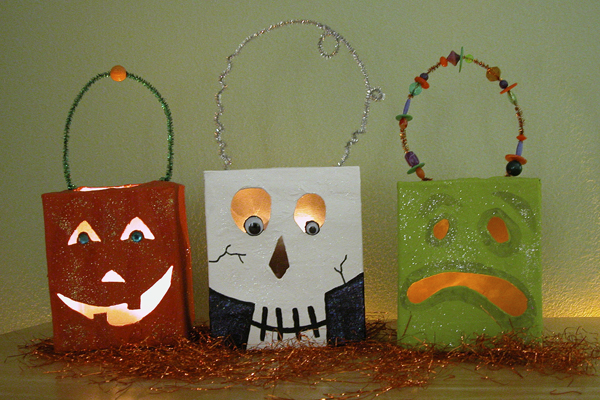 How can you turn a sneezy, sniffly nose into something fun? Save that empty tissue box and craft a cute and creepy Halloween lantern! The easy technique of papier-mâché and a little imagination are all that you and your kids need to create pumpkins, ghosts, skulls, cats, bats and more.
Supplies:
Empty cube or oval-shaped tissue box (with hole on top)
Pen or marker
Newspaper
1/4 cup flour
1/2 cup water
Craft paint and paintbrush
Scissors or craft knife
Hole punch
Pipe cleaner
Glitter, rhinestones, googly eyes, beads (optional)
Here's how:
Cover your work area with newspaper and dress in old clothes or a smock.
Start by drawing a simple face onto the side of the tissue box, then use small scissors or a craft knife (a parent's job) to cut out the eyes, nose and mouth.
Tear a few sheets of newspaper into strips that measure about 1" by 3".
Mix 1/4 cup flour with 1/2 cup water in a medium bowl to make paste. You may need to squeeze the paste between your fingers to get rid of lumps. (Gooey, but great for a Halloween project!)
One by one, dip the paper strips into the paste. Remove any extra paste with your fingers. Cover the box with wet strips, wrapping them around corners and all the edges of the openings. If your lantern gets "globby" or the box warps a little, don't worry, it will just look even creepier for Halloween! (Immediately wash your hands and anything else covered in paste; when this stuff dries, it really is like glue.)
Leave your lantern to dry overnight, then paint it (it may take two coats).
Allow the paint to dry, then punch two holes on the top, one on either side of the opening. Attach a pipe cleaner handle by twisting its ends around the holes.
Pop a small flashlight or glow-stick inside and you have a fun decoration for your Halloween window or mantel!
More ideas:
• Sprinkle glitter onto the wet paint
• Add details like eyebrows with permanent marker
• Glue on rhinestones or googly eyes
• Twist, bend or add beads to the handle
• Add paper ears for cats, wings for bats
• Very young kids can just paint the face instead of cutting it out.


Pamela Maxwell is an artist, author and mother of two growing boys. Her craft and scrapbooking projects have appeared in numerous books and magazines. Photos by Pamela Maxwell.
____________________